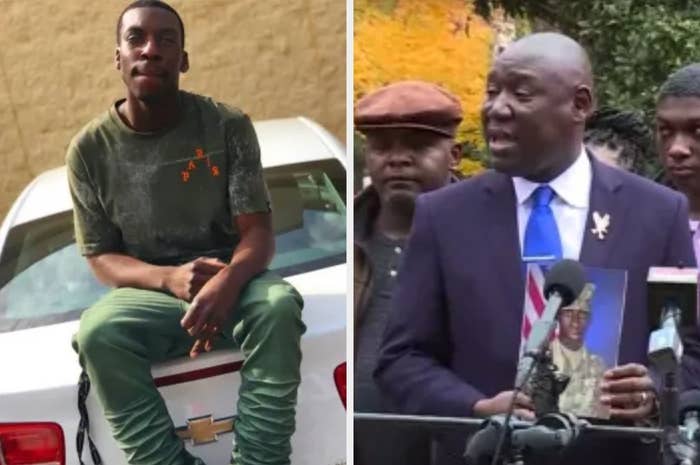 The family of Emantic "EJ" Fitzgerald Bradford Jr., whom police killed on Thanksgiving Day when officers incorrectly thought he was a mall shooter, demanded that authorities release surveillance video of the incident.

"The Hoover Police Department really, really dropped this ball. They need to release all the videos, body cam footage, everything. All videos. Mall footage, everything," Bradford's uncle, Anthony Thomas, said during a news conference Sunday. "They literally assassinated my nephew on Thanksgiving night. As far as I'm concerned, he was assassinated."
The Hoover Police Department has had to issue a series of changing statements about the incident. Police said all video was immediately turned over to the Jefferson County Sheriff's Department, which is investigating.
Officers were responding to a shooting at the Riverchase Galleria mall in Hoover, Alabama, that sent shoppers fleeing for their lives. When an officer saw 21-year-old Bradford run from the scene with a gun in his hand, the officer shot and killed him.
Police said an 18-year-old man involved in a fight with another man was shot twice, while a 12-year-old girl was also wounded.
The Hoover Police Department had initially identified Bradford as the shooter. Then it released a second statement retracting that claim and saying that Bradford likely did not fire his gun. The shooter is still at large.
On Monday, the department said, "Bradford brandished a gun during the seconds following the gunshots, which instantly heightened the sense of threat to approaching police officers responding to the chaotic scene."
When asked to clarify what "brandished" meant, police later said, "To clarify, the word 'brandish' was used because Mr. Bradford had a gun in his hand as police officers responded to the active shooter situation between mall patrons."
"We definitely will get justice for our child," said Bradford's mother, April Pipkins, on ABC's Good Morning America on Monday. "So no other parent should have to go through this."
"They rushed to judgment on national TV," said Emantic Bradford Sr., Bradford Jr.'s father. "They slandered my son's name. Making my son look like he's the killer."
The family's lawyer, Ben Crump, said Sunday that several witnesses had contacted them and told them that the police "just shot him."
"Say no more, release the video," various family members said in unison during the news conference.
The family demands that all videos — footage from security cameras, from the officer's body cam, and any videos from bystanders that have been turned in to law enforcement — be released, "so we can know the truth for ourselves, not what you say but we see."
Bradford's family will also "explore every legal possibility" to hold the officer and authorities accountable for killing "their son who we know did not kill anyone."
"They want to make sure that everyone is held accountable from the top to the bottom," said Crump, who has also represented the families of Trayvon Martin and Michael Brown. "Nothing will bring him back, but what they want most is accountability and justice not only for their son but in hopes that this won't happen again next month somewhere in America."
Police published a statement Monday morning expressing condolences to Bradford's family: "We extend sympathy to the family of Emantic J. [sic] Bradford of Hueytown ... The loss of human life is a tragedy under any circumstances."

"We are deeply and sincerely sympathetic to Mr. Bradford's grieving family and all of those affected by this incident. We all want answers and we believe that with patience and focus, the truth will be firmly established," police wrote in a second update today.
Bradford's family said Sunday morning that the police had not reached out to them and that they initially learned of his death on social media.