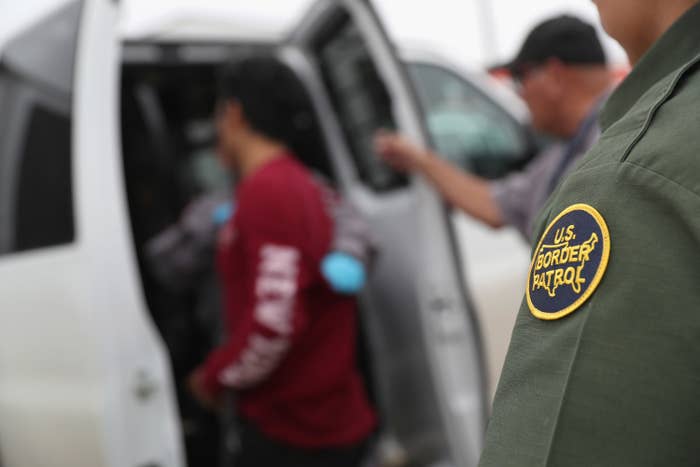 Employees at five leading American firms told BuzzFeed News in an anonymous, nonscientific survey that they were generally split over whether their company should contract with government immigration agencies.
Last month, a leaked recording of a meeting between Ogilvy CEO John Seifert and several employees revealed a sharp conflict: Workers were morally outraged that the iconic ad firm had a contract with US Customs and Border Protection after several children died in CBP custody. But company executives stood by the work as responsible and "prestigious" business.
It was a conflict made for the Trump era, between a company accustomed to working largely uncontroversially with the US government and employees who expected their employer to take a value stand against the worst features of the new American right.
Before the Ogilvy meeting — you can read a full transcript here — the employees started talking about the CBP contract on a messaging board on Fishbowl, a platform that allows people to sign up with their company email address to communicate with one another based on a shared employer or being in the same industry.
So BuzzFeed News partnered with Fishbowl to run surveys of employees at the five major companies — Guidehouse, Deloitte, McKinsey & Co., Grant Thornton, and Accenture — that were awarded contracts with CBP and/or Immigration and Customs Enforcement (ICE). The anonymous survey showed up on the Fishbowl feeds for each company employee.
BuzzFeed News asked how much employees approved or disapproved of the fact that their company had a contract with the agencies. In all, 2,363 people took the survey.
The private results were a sharp contrast with the leaked confrontation between Ogilvy staff and employees.
Results show that most employees seem split into three camps: Roughly a third (29.4%) approved or strongly approved of their company's work with these government agencies, a bit more than a third (39.1%) had no opinion, and another third (31.7%) disapproved strongly or somewhat with their company's decision to work with ICE or CBP.
The limited results indicate that many employees aren't necessarily up in arms about their company doing work with immigration authorities. Many were glad because they trust the work their company does and thought it would be a good influence on government operations.
"Someone will always take the contract. I would much rather be involved and/or have the company be one with a strong culture of ethical behavior. There is a way to recruit people who can do the job but not abuse their positions or disregard human integrity for the people they are hired to stop, hold, etc.," commented one person on Fishbowl who works for Accenture, a professional services company that was hired last year to help CBP recruit. The government has since discontinued the contract.
"Helping the US government to recruit people is bad how?" said another Accenture employee.
"Every government organization is bad at what they do — that's why they need consultants in the first place," said someone who works at Deloitte, a consulting company that has a contract with ICE and whose employees called for termination of that contract last year.
A Grant Thornton spokesperson said the firm "has a long-standing history of serving federal and state government agencies with quality and distinction. Professional standards prevent us from commenting on specific client engagements. We do not have any comment on your poll."
Accenture declined to comment, and Guidehouse, McKinsey, and Deloitte didn't return requests for comment.
Some employees on Fishbowl were blunt: It's a business.
"Who gives a shit? It's about making money, and I bet ICE is getting a lot of that now. No reason why we can't get some of it 😊," wrote another employee at Deloitte.
Fishbowl also provided an analysis of content posted in Fishbowl-wide public groups by employees of these five companies and Ogilvy. Data scientists from Fishbowl searched for posts that mentioned the keywords "immigration," "immigrant," "undocumented," "border patrol," "CBP" (all caps only), and "ICE" (all caps only) and ran a few calculations on behalf of BuzzFeed News.
BuzzFeed News wanted to find out just how relevant the topic of immigration was to employees of these six companies. The analysis found that the conversations around immigration spiked at three particular points in time: November 2016, the month President Donald Trump was elected; January 2017, the month of Trump's inauguration and a slew of immigration-related policies, including the Muslim ban, a crackdown on sanctuary cities, and talk about building a wall between Mexico and the US; June and July 2018, when news of families being separated at the border broke; and July of this year, when Ogilvy's CEO John Seifert had to address concerns from his employees over the ad company's contract with CBP.
Below is a chart that shows what percentage of all content posted involved those terms over time. (Fishbowl was founded in the fall of 2016.)
To better understand the nature of the conversations around immigration, BuzzFeed News asked Fishbowl to also run an analysis on the posts that included the immigration-related keywords. The data scientists looked into word pairings, or bigrams — imagine splitting a sentence into a bunch of words that are adjacent to one another and then counting how often each pair occurs.
The analysis below shows how often word couplets appeared across all of the messages. Among the most common word pairings in immigration-related posts were "illegal immigrants," "immigrant parents," "border patrol," and "white people."
See the top 40 pairings below.
Corporate activism has made headlines throughout the country with workers from Ogilvy, Equinox, Edelman, and Wayfair walking out or protesting their company's involvement with government immigration agencies or the Trump administration.
Employees at the companies surveyed are also having more conversations about what is an ethical or a nonethical source of revenue.
"If corporate companies are about inclusion and diversity and about non bias and non judgement with people, it should be the same for work revenue. Someone's got to do the work," commented one Accenture employee.
A Deloitte employee responded to that comment: "I never considered it like that. I'm pro-life, but I wouldn't care if we had a contract with Planned Parenthood or a similar organization, but I would care if they forced me to work on it. From what I've heard, everyone has been allowed to roll off without penalty."
Note: Quotes from employees were marginally edited for grammar.