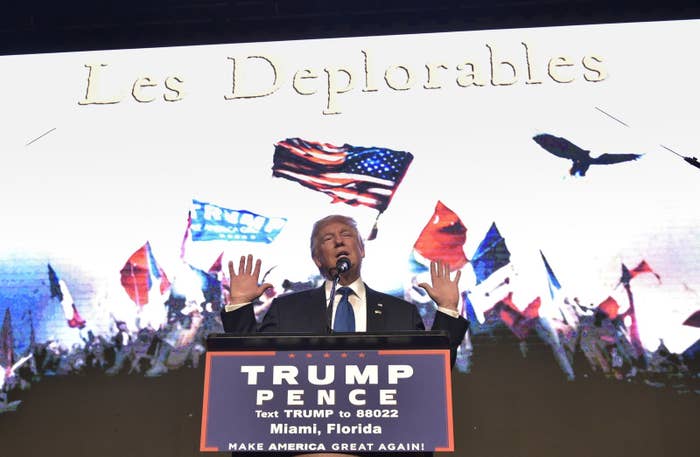 MIAMI — For the second time during the course of the presidential campaign, Donald Trump invoked the possibility of Democratic nominee Hillary Clinton's assassination.

Trump, falsely telling a crowd in downtown Miami, Florida, on Friday that Clinton wants to "destroy" the Second Amendment, said the Secret Service detail protecting her should disarm.
"I think they should disarm immediately," Trump said. "Take their guns away, she doesn't want guns. Take their— and let's see what happens to her. Take their guns away. OK, it would be very dangerous."
"What do you think?" he said to cheers.
The comments were similar to a May tweet by Trump in which he falsely wrote, "Crooked Hillary wants to get rid of all guns and yet she is surrounded by bodyguards who are fully armed. No more guns to protect Hillary!" (Clinton has said she wants to introduce some restrictions on the sale of firearms but has not advocated a total ban).
In August, Trump suggested that "Second Amendment people" could prevent Clinton from appointing liberal justices to the Supreme Court.
In a statement late Friday night, the Clinton campaign blasted Trump for his "pattern of inciting violence."
"Whether this is done to provoke protesters at a rally or casually or even as a joke, it is an unacceptable quality in anyone seeking the job of Commander in Chief," campaign chief Robby Mook said in a statement. "This kind of talk should be out of bounds for a presidential candidate."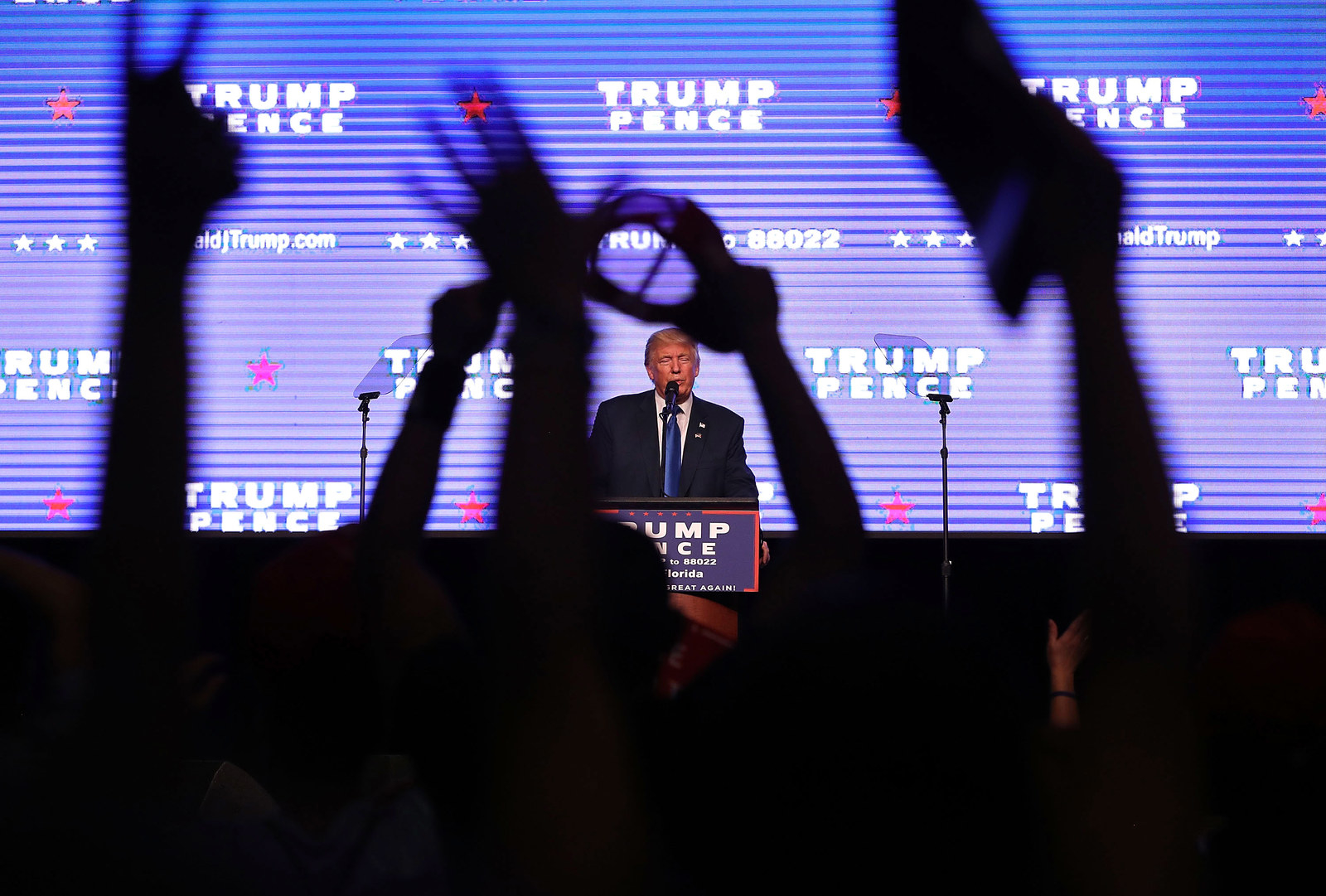 Friday's rally capped off a whirlwind week for the Republican nominee — one that saw his poll numbers rise in critical battleground states, and one in which he finally acknowledged President Obama was born in the United States, although he offered no apology for spreading the conspiracy and instead falsely pinned the blame on Clinton.
Trump made no mention when he spoke in Miami of his pseudo-mea culpa that dominated much of the news cycle, walking out on stage Friday night to the protest anthem "Do You Hear The People Sing?" from the broadway musical Les Misérables. On the video screen behind Trump, the phrase "Les Deplorables" appeared in giant letters — a reference to Clinton's describing half of Trump's supporters as "deplorable."
"Welcome to all of you deporables!" he said to his cheering supporters, before bragging about his "tremendous" poll numbers.
In a riff later in the speech on some of the labels that have been used to describe him and his supporters, Trump said, "Clinton's campaign relies on the tired tactic of smearing opponents who question her policies as racists. It's the oldest play in the Democratic play book – and Americans have had enough."
Trump also told his audience, many of them Cuban Americans, that he would reverse the Obama administration's actions which have eased restrictions on the relationship between the US and Cuba.
"The president's one-sided deal for Cuba benefits only the Castro Regime," Trump said. "But all of the concessions that Barack Obama has granted the Castro regime were done through executive order, which means the next president can reverse them – and that is what I will do, unless the Castro regime meets our demands. Those demands will include religious and political freedom for the Cuban people."
David Mack contributed to this report.