Asked on Sunday morning if he would "unequivocally condemn" former Ku Klux Klan leader David Duke, Donald Trump said he couldn't condemn a group or person he knew nothing about.
Duke, who has expressed support for Trump's candidacy throughout the election, urged his radio listeners last week to volunteer and support Trump, saying a vote against Trump is "treason to your heritage."
Asked to condemn Duke by CNN's Jake Tapper on Sunday, Trump said, "I don't know, did he endorse me or what's going on, because, you know, I know nothing about David Duke. I know nothing about white supremacists. And so you're asking me a question that I'm supposed to be talking about people that I know nothing about."
Trump added, "You wouldn't want me to condemn a group that I know nothing about. I would have to look. If you would send me a list of the groups, I will do research on them. And, certainly, I would disavow if I thought there was something wrong."
Tapper then pressed Trump, saying, "I mean, I'm just talking about David Duke and the Ku Klux Klan here."
Trump still refused to condemn, responding, "I don't know any — honestly, I don't know David Duke. I don't believe I have ever met him. I'm pretty sure I didn't meet him. And I just don't know anything about him."
In an interview on Monday with TODAY, Trump blamed "a very bad earpiece" for his answer.
"I'm sitting in a house in Florida, with a very bad earpiece that they gave me, and you could hardly hear what he was saying," Trump said. "What I heard was 'various groups.' And I don't mind disavowing anybody, and I disavowed David Duke, and I disavowed him the day before at a major news conference which is surprising because he was, CNN was at the major news conference, and they heard me very easily disavow David Duke."
He continued, "Now I go, and I sit down again. I have a lousy earpiece that is provided by them, and frankly he talked about groups, he also talked about groups. And I have no problem with disavowing groups but I least like to know who they are. It would be very unfair to disavow a group Matt, if the group shouldn't be disavowed."
Trump's rivals, Ted Cruz and Marco Rubio, both attacked the businessman for not condemning Duke and the KKK.
Trump's claim in Sunday's interview to "know nothing about David Duke" is dubious at best — he cited Duke in 2000 as a reason he would not run for president on the Reform Party ticket.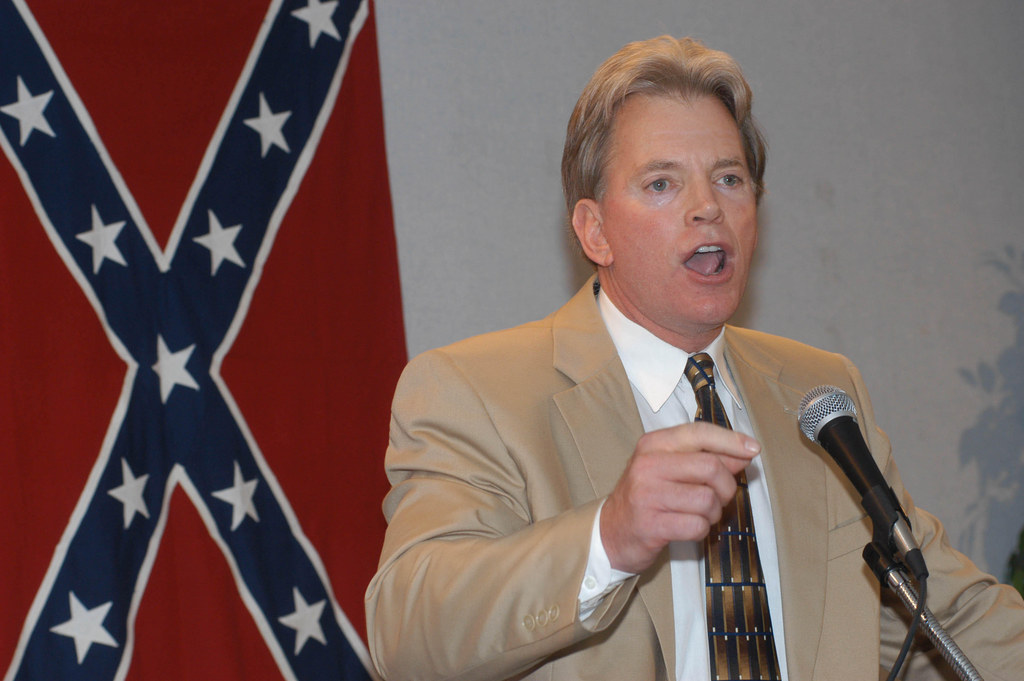 "The Reform Party now includes a Klansman, Mr. Duke, a neo-Nazi, Mr. Buchanan, and a communist, Ms. Fulani," Trump said that year. "This is not company I wish to keep."
And when asked at his Friday news conference in Texas about Duke's support, Trump said he disavowed it.
"I didn't even know he endorsed me. David Duke endorsed me? I disavow, OK," Trump said.
Trump drew attention to that answer after his interview on Sunday: