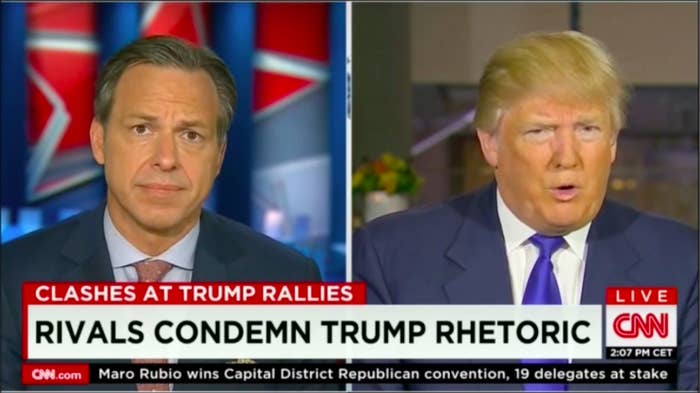 Donald Trump, fresh off a weekend marked by turmoil at his campaign rallies, made appearances on four networks on Sunday, where he faced questions about his own responsibility in creating the volatile environment now erupting on the campaign trail.
Notably absent from the interviews on CNN, NBC, CBS, and Fox News, was any mention of the criminal complaint against Trump's campaign manager over an alleged incident that occurred between him and a reporter at a press conference in Florida last week.
Breitbart reporter Michelle Fields alleges that Trump's campaign manager Corey Lewandowski grabbed her, leaving bruises on her arm. The campaign has denied the charges, and accused Fields of making the story up.
Trump was not asked about the incident on stage at Thursday's CNN Republican debate, but told reporters after the debate that "the Secret Service said nothing happened."
Between Trump's response on Thursday and his interviews on Sunday morning, new developments in the case occurred. On Friday, Fields filed a police report with the Jupiter Police Department, and the department announced they were investigating the incident. New videos from several angles also emerged of the incident.
Spokespersons for the networks who interviewed Trump on Sunday morning did not immediately return a request for comment.