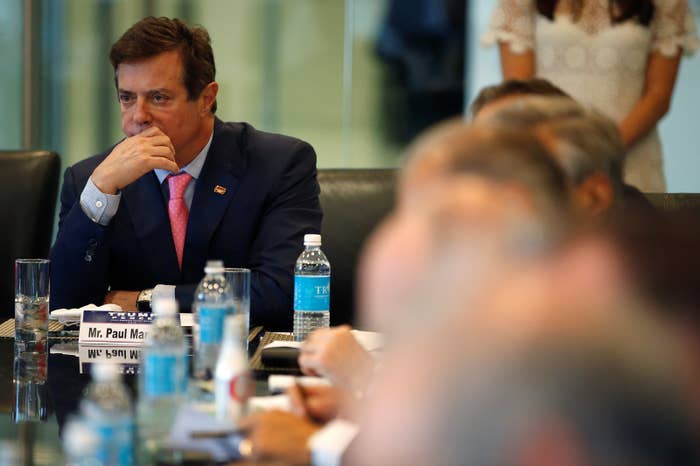 Donald Trump's campaign chairman, Paul Manafort, resigned from his position on Friday morning following a staff shakeup earlier in the week and increasing scrutiny over his ties to Russia and Ukraine.
"This morning Paul Manafort offered, and I accepted, his resignation from the campaign," Trump said in a statement. "I am very appreciative for his great work in helping to get us where we are today, and in particular his work guiding us through the delegate and convention process. Paul is a true professional and I wish him the greatest success."

The Washington Post's Robert Costa was the first to report the news of Manafort's resignation.
On Wednesday, Trump hired Breitbart News executive Stephen K. Bannon as his campaign's CEO and promoted pollster Kellyanne Conway to campaign manager — an apparent demotion for Manafort.
Manafort was also facing questions over his ties to the former pro-Russia government in Ukraine. He had, over the past several years, advised former President Viktor F. Yanukovych, a close ally to Russian President Vladimir Putin.
After being brought onto the campaign in March to run Trump's delegate effort, Manafort was promoted to campaign chairman in May.
Hillary Clinton's campaign manager Robby Mook responded to the news in a statement on Friday, "Paul Manafort's resignation is a clear admission that the disturbing connections between Donald Trump's team and pro-Kremlin elements in Russia and Ukraine are untenable."
"Trump still has to answer serious questions hovering over his campaign given his propensity to parrot Putin's talking points, the roster of advisers like Carter Page and Mike Flynn with deep ties to Russia, the recent Russian government hacking and disclosure of Democratic Party records, and reports that Breitbart published articles advocating pro-Kremlin positions on Ukraine," Mook added.
"It's also time for Donald Trump to come clean on his own business dealings with Russian interests, given recent news reports about his web of deep financial connections to business groups with Kremlin ties."

This is a developing news story. Check back for updates or follow BuzzFeed News on Twitter.