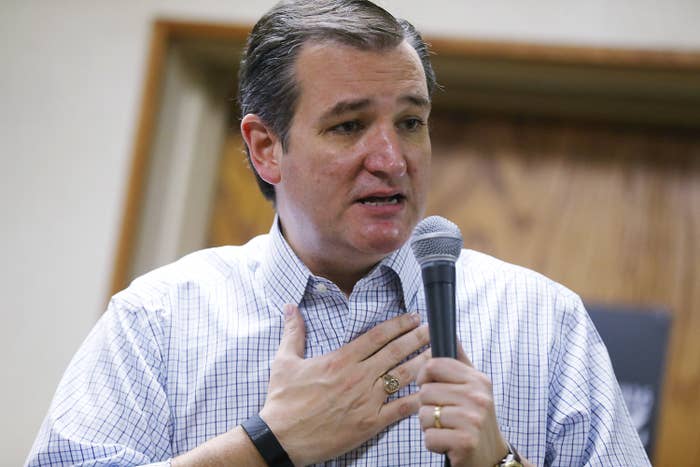 A new lawsuit challenging Republican presidential candidate Ted Cruz's eligibility to be president was filed last week in a federal district court in Utah.
The complaint, signed last Thursday and filed on Friday, is the second of its kind known to have been brought against Cruz, as Donald Trump and his supporters continue to question whether the Canadian-born senator from Texas is a natural-born citizen under the Constitution. (The first was filed in Texas earlier this month.)
The plaintiff, Walter L. Wagner, asserts that Cruz is not natural born as defined by the Constitution because only one of Cruz's parents (his mother) was a U.S. citizen at his time of birth in Canada and because, he alleges, their intention at Cruz's birth was "to have residency or citizenship in a foreign (non-U.S.A.) country."
This is so, he claims, because, Cruz's "mother was a citizen of the U.S.A. and a resident of Canada seeking permanent Canadian residence at the time of defendant's birth."
In a interview with BuzzFeed News, Wagner said he had just heard about the issue surrounding Cruz's citizenship recently, and the more he looked into, the more he thought Cruz's assertion that he was natural-born was incorrect.
"I'm a natural-born citizen, and most people are in this country, and it just doesn't seem proper," Wagner said of Cruz's claim.
"This is about Mr. Cruz and his assertion that he is a natural-born American, even though he was raised Canadian his first four years," Wagner continued. "That would mean anyone raised in any country would be able to claim that they are a natural-born citizen if they had a parent that's an U.S. citizen."
Wagner, who described himself as a political centrist, said he reached out to opposing campaigns after he filed his claim for their assistance in helping serve Cruz. Wagner added that he is a trained lawyer but has not practiced in 30 years.
Wagner is seeking a declaratory judgment from the court that Cruz is not a natural-born citizen and therefore not eligible to run for president.
In 2008, Wagner filed suit in federal court against the U.S. Department of Energy and European Center for Nuclear Energy Research (CERN), alleging that the Large Hadron Collider particle accelerator might create a black hole that could destroy Earth — and that the governmental entities were covering up this risk.
A spokesperson for the Cruz campaign did not immediately respond to a request for comment.