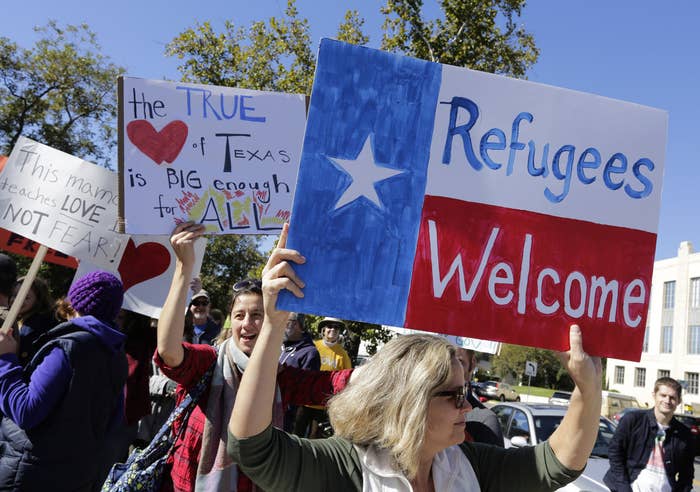 Texas officials sued the Obama administration and a refugee resettlement nonprofit organization on Wednesday afternoon, two days before a Syrian refugee family is due to arrive in the state.
The Texas Health and Human Services Commission has asked U.S. District Court David C. Godbey to issue an immediate temporary order stopping the federal government from resettling refugees in Texas through December 9 and hold a hearing so Texas officials can make their case for a further order preventing resettlement of Syrian refugees until certain conditions are met.
"We have been working diligently with the International Rescue Committee to find a solution that ensures the safety and security for all Texans, but we have reached an impasse and will now let the courts decide," Texas Health and Human Services Commission spokesperson Bryan Black told BuzzFeed News in a statement.
The filing in federal court followed a series of behind-the-scenes moves over the past day regarding the potential resettlement of a Syrian refugee family of six in Texas, BuzzFeed News has learned.
"In a phone call between the staff for the [International Rescue] Committee and the [Texas Health and Human Services] Commission, the Committee informed the Commission that it intends to resettle six Syrian refugees in Dallas, Texas on Friday, December 4."
A day earlier, Lutheran Immigration and Refugee Service, a national resettlement organization, in consultation with Refugee Services of Texas, had initially made the decision that resettling a family of six Syrian refugees in Texas would not be in their best interests due to Gov. Greg Abbott and Texas HHS Commission officials' statements opposing the resettlement of additional Syrian refugees in the state in the wake of the November terror attacks in Paris.
Chris Traylor, the executive commissioner of the Texas HHS Commission, told resettlement organizations in letters: "If you have any active plans to resettle Syrian refugees in Texas, please discontinue those plans immediately."
In a letter dated Nov. 25, Traylor went further with Donna Duvin, the executive director of the Texas branch of IRC, writing, "Failure by your organization to cooperate with the State of Texas as required by federal law may result in the termination of your contract with the state and other legal action."
BuzzFeed News learned that the family of six was rescheduled to be resettled to Pennsylvania. On Tuesday night, however, an official with Lutheran Immigration and Refugee Service told BuzzFeed News that they intended to go through resettling the family in Texas.
While Refugee Services of Texas nonetheless told BuzzFeed News on Wednesday that they had no planned Syrian refugee resettlements "booked for arrival to Texas at this time," statements in Texas's complaint suggest that International Rescue Committee either took over the local plans to resettle the family in Texas or has another six-person resettlement scheduled for the same time frame.
Texas Attorney General Ken Paxton said in a statement, "While Texans are compassionate to our core, and take in more refugees than any other state, significant security concerns have been raised about President Obama's plans to admit 10,000 Syrian refugees this fiscal year, nationwide."
Saying that those concerns "put[] all Texans at risk," Paxton said, "Under the law, the federal government has a responsibility to consult with states in advance when relocating refugees, and has not fulfilled that burden here. The point of this lawsuit is not about specific refugees, it is about protecting Texans by ensuring that the federal government fulfills its obligation to properly vet the refugees and cooperate and consult with the state."
Godbey, who will hear the case, was nominated to the federal bench in 2002 by President George W. Bush.
In a statement responding to the lawsuit, the International Rescue Committee, noting it has worked with Texas officials for forty years resettling refugees, said "the IRC acts within the spirit and letter of the law, and we are hopeful that this matter is resolved soon."
"Refugees are victims of terror, not terrorists, and the families we help have always been welcomed by the people of Texas," the statement read.
The State Department did not immediately respond to requests for comment.
Abbott is one of 31 governors who said they would stop or otherwise oppose the resettlement of Syrian refugees in their states after the terrorist attacks in Paris. In November, a family was diverted from Indiana to Connecticut after Indiana Gov. Mike Pence said his state would not accept Syrian refugees.
The ACLU, representing a resettlement agency in the state, followed up by suing Pence, alleging the move violated the Equal Protection Clause of the U.S. Constitution and federal law.
UPDATE
The Justice Department had no substantive comment on the lawsuit Thursday afternoon.
"We decline to comment," Justice Department spokesperson Nicole Navas told BuzzFeed News. "We will review the complaint when served."