Ted Cruz Says Trump Jumped The Shark By Questioning His Citizenship
Cruz tweets out the literal jumping the shark scene.
In an interview with the Washington Post on Tuesday, Donald Trump said Ted Cruz' Canadian birth would be a "big problem" for the GOP.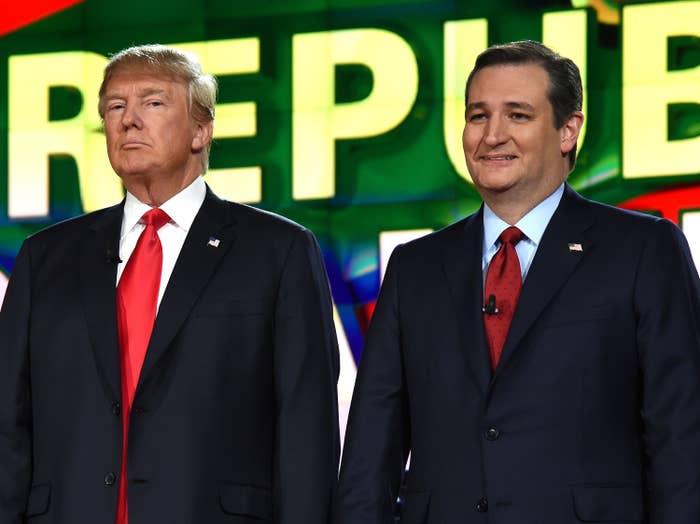 "Republicans are going to have to ask themselves the question: 'Do we want a candidate who could be tied up in court for two years?' That'd be a big problem. It'd be a very precarious one for Republicans because he'd be running and the courts may take a long time to make a decision. You don't want to be running and have that kind of thing over your head," Trump told the Post.
"I'd hate to see something like that get in his way. But a lot of people are talking about it and I know that even some states are looking at it very strongly, the fact that he was born in Canada and he has had a double passport."
Cruz responded by tweeting out a famous scene from the show Happy Days, when Fonzie jumps a shark while water-skiing.
The scene is the actual source of the phrase "jumping the shark" — i.e. when a show, or in this case, a person, has gone into decline. The scene is widely considered to be a turning point in the series when Happy Days declined in quality.
Cruz had managed, until recently, to avoid Trump's attacks, opting to not directly criticize the businessman and Republican presidential front-runner. Now that recent polls have Cruz leading in Iowa, Trump has zeroed in on the Texas senator, calling into question his faith and Canadian birth (something Trump once said wasn't a problem).
Cruz was a dual citizen of Canada and the U.S. until last year, when he renounced his Canadian citizenship. His mother was an American citizen living in Canada.
27 days until Iowa!