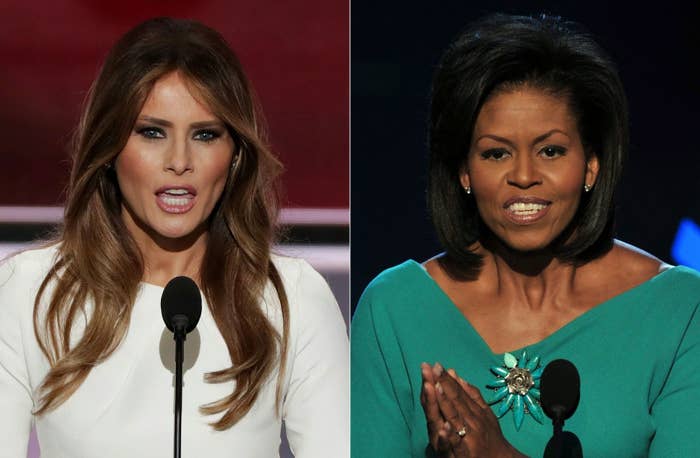 Did Melania Trump crib parts of Michelle Obama's 2008 convention speech when delivering her own convention speech last night?
The answer from the Trump campaign and a top surrogate: maybe only a little.
"They're a couple of phrases. It's basically three places in the speech, and it's fragments of words," said Paul Manafort, Trump's campaign chair and convention manager, on CBS This Morning. "She knew what she was doing. And she never cribbed from another speech without acknowledging that she was quoting somebody else."
He added, "We're talking about words like compassion, love of family, respect. These are not words that are unique words, that belong to the Obamas."
"There's nothing that she did in that speech that she thought was anybody's words but herself," Manafort concluded.
At a press conference later on Tuesday, Manafort said the speech touched on universal themes.
"These are themes that are personal to her, but personal to a lot of people depending on the stories of their lives," he said. "Obviously, Michelle Obama feels very much similar sentiments towards her family."
He alleged the Hillary Clinton campaign was the first to focus on the alleged plagiarism.
"When Hillary Clinton is threatened by a female, the first thing she does is try to destroy the person," he said.
New Jersey Gov. Chris Christie, a top Trump backer, said he couldn't make the case for plagiarism "when 93% of the speech is completely different from Michelle Obama's speech."
"A lot of what I heard last night sitting on the floor sounded very much like her and the way she speaks about Donald all the time," Christie told NBC's Today.
Reince Priebus, the chairman of the Republican National Committee, said on Tuesday morning that he'd probably fire Melania Trump's speechwriter if it were up to him.
Trump's senior communications adviser, Jason Miller, released a statement Tuesday morning that read: "In writing her beautiful speech, Melania's team of writers took notes on her life's inspirations, and in some instances included fragments that reflected her own thinking. Melania's immigrant experience and love for America shone through in her speech, which made it such a success."