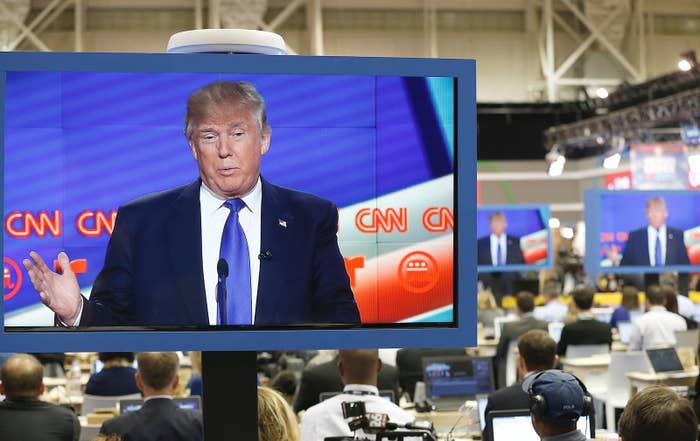 Snapchat head of news Peter Hamby, who spent years at CNN as a reporter covering politics, ripped into the cable news industry on Thursday for its coverage of Republican presidential nominee Donald Trump.
How the news media covers Trump — especially the wall-to-wall coverage of his early campaign on cable — has been a point of major debate this election cycle, with many pointing fingers at CNN, MSNBC, and Fox News for turning over their platforms to Trump in the summer of 2015.
In his the seventh episode of his Snapchat original series, "Good Luck America," Hamby, who left CNN for Snapchat in April 2015, says Trump "has brought out the worst impulses of the media this year, and the media seem to be loving every minute of it."
"Are you watching the same shit I'm seeing on TV every day? Because the news media is a mess," Hamby says at the top of the episode.
The episode highlights some notable (and comedic) examples of TV news journalists going soft on Trump, including Bloomberg's Mark Halperin asking the candidate if he owns jeans. At one point, Hamby says, "you can even kiss Donald Trump's ass on live television" before playing a clip of MSNBC's Joe Scarborough praising Trump on air.
Hamby argues that Trump has been good for the news business, which has led to countless hours of coverage of his candidacy. While there has been some quality reporting on the candidate, it doesn't get as much attention as the ridiculous coverage, he added.
The episode is available through Snapchat Discover, which is viewed by 100 million users each month, according to the company. Nielsen research commissioned by the company showed that the app reaches 41% of all 18-34 year-olds in the US every day.
"You guys should demand better from the news," Hamby concludes. "The powers that be might actually mix it up if they thought it would get people under the age of 60 to watch TV."

Check out some clips of the episode: