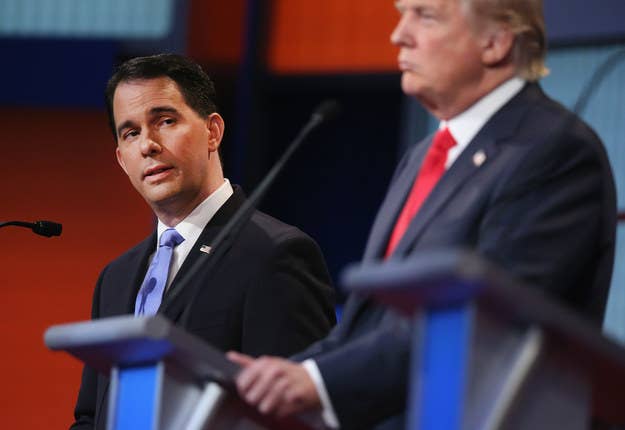 What We Know So Far
Wisconsin Gov. Scott Walker announced Monday evening he was suspending his presidential campaign.
After a strong early showing, Walker suffered from tepid debate performances and difficulties answering some policy questions.
The big question: Where will the donors who backed Walker as a real deal national candidate go?
Walker gave no indication of plans at breakfast with supporters last week
Even late last week, Walker wasn't showing outward signs of planning to drop out.
Republican pollster Frank Luntz, who hosted Walker at a breakfast at his home in Los Angeles on Thursday, the day after last week's debate in California, said in an email that it was a "total shock" to him that Walker was exiting the race. He said there was no indication that anything was amiss at the breakfast and Walker didn't hint at the looming campaign suspension.
Walker "talked about the campaign a little bit," Luntz said in a phone conversation with BuzzFeed News on Monday. "There was nothing out of the ordinary."
The event wasn't a fundraiser per se, but "more a thank you to donors than anything else," Luntz said. The breakfast was attended by Walker supporters, including one of the members of the Ricketts family, who have been some of Walker's most important donors. Luntz is known for hosting events for politicians at his home, which contains a large collection of political memorabilia.
Luntz said he predicted that many of Walker's donors would migrate to Marco Rubio, because "a lot of Walker supporters had Rubio as their second choice, and a lot of Rubio supporters had Walker as their second choice."
But "nothing happens for a while because you have to go through a grieving period," he said.
—Rosie Gray
Walker Loyalists Already Floating Prospect Of Triumphant Return In Brokered Convention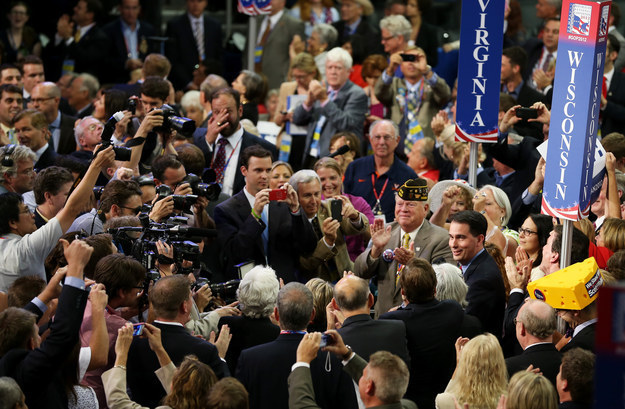 Scott Walker framed his decision to drop out of the presidential race Monday as an attempt to bring order to the GOP's unwieldy 2016 primaries.
But some of the Wisconsin governor's loyalists are already talking up the possibility that if chaos continues to reign in the race, Walker could come back and win the Republican nomination from the convention floor next summer.
Two Republican strategists with ties to Wisconsin told BuzzFeed News that Walker's allies have been floating the prospect in political circles. And a fundraiser for Walker, speaking on condition of anonymity, said that while he doesn't know if the governor himself is behind the buzz, "with this campaign season, nothing would surprise me."
In a press conference in Madison, Wisconsin, Walker said he felt "called to lead by helping to clear the field in this race." He also encouraged other Republican presidential candidates to consider dropping out "so that voters can focus on a limited number of candidates who can offer a positive conservative alternative" to current frontrunner Donald Trump.
The likelihood of a brokered Republican convention in 2016 remains low, but the scenario has generated increased chatter in recent weeks as Trump hangs on to his lead in the polls, making the party establishment jittery.
"The longer we go with Trump or Carson at the head of the pack, the more likely it is that we get to Cleveland without a nominee," said one GOP strategist with ties to Karl Rove's super PAC American Crossroads.
Still, there is skepticism in Republican circles that Walker would be the consensus candidate to emerge victorious from a floor fight. One GOP source called it "crazy."
And one of the strategists with ties to Wisconsin said, "The problem is that if you had a brokered convention scenario, [Walker] wouldn't even be the most likely person out of Wisconsin to win the nomination. That would be Paul Ryan."
–McKay Coppins
Pro-Walker super PAC will "wind down" and give remaining money back to donors
A spokesman for the pro-Walker super PAC, Unintimidated, which reported raising $20 million in July told BuzzFeed News the group will soon start sending cash back to its donors. "In light of the governor's announcement, Unintimidated PAC will wind down our existing efforts and return remaining resources to supporters."
Between Unintimidated PAC, and 527 committee, Our American Revival, Walker had raised more than $26 million by the end of July, according to reports filed with the Federal Election Commission and Internal Revenue Service.
Walker announced his candidacy after the FEC's deadline for campaign finance filings, so he had not yet reported his campaign's fundraising.
The two groups allied with Walker, however, had brought in millions from top GOP donors including Chicago Cubs owners Marlene Ricketts, ABC supply co-founder, Diane Hendricks, Wisconsin businessmen Richard Uihlein, Houston Texans owner Robert McNair, Arkansas investment banker Warren Stephens and Minnesota billionaire Stan Hubbard.
Although many top Republican donors remain uncommitted so far in the 2016 election cycle, Walker had so far received the most amount of money from 2014's top GOP donors, bringing in $14.1 million from those donors.
–Tarini Parti
Source: "No decision has been made" about which candidate the Ricketts family will support after Walker's exit.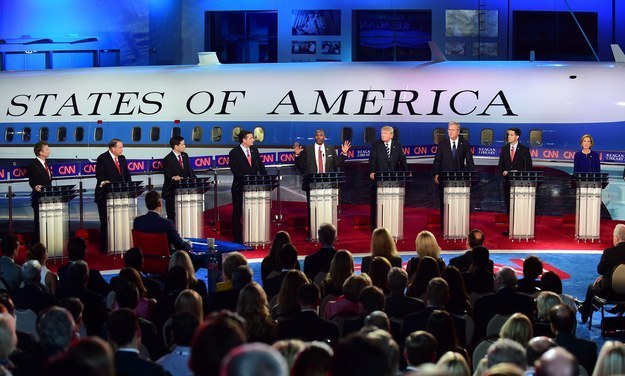 The Chicago Cubs–owning Ricketts family, one of the most important sources of financial backing for Walker, have not yet decided what they will do next, according to a source close to the campaign. "No decision has been made," the source said. The Ricketts were informed in advance before Walker's announcement that he was dropping out, the source said. Joe and Marlene Ricketts gave $5 million to Walker's super PAC, and their son Todd was announced as a campaign finance chair in July.
The Ricketts have donated to other candidates before, however. "The Ricketts had previously given money to several other of the campaigns including Jeb Bush and Marco Rubio and Chris Christie, to name a few, and they have great respect for the other candidates, but they wanted to support Scott Walker, they supported his record, they thought he had a good path," the source said.
Reached by email earlier on Monday, Todd Ricketts, who with his father, Joe, runs the family's Ending Spending political organization, said he was "going to let the Gov speak before answering any questions myself."
—Rosie Gray
The Bush, Cruz, Rubio, and Kasich campaigns have already called Walker's Nevada chair.
Former Nevada Gov. Bob List, who was Walker's Nevada chair, told BuzzFeed News he hasn't decided yet on who he is going to back but is getting a lot of calls, including calls from the campaigns of Jeb Bush, Ted Cruz, Marco Rubio, and John Kasich.
He said he likes all of them and is going to take some time before he endorses.
Walker's dropping out, List said, came as a total surprise — Walker visited last week and showed no signs that this was on the horizon.
He said he thinks Walker may have dropped out because of how "accomplished" he is and seeing "inexperienced folks running up in the stratosphere" and because "you have to begin to wonder what's going on in 2015 in America."
Kurt Daudt, the speaker of the Minnesota House and the Walker campaign's state chair there, said that while he would take some time to decide who to endorse with Walker out of the race, the other candidates he particularly liked were Rubio and Fiorina.
Daudt says that Rubio's campaign texted him this afternoon and that the Florida senator was one of his favorite candidates "even before I supported Walker."
"I like the fact that Rubio is young," Daudt said. "He's gonna appeal to the younger voters and especially against Hillary Clinton."
Daudt also praised Fiorina for standing up to Donald Trump during last Wednesday's GOP presidential debate.
"She did it well and eloquently," he said, before adding that while he expected to be active in whichever campaign he endorsed, he wanted to talk to other Walker supporters and donors from Minnesota before making his decision.
—Christopher Massie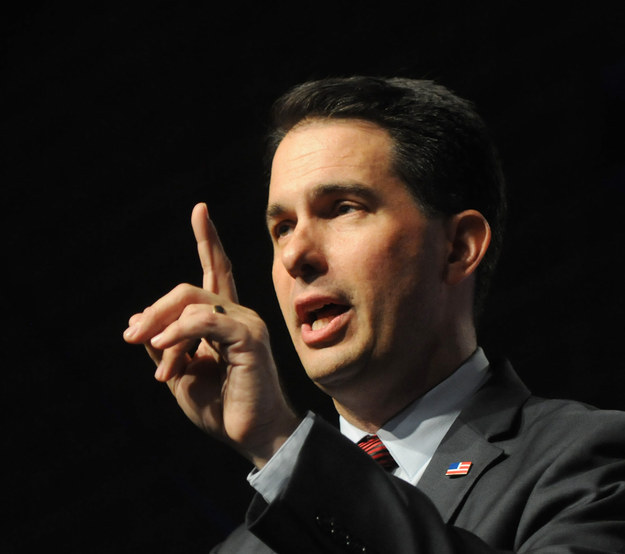 Wisconsin Gov. Scott Walker is dropping out of the Republican presidential race, a Republican source confirmed to BuzzFeed News.
The news was first reported by the New York Times.
"In the end, I believe that the voters want to be for something and not against someone," Walker said at a news conference in Madison, Wisconsin, Monday evening.
"Sadly the debate taking place in the Republican Party today is not focused on that optimistic view of America."
"Today, I believe that I am being called to lead by helping to clear the field in this race so that a positive, conservative message can rise to the top of the field. With this in mind, I will suspend my campaign immediately," Walker concluded, encouraging fellow Republicans to do the same so the party could focus on a single candidate.
Based on his record as a social conservative and union buster, Walker initially surged early in the year following a speech at a large Republican Iowa event — sudden success that caught some inside the campaign off guard. Since then, Walker has struggled to stand out in a crowded field currently led by political outsiders like Donald Trump, Ben Carson, and Carly Fiorina.
The Wisconsin governor also struggled with policy topics beyond more domestic issues. In particular, he shifted positions on immigration policy, and at times seemed somewhat out of his depth on foreign policy — the latter especially of particular importance to the donor class.
After what many viewed as two disappointing debate performances, Walker's standing in the polls plummeted, and at least one top Walker donor began giving to other candidates.
Just last week, some in Walker's camp sought to discredit campaign manager Rick Wiley, whom they blamed for the candidate's poor performance.
All eyes in the coming days and weeks will be on which candidates will benefit from Walker's network of supporters and donors. After the news of the announcement broke, New Hampshire TV station WMUR reported that Walker's co-chair in the state, Cliff Hurst, would now back Florida Sen. Marco Rubio.
Walker's announcement comes less than two weeks after former Texas Gov. Rick Perry suspended his presidential campaign.