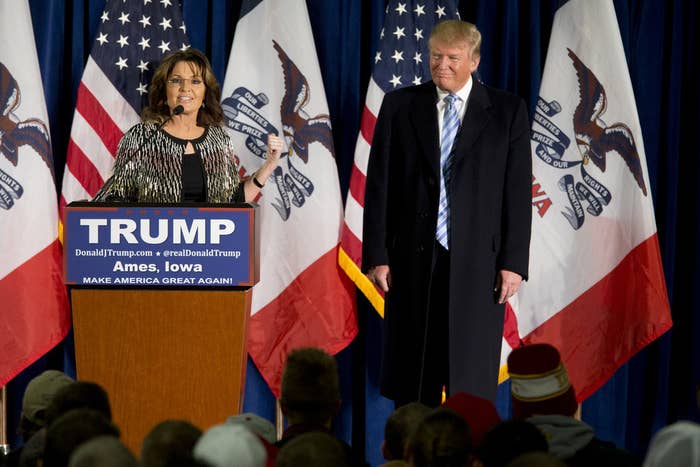 Sarah Palin brought her folksy style back to the presidential campaign stage in Iowa Tuesday, endorsing Donald Trump as someone who has the business acumen and gravitas to lead from ahead, not behind.
Palin, the 2008 GOP vice presidential nominee, took the stage in her metallic fringe jacket to a packed crowd, her famous one-liners drawing cheers as Trump stood silently to the side.
"Looking around at all of you — you hard working Iowa families, you farm families and teachers and teamsters and cops and cooks — you rock-and-rollers and holy rollers!" Palin said. "All of you who work so hard. You full-time moms. You with the hands that rock the cradle. You all make the world go round, and now our cause is one."
She also addressed the terror threat and Trump's ability to lead on the world stage.
"Are you ready for a commander-in-chief who will let our warriors do their job and go kick ISIS' ass? Ready for someone who will secure our borders, to secure our jobs, and to secure our homes?" she asked. "Ready to make America great again, are you ready to stump for Trump? I'm here to support the next president of the United States, Donald Trump."
Palin's endorsement was first reported Tuesday by the New York Times.
It had been widely speculated that the former Alaska governor and 2008 Republican vice presidential nominee would appear with Trump at a rally in Ames, Iowa, based on flight records and Trump himself teasing a "big announcement" with a "very special guest."
Palin's endorsement is a major pick-up for Trump in Iowa, where he's running neck-and-neck with Texas Sen. Ted Cruz, who was once championed by Palin.
Trump said of the endorsement, "I am greatly honored to receive Sarah's endorsement. She is a friend, and a high quality person whom I have great respect for. I am proud to have her support."
Palin emerged from the 2008 campaign as a star in the grassroots conservative movement. After resigning as governor in 2009, Palin went on to endorse a slew tea party candidates who would win their elections in 2010, including Kentucky Sen. Rand Paul and Florida Sen. Marco Rubio.
Before her endorsement Tuesday evening, Cruz's campaign spokesman Rick Tyler warned that Palin backing Trump would damage her image as a champion of conservative causes.
"I think it'd be a blow to Sarah Palin, because Sarah Palin has been a champion for the conservative cause, and if she was going to endorse Donald Trump, sadly, she would be endorsing someone who's held progressive views all their life on the sanctity of life, on marriage, on partial-birth abortion," Tyler said on CNN's New Day.