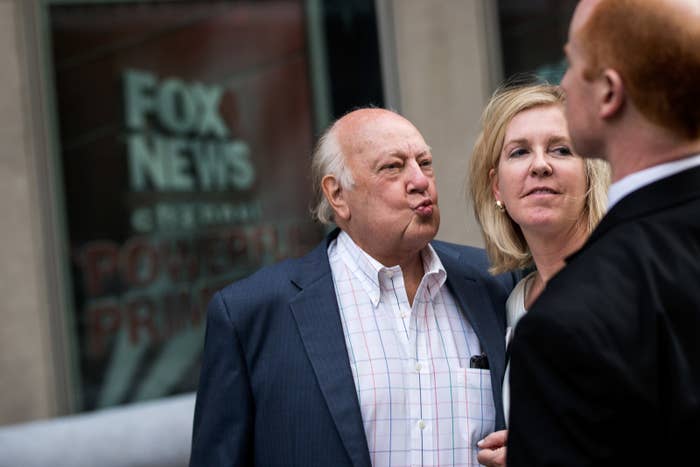 Fox News Chairman and CEO Roger Ailes has resigned from the network under a cloud of controversy surrounding sexual harassment allegations made against him, 21st Century Fox announced on Thursday. The resignation is effective immediately.
Rupert Murdoch, executive chairman of 21st Century Fox, will assume the role of acting chairman and CEO of the network.
"Roger Ailes has made a remarkable contribution to our company and our country. Roger shared my vision of a great and independent television organization and executed it brilliantly over 20 great years," Murdoch said in a statement.
"I am personally committed to ensuring that Fox News remains a distinctive, powerful voice," he said. "Our nation needs a robust Fox News to resonate from every corner of the country."

The move marks an abrupt and undignified end for the controversial executive who transformed the cable news industry and grew Fox News into a major force in Republican politics.
Ailes will receive $40 million as part of a settlement package, according to the New York Times, citing two people briefed on the matter. The amount is essentially the remainder of his employment contract through 2018, according to the Times.
The removal of Ailes, who has personally overseen Fox News programming since the network's launch in 1996, now leaves uncertain the long-term future of the network's right-wing bent and could open the door for additional high-profile exits.
The exit comes after former Fox News anchor Gretchen Carlson filed a civil suit against Ailes in early July, accusing her former boss of sexual harassing her and retaliating against her for refusing his advances. On Monday, New York reported that Ailes' corporate bosses, Rupert Murdoch and sons Lachlan and James, had made the decision to remove Ailes from his post. On Tuesday, the magazine reported that Fox News host Megyn Kelly had told internal investigators that Ailes had sexually harassed her as well.
"Within just two weeks of her filing a lawsuit against Roger Ailes, Gretchen Carlson's extraordinary courage has caused a seismic shift in the media world," Carlson's lawyers, Nancy Erika Smith and Martin Hyman, said in a statement. "We hope that all businesses now understand that women will no longer tolerate sexual harassment and reputable companies will no longer shield those who abuse women. We thank all the brave women who spoke out about this issue. We will have more to say in coming days as events unfold."
Ailes began his career in local television, working his way into Republican politics as an operative for President Richard Nixon. As head of Fox News, he changed the cable landscape by stacking his primetime schedule with outspoken, right-leaning personalities like Bill O'Reilly and Sean Hannity. His removal comes amid a whirlwind presidential election in which many of Fox News' hosts have provided a platform to promote Republican nominee Donald Trump.

Murdoch's sons, who have at times been at odds with Ailes, also released a statement, saying, "We join our father in recognizing Roger's remarkable contributions to our company. Our talented Fox News and Fox Business colleagues, up and down the organization and on both sides of the camera, have built something that continues to redefine the cable news experience for millions of viewers. We are enormously proud of their accomplishments. For them, as well as for our colleagues across our entire organization, we continue our commitment to maintaining a work environment based on trust and respect. We take seriously our responsibility to uphold these traditional, long-standing values of our company."
Shortly after news of Ailes' resignation broke, the Drudge Report published the resignation letter sent by Ailes to Rupert Murdoch. In the letter, Ailes writes, "I take particular pride in the role that I have played advancing the careers of the many women I have promoted to executive and on-air positions."
Here's the full letter:
Dear Rupert,




With your support, I am proud that we have built Fox News and Fox Business Channels into powerful and lucrative news organizations that inform our audience and reward our shareholders. I take particular pride in the role that I have played advancing the careers of the many women I have promoted to executive and on-air positions. Many of these talented journalists have deservedly become household names known for their intelligence and strength, whether reporting the news, fair and balanced, and offering exciting opinions on our opinion programs. . Fox News has become Number 1 in all of cable because I consistently identified and promoted the most talented men and women in television, and they performed at the highest levels.




Having spent 20 years building this historic business, I will not allow my presence to become a distraction from the work that must be done every day to ensure that Fox News and Fox Business continue to lead our industry. I am confident that everyone at Fox News and Fox Business will continue as the standard setters that they are, and that the businesses are well positioned for even greater success in the future.




I am proud of our accomplishments and look forward to continuing to work with you as a consultant in building 21st Century Fox

All the best,

Roger.
This is a developing story. Check back for updates and follow BuzzFeed News on Twitter.