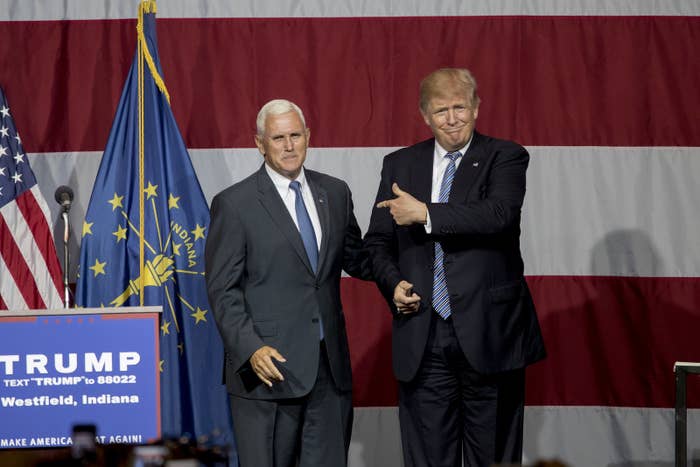 Donald Trump announced Friday morning on Twitter that he has chosen Indiana Gov. Mike Pence as his running mate.
Trump said he would hold a news conference Saturday at 11 a.m. He had postponed an event scheduled for Friday after the attacks in Nice, France.
The announcement on Twitter Friday ends speculation about Trump's choice. Multiple sources — including NBC News, CBS News, CNN, and ABC News — reported on Thursday that Trump would announce that he had chosen Indiana Gov. Mike Pence. Trump told Fox News on Thursday evening, however, that he had not yet made his "final, final" decision yet.
Trump tweeted he would delay the announcement after a driver in a truck plowed through a crowd in Nice, France, killing at least 60 people.
In order to assume the role of Trump's running mate, Pence must forgo running for re-election as Indiana's governor. Under Indiana law, the deadline for him to withdraw from the governor's race is Friday.
Trump did not specify when he plans to make the announcement. The Republican National Convention is next week in Cleveland.
If ultimately chosen, Pence will have beaten out other finalists, including New Jersey Gov. Chris Christie and former House Speaker Newt Gingrich, in what had turned into a public audition in recent weeks. The Indiana governor appeared alongside Trump at a rally in Westfield, Indiana on Tuesday, saying during his introduction, "Let us resolve here and now that from this day forward we will unite we still stand together we will not regress, until we make this good man our next president."
On Wednesday, Trump, along with his children, met with Pence and his family at his home in Indiana.
A former talk-radio host and congressman, Pence is well-regarded among those in the conservative movement. On Thursday morning, House Speaker Paul Ryan said Trump should pick a "movement conservative" as his running mate, and that Pence was clearly a good choice.

In 2015, he signed Indiana's Religious Freedom Restoration Act (RFRA), which, among other provisions, allowed business owners to refuse service to same-sex couples on religious grounds. The law caused a public outcry, with LGBT advocates saying it condoned discrimination and businesses — including the NCAA — mounting opposition to the law. Pence ultimately signed into law clarifications that the law did not allow for discrimination based on sexual orientation or gender identity.
Late last year, Pence joined more than half of the nation's governors in opposing the resettlement of refugees from Syria in his state, citing concerns over security. Pence barred state agencies from assisting in the relocation of Syrian refugees, but a federal judge later blocked his order.