New Poll: Hillary Clinton Still Struggling To Win Over Young Voters
A new poll of adults aged 18 to 34 who live in swing states shows Clinton has made slight gains with younger voters — but still hasn't fully won over Sanders' supporters.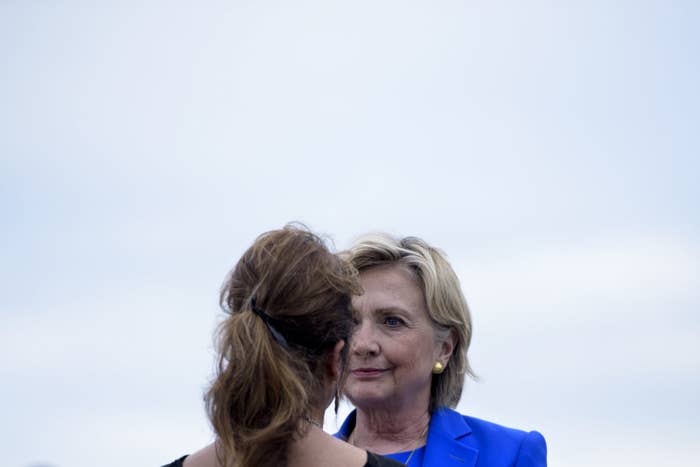 Hillary Clinton is still struggling to win younger voters — many of them supporters of her former rival Bernie Sanders — according to a new poll of swing-state voters aged 18 to 34.
The online poll, paid for by NextGen Climate and conducted by Global Strategy Group the last week of August, shows Clinton with 38% support from young voters in a four-way race — only a three-point increase over a similar survey conducted in early July.
In a two-way race between Clinton and Trump, Clinton increased her support by four points, 44% from 40% in the July survey.
By comparison, Republican nominee Donald Trump only has 20% support in a four-way race, and 23% in a two-way race.
The poll conducted in July found that 21% of young voters were "Sanders holdouts." Clinton only cut into that margin by five points in the most recent survey — with 16% still refusing to vote for Clinton in a four-way race.
While younger voters might be tepid in their support for Clinton, they are fervently against Trump. According to the poll, 73% view Trump as racist and 70% view him as unfit to be president.
Among things Trump has said or done, young voters found his mocking of a reporter's disability to be the most offensive, with 72% finding it "very offensive."
"Millennials' views of Donald Trump hasn't changed — but their awareness of the differences between Trump and Hillary Clinton on the issues has," said Jamison Foser, strategic adviser to NextGen Climate. "Clinton's lead has grown and favorability has increased as young voters learn more about the candidates' policy positions, suggesting that as bad as things are for Trump, they can still get worse."
The poll is based on 1,652 online interviews conducted from Aug. 24 to Aug. 30 with adults aged 18 to 34 in Arizona, Nevada, Pennsylvania, Colorado, New Hampshire, Virginia, Florida, North Carolina, Wisconsin, Iowa, and Ohio.
View the full poll results below: