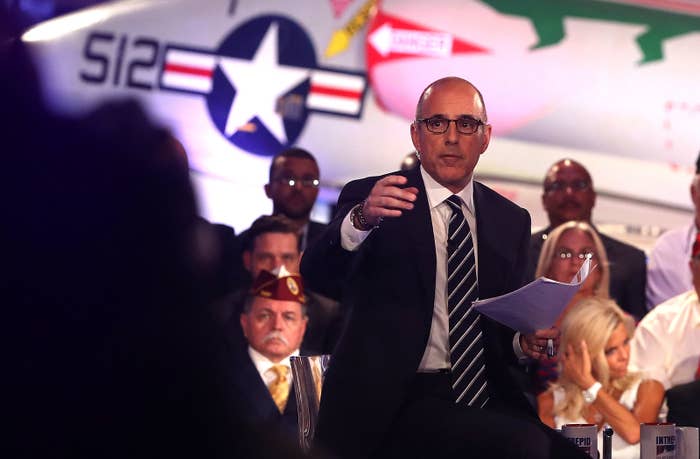 NBC News chairman Andy Lack is showing support for his embattled anchor Matt Lauer — telling staff in an email on Friday that Lauer did a "tremendous job" moderating this week's presidential forum.
Lauer's performance was widely panned by critics, who took him to task for letting Donald Trump lie about his opposition to the war in Iraq and managing time poorly during Hillary Clinton's segment.
Lack, in an email obtained by BuzzFeed News, didn't address any of the criticism but instead focused on the news made out of the event.
"Because of our event, national security has dominated the news cycle for days," Lack wrote. "Every major paper and news broadcast around the world has led with headlines about Putin, Iraq, ISIS, and intelligence briefings. Matt did a tremendous job – driving one of the most serious discussions to date on these topics."

Read the full email below:
Dear Colleagues,

Before this week comes to an end, I wanted to take just a moment to share how proud I am of all the work our teams produced together this week. After a summer of success at the Conventions and the Olympics, we broke more new ground Wednesday night with the first ever Commander-in-Chief Forum.

Against all odds we were able to bring the two presidential nominees together for the first time and presented an important examination of what each would bring to the role of Commander-in-Chief. Because of our event, national security has dominated the news cycle for days. Every major paper and news broadcast around the world has led with headlines about Putin, Iraq, ISIS, and intelligence briefings. Matt did a tremendous job – driving one of the most serious discussions to date on these topics. Nearly 15 million people watched the event, and over 26 million tuned in at some point during the hour.

My deepest thanks to everyone who helped pull off this remarkable achievement.


Have a wonderful weekend!


With much respect and affection,

Andy