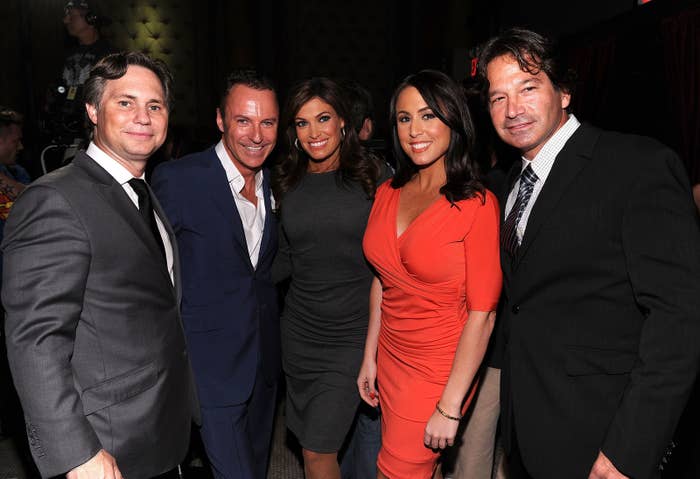 Fox News personality Andrea Tantaros alleged on Monday that she was taken off air after reporting she was sexually harassed by then–chairman and CEO of Fox News Roger Ailes.
Two sources — one with direct knowledge of the legal proceedings involved — provided new details to BuzzFeed News on Monday of the complicated, monthslong legal proceedings that led up to Tantaros's removal.
The dispute was initially about her new book, according to the sources, but developed into an internal investigation involving more than a dozen people after Tantaros alleged that Fox News employees had behaved inappropriately toward her and that threats had been made against her. Tantaros's lawyer disputed that there had been such an investigation.
During the legal proceedings, according to the sources, Tantaros alleged that she had been mistreated by several Fox News employees, both men and women. Five specific allegations, including "inappropriate male behavior," were detailed by Tantaros's legal team in a March 2016 letter made available to BuzzFeed News. Ailes was not among those accused in the letter.
Tantaros's last appearance on Fox News was on April 25, the day before her book, Tied Up in Knots, was published.
According to the source with knowledge of the legal proceedings, Tantaros's dispute with Fox News began in late February, when Tantaros revealed the cover for her book on the Fox News show Outnumbered. Fox News claims Tantaros did not receive their contractually required approval for the book or the cover, and when Tantaros unveiled it on Feb. 29, Fox News' legal team requested a meeting with her to discuss a breach of contract.
Before that meeting occurred, Tantaros's lawyer at the time, Joseph C. Cane, sent Fox News' legal team a letter detailing a series of allegations.
The four-page letter was made available to be reviewed by BuzzFeed News and read in its entirety on the condition that it not be published. In the March 16 letter, Tantaros, through her lawyer, accused by name four Fox News male personalities — two on-air contributors, a correspondent, and a host — of inappropriate behavior.
Tantaros also alleged that she was receiving threatening tweets she believed were from a Fox News colleague. In the letter, Tantaros's lawyer claims Fox News was not taking those threats seriously and was putting her life in danger by allowing unauthorized access to the studio.
The letter contends that Tantaros fulfilled her contractual obligations with the book and told Fox News she did not need to provide it with a copy of the book ahead of time.
The letter also describes a dispute with a specific Fox News personality over a tweet sent by Tantaros and alleges that Tantaros did not feel like she was being supported by Fox News' media relations team.
According to the source with direct knowledge, Fox News investigated the allegations, interviewing more than a dozen employees. When Tantaros sat down with Fox News' legal and HR team on April 7, she was asked directly if she should could recall any specific statements made to her of a sexual nature. According to the source with direct knowledge, she answered that she could not recall.
Initially, Fox News told BuzzFeed News that the company thoroughly investigated the claims Tantaros made. Subsequently, through an spokesperson, Fox News Senior EVP of Programming Bill Shine said "Andrea never made any complaints to me about Roger Ailes sexually harassing her."
In a statement to BuzzFeed News, Tantaros's lawyer Judd Burstein said, "There was no investigation by Fox of more than a dozen employees."

Burstein said there are "documents authored by Fox that demonstrate that broader allegations were made at earlier points in time," and that "Fox has contradicted itself in its own communications — documents that were not provided" to BuzzFeed News. Burstein said the source "has completely misrepresented what took place at just one meeting (including what Ms. Tantaros actually said at the meeting) which primarily dealt with different events." He added that the source "has omitted the numerous complaints about Ailes made prior to Mr. Cane's letter, which, by the time his letter, had been shown to be futile."
"Why has [Fox News executive vice president] Bill Shine chosen to remain silent, instead relying upon Fox to make a selective disclosure by an unnamed sources?" Burstein said. "In the coming days, the truth will come out in much more detail."
Tantaros, through Burstein, has alleged she was sexually harassed by Ailes in August 2014 and February 2015 (Ailes told her she must "really look good in a bikini" and made other comments, New York magazine reported on Monday), before she formally reported the harassment to Shine in April 2015. New York magazine reported that Tantaros made more complaints about inappropriate behavior over the course of the next year, and then, according to Burstein, the book "became this big issue."
This summer, Gretchen Carlson's lawsuit alleging sexual harassment from Ailes has opened the floodgates of detailed allegations from former employees against Ailes. Last month, Ailes resigned.
Burstein alleged Tantaros's removal from Fox News' air was retaliation for reporting those claims against Ailes.