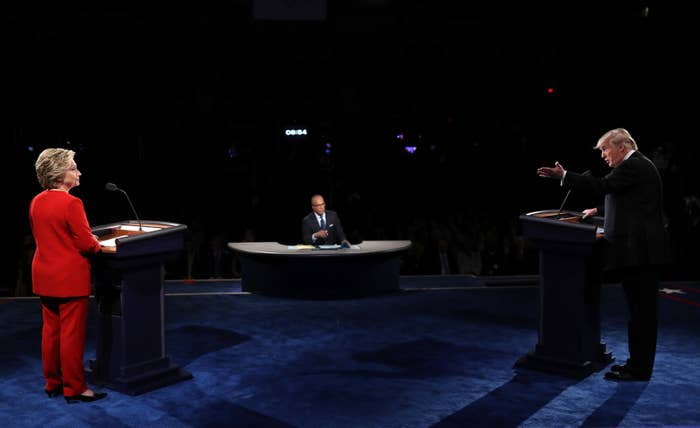 Lester Holt walked on to the stage at Hofstra University Monday night, cleared his throat, and opened the most anticipated presidential debate event in modern history by saying, "The evening belongs to the candidates."

And for much of the night, the NBC Nightly News anchor kept his word, fading into the background and allowing Donald Trump and Hillary Clinton to debate at length, while carefully choosing moments to push back and fact check.
In the days leading up to the debate, the Clinton campaign and some in the media put immense pressure on Holt to aggressively fact-check Trump — something the Trump campaign and the debate commission said wasn't necessarily in the purview of the moderator.
Holt appeared to approach his role mostly as a facilitator of discussion, disappearing from the screen for lengthy periods of time after asking a question and often struggling to keep the candidates to time or to move them to another topic of discussion. The result was a debate that will be most remembered for the interactions between Clinton and Trump, and not for any moment involving Holt.
In moments when he did interject himself into the debate, Holt, in particular, zeroed in on Trump, pressing the Republican nominee on his refusal to release his taxes, his support for stop-and-frisk, his position on the Iraq War, and his years-long campaign questioning President Obama's citizenship.
"I was against the war in Iraq. Just so you put it out," Trump said.
"The record shows otherwise," Holt flatly replied.

Holt's most pointed question of the night went to Trump, when he asked him about birtherism.
"Mr. Trump, for five years, you perpetuated a false claim that the nation's first black president was not a natural-born citizen," Holt said. "You questioned his legitimacy. In the last couple of weeks, you acknowledged what most Americans have accepted for years: The president was born in the United States. Can you tell us what took you so long?"
When Trump tried to again claim that Clinton started birtherism and he ended it by getting President Obama to produce his birth certificate, Holt pushed back, saying, "The birth certificate was produced in 2011. You've continued to tell the story and question the president's legitimacy in 2012, '13, '14, '15, as recently as January."
And while many of Trump's supporters attacked Holt for what they perceived to be uneven and unfair questioning, Trump himself gave the NBC News anchor his seal of approval.
"I thought Lester did a great job," Trump told reporters after the debate. "I thought, honestly, I thought he did a great job."