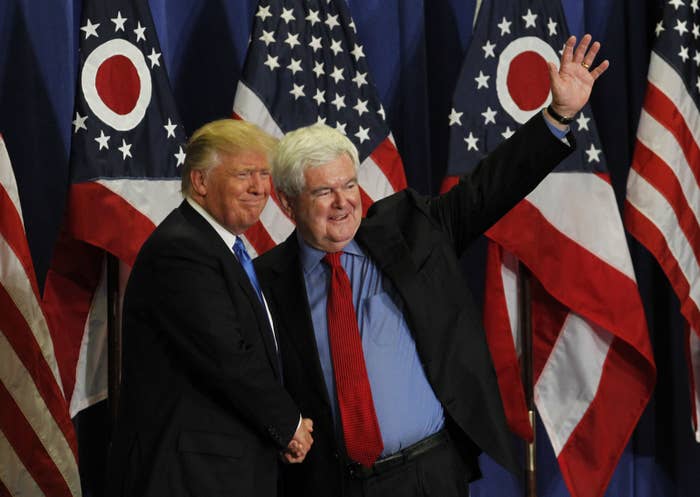 Fox News has suspended former House Speaker Newt Gingrich's contributor contract as speculation intensifies that he may be chosen as Donald Trump's running mate.
"FOX News Channel has mutually agreed to suspend its contributor agreement with Former Speaker of the House Newt Gingrich effective immediately," said Jay Wallace, executive vice president of news, in a statement. "Due to the intense media speculation about Gingrich's potential selection as Donald Trump's vice presidential candidate, we felt it best to halt his contributor role on the network to avoid all conflicts of interest that may arise."
Gingrich is reportedly on the shortlist of candidates to be Trump's running mate, along with Indiana Gov. Mike Pence and New Jersey Gov. Chris Christie. Trump is expected to announce his decision this week ahead of next week's Republican National Convention in Cleveland.
In an interview on Fox News on Tuesday, Gingrich said his "guess" is that the announcement would come "tomorrow or Thursday, certainly no later than Friday."
Gingrich introduced Trump at a rally in Cincinnati last week, where Trump said of the former house speaker, "And I'm not saying anything, and I'm not telling even Newt anything, but I can tell you, in one form or another, Newt Gingrich is going to be involved with our government."