International Migrant Group Chief: "We Are In Crisis Mode"
The director of the International Organization for Migration says more migrants and an unprecedented backlash against them have created the "perfect storm" for refugees.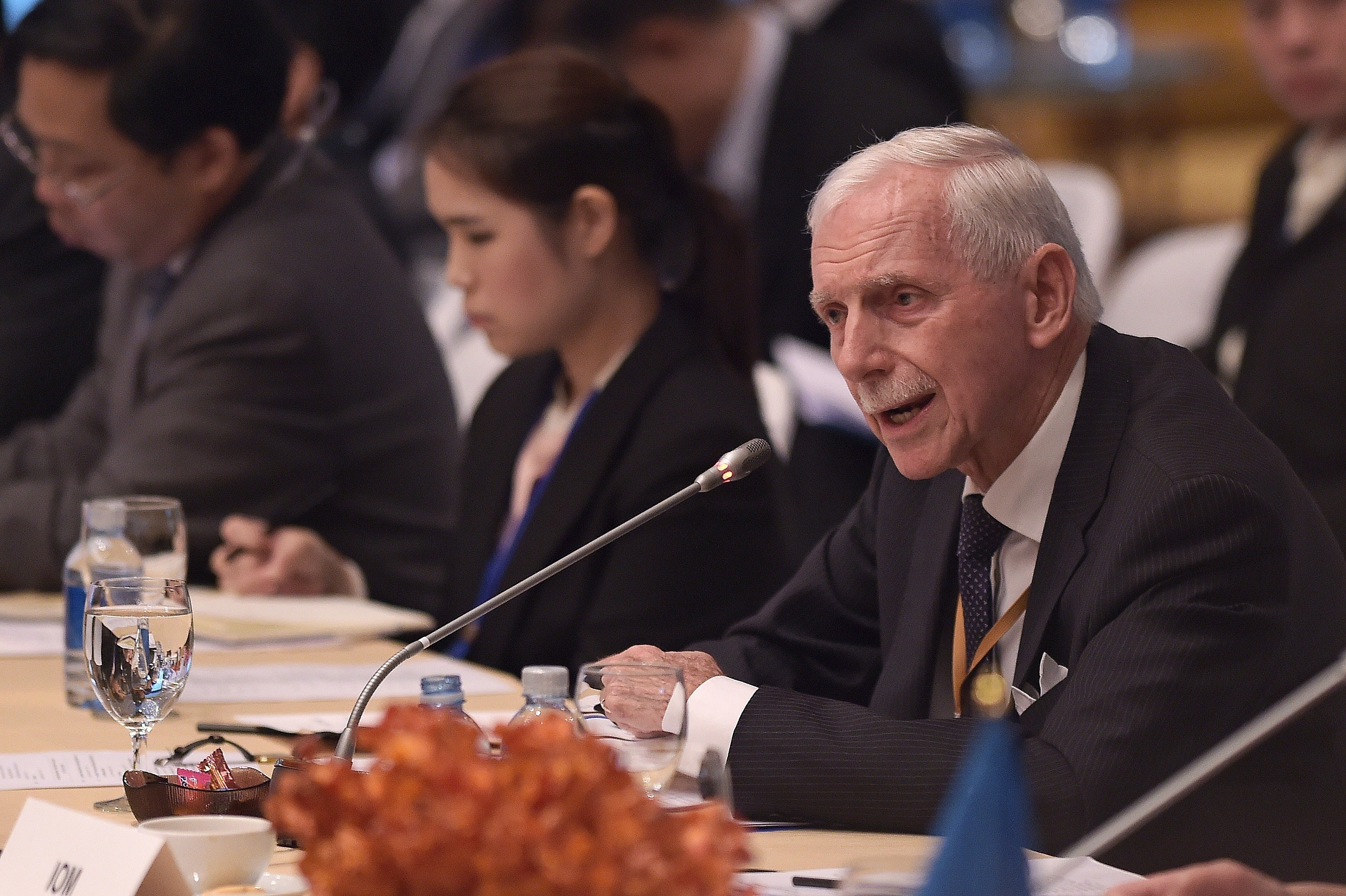 WASHINGTON — The head of the International Organization for Migration (IOM) painted a dire picture on Friday of current efforts to address the migrant crisis in Europe and resettle Syrian refugees in the United States and other countries.
In a recorded video message that opened a small conference on the state of international migration, IOM Director William Lacy Swing noted a shift in attitude towards migrants following the terrorist attacks in Paris last month.
"We are in crisis mode certainly today, especially because attitudes are hardening across the world against migrants, it's even more so now since this heinous attack in Paris," Swing said.
"I've often described our time as a perfect storm, because we have more people on the move than ever before, because of demographics, disasters and other moving forces," Swing continued. "Now what makes the perfect storm is the unprecedented hostility towards migrants and foreigners in general."
While not mentioning any U.S. presidential candidate by name, Swing alluded to comments on Syrian refugees from Republican front-runner Donald Trump as an example of anti-refugee sentiment permeating the current discussion on international aid efforts.
"To read the invective against these victims of war and violence, it's coming not only from the United States but across the world, it really makes me worry about where the world is going, and where humanity itself is headed," Swing said. "We see internet posts linking these to a secret trojan horse-type plot to sneak into Europe and North America and launch attacks."
Swing also referenced remarks made by Sen. Marco Rubio, who following the Paris attack said of taking in Syrian refugees, "It's not that we don't want to, it's that we can't."
"We're told, in effect, that they mean only to punish our generosity with violence, so we'd be wise to slam the door shut. Or as one of our presidential hopefuls recently put it, 'we want to, but we just can't.' This is despite the fact, that there remains absolutely zero evidence that there is any such plot being planned, or becoming operational. It's becoming convenient for many to use the fear of terrorism simply as an excuse for doing nothing, or as a pretext to keep the refugees where they are," Swing said.
"All of this has to dishearten all of us."
The discovery of a forged passport at the scene of one of the Paris attacks raised fears that militants could smuggle themselves in among refugees — though most of the attackers were French nationals and some European officials have suggested the passport may have been planted.