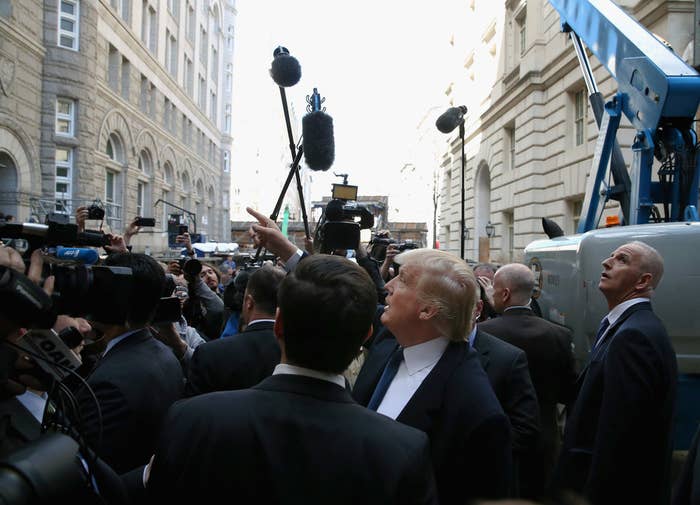 Journalists and Donald Trump's campaign have begun discussions about setting up a more traditional method of covering his candidacy now that he is the presumptive Republican nominee.
According to a source familiar with the meeting, Trump campaign manager Corey Lewandowski and communications director Hope Hicks met with officials from the White House Correspondents Association (WHCA) last Tuesday to discuss the mechanics of creating what is known as a protective pool — a rotating group of journalists who follow the candidate's every move and report on his or her activities even on days with no public events.
The selected journalists, or "poolers," circulate to a wide group of outlets regular reports with up-to-the-minute information on the candidate's movements and interactions similar to how the press covers the president. Poolers travel with the candidate wherever he or she goes in the candidate's motorcade and aboard the campaign's plane.
"We encourage campaigns to create a protective pool once there is a presumptive nominee and offer advice on how to do that but the campaign reporters take the lead on a pool," said WHCA president Carol Lee, who added that the association traditionally meets with all presumptive nominees to discuss a protective pool.
Historically, a protective pool is formed at some point after a candidate becomes a presumptive nominee. Mitt Romney agreed to protective pool coverage in August 2012. During the 2008 campaign, a protective pool was formed around Barack Obama in June and around John McCain in July. Once a candidate has a protective pool, his or her every movement can be dissected by the press.
As it stands, Trump has favored an unconventional campaigning style with large scheduled rallies — instead of fundraising or retail-style events with voters — that wouldn't normally be pooled.
Hillary Clinton has had a pool following her campaign since last April, but that pool is only called on when Clinton is actively campaigning and the poolers do not travel aboard Clinton's charter plane. Reporters covering the Trump campaign have begun informal conversations amongst themselves and the campaign about forming a similar pool until a protective pool is formed.
Forming a protective pool to cover Trump could prove to be difficult given the candidate's and his campaign's treatment of the press covering him thus far. The campaign has severely limited the access reporters have at Trump's events, confining journalists to a pen during his speeches and barring them from approaching the rope line as he exits. Trump's tightly controlled press operation differs from many campaigns — a small group of aides, and Trump himself, reportedly handle many inquiries. The campaign has also refused to credential several outlets (including BuzzFeed News).
If it does happen, a pool will require more access and coordination between the campaign and reporters. Traditionally, journalists select which organizations and reporters are part of the pool.