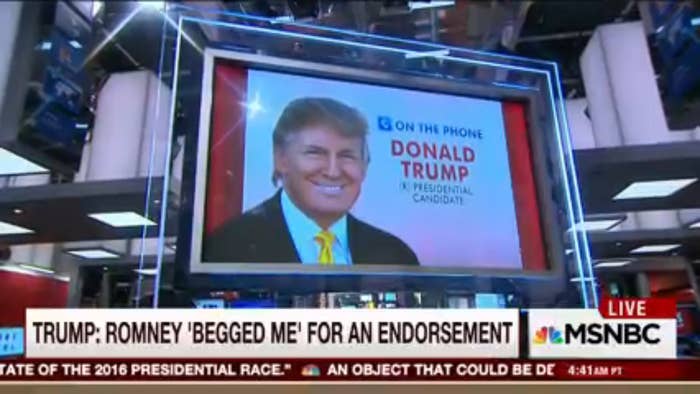 CBS News's decision to not let Donald Trump phone into its morning show has put new pressure on the other major television news operations already under fire for giving massive promotion to the candidate's demagogic and often false claims — and which have allowed Trump to phone it in an unprecedented 69 times in the last 69 days.
Phone interviews are typically a last resort for television and used mainly for special circumstances — a reporter covering a massive breaking news story — but Trump has used the phone to help control the coverage of his candidacy. Earlier this week, Trump at the last minute abandoned plans to appear on camera on several network morning shows, citing technical glitches. Several news executives told CNN the real reason Trump opted to phone it in was because he didn't like the look of his live shot.
Most of the shows still took Trump on the phone, but one top CBS News producer's decision to not accommodate Trump's request suggested the wind might be shifting.
"Unfortunately @realDonaldTrump suddenly unable to join @CBSThisMorning via camera- we won't take on the phone- so we'll wait for next time!" tweeted Chris Licht, the executive producer of CBS This Morning.
In an email exchange with BuzzFeed News, Licht explained his reasoning, writing, "It's pretty simple — outside of breaking news situations — we always want a guest to appear on camera."
CBS has only conducted one Trump interview by phone this year, on the Jan. 24 edition of Face the Nation, after a blizzard prevented a scheduled on-camera interview.
The other networks and their shows have been far more generous to Trump. On the network morning shows, where the competition for high-profile bookings is most intense, Fox & Friends alone has already dialed Trump in 17 times this year. He's done 11 of those interviews on ABC's Good Morning America and 10 on NBC's TODAY.
Elsewhere on cable news, Trump has appeared by phone on various CNN programs 9 different times, and 12 times on MSNBC, 8 of which were on Morning Joe, which has been criticized for what some observers perceive to be a cozy relationship with the candidate.
The networks have conducted phone interviews with other candidates, but Trump's stand out for their frequency and their placement at the top of show line ups. Spokespeople for CNN, NBC News, MSNBC, Fox News, and ABC News all either declined to defend their practice on the record or did not respond to a request for comment. None suggested they'd stop turning their platforms over to Trump any time soon.
Media observers and practitioners have criticized the practice as giving Trump an advantage in tough interviews, where he can potentially consult notes or dodge questions easier than he could on-set.
One network executive did defend the practice, on the condition of anonymity.
"He makes himself available and most of the time that we interview Trump, he makes news," the executive said. "We're a news organization. He's a huge newsmaker at the moment, we're going to put him on our air."