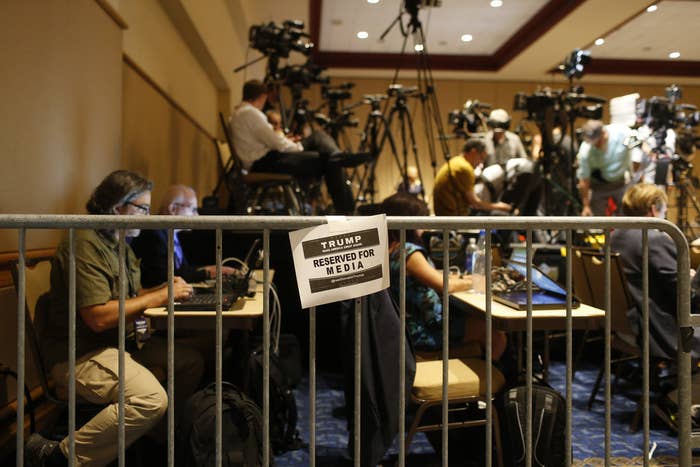 Staffers at the five major television networks are grappling with what role their organizations may have played in amplifying Donald Trump's successful campaign of insults, generalizations about minority groups, and at times flat-out lies.
Conversations with more than a dozen reporters, producers, and executives across the major networks reveal internal tensions about the wall-to-wall coverage Trump has received and the degree to which the Republican frontrunner has — or hasn't — been challenged on their air.

Two network sources also confirmed the unprecedented control the television networks have surrendered to Trump in a series of private negotiations, allowing him to dictate specific details about placement of cameras at his event, to ensure coverage consists primarily of a single shot of his face.
Network officials say the ratings have borne out commercial incentives to devote their campaign coverage to largely unfiltered streams of Trump talking. Trump's presence in the race has also been good for local television stations who reap the benefits of increased spending on advertisements. CBS CEO Les Moonves quipped that Trump "may not be good for America, but it's damn good for CBS, that's all I got to say."
But many inside the networks are growing increasingly disturbed with what they've helped create.
"As a programmer, it's an easy decision, people watch it," said one producer. "As an American, I'm sort of troubled by it, because I feel like we contribute to it."
While there are journalists who have aggressively challenged Trump — notably Fox News' Megyn Kelly, NBC News' Chuck Todd, and CNN's Jake Tapper — much of the coverage, including broadcasting his rallies and events live in their entirety, has been uncritical and even unfiltered, some of it conducted by interviewers unwilling or unable to provide much more than a platform for the candidate.
Several network and cable news staffers rationalized the amount of Trump coverage as a response to the demand of the viewers and as accurately reflecting his position in the race.
It's an argument CNN's president, Jeff Zucker, has made publicly. When asked if he felt responsible for Trump's rise, he reportedly told reporters at a lunch this week that "the frontrunner of the party is always going to get a disproportionate amount of attention."
Some blamed the other Republicans in the race for being unwilling to attack Trump publicly. Many are unsure of how to cover a candidate like this — one seemingly immune to the traditional expectations of honesty and respect for democratic norms — in this medium.
The symbiotic relationship between television news and Trump began, innocently enough, as a summer fling. The cable networks found their answer to the typically slower summer news cycle the moment Trump descended the escalator at Trump Tower to announce his candidacy to a lobby full of onlookers, some of them paid actors. Producers at several networks said they initially treated his candidacy as a joke, albeit a highly entertaining one.
Trump's rallies became must-see daytime and primetime television on cable, pre-empting regularly scheduled newscasts and driving the day-to-day news cycle. Even when he was embroiled in controversy, Trump's availability to the media for interviews, either on camera or by phone, shocked producers accustomed to dealing with difficult-to-book candidates.
As one veteran producer said, "He'll throw a hand grenade in, and then will come on to us to talk about it."
Over the next several weeks, Trump threw several hand grenades: calling Mexicans rapists and murders, questioning John McCain's status as a war hero, and insisting that he'd build a border wall and make Mexico pay for it.
At the first Republican debate in early August, Fox News' Megyn Kelly confronted Trump with several offensive remarks he had made about women in the past. He spent the next several days attacking her on Twitter, and told CNN's Don Lemon in a phone interview, "She's got blood coming out of her eyes, blood coming out of her wherever."
Later in August, after a brief lull in his insults, Trump again attacked Kelly on Twitter, prompting Fox News Chair Roger Ailes to issue a statement demanding Trump apologize. Trump responded by saying, "I do not think Megyn Kelly is a quality journalist."
"It's the Megyn Kelly effect," said one MSNBC producer. "If you push back too hard, it will only hurt you. It's only going to hurt your show, your brand, your image, because for some reason, Donald Trump is more impervious to these attacks than a typical politician."
By summer's end, Trump had emerged as a dominant force in the race. CNN, according to Zignal Labs, did 2,159 reports on Trump between the time he announced in June and mid-September.
Trump fever continued into the fall, even as challenges emerged between the networks and the Trump campaign over press access at the candidate's rallies. After several incidents of Trump campaign aides threatening to revoke credentials for reporters who left the fenced-in press pen, representatives from ABC News, CBS News, NBC News, Fox News, and CNN organized a conference call with Trump campaign manager Corey Lewandowski to negotiate access.
According to two sources familiar with the call, which took place in November, the Trump campaign, citing security concerns from Secret Service, dictated to the networks that their camera crews could only shoot Trump head-on from a fenced-in press pen.
Under the Trump campaign's conditions, camera crews would not be able to leave the press pen during Trump's rallies to capture video of audience reactions, known in the industry as "cutaway shots" or "cuts." Networks would also not be able to use a separate riser set up to get cutaway shots.
The terms, which limit the access journalists have to supporters and protesters while Trump is speaking, are unprecedented, and are more restrictive than those put on the networks by the White House or Hillary Clinton's campaign, which has had Secret Service protection for its duration.
Facing the risk of losing their credentialed access to Trump's events, the networks capitulated. They did, however, get one concession: When Trump finishes speaking, one person with a camera is allowed to exit the press pen to capture him shaking hands on the ropeline while he exits. That footage is then shared among the networks.
When Trump complains that the media does not "turn the cameras" to show the size of his crowds, it's because, unless they turn or zoom out the head on camera, there is no separate angle to show the crowd.
Trump's campaign took on an increasingly dark posture as the year ended. He falsely claimed that "thousands" of Muslims in New Jersey had celebrated the 9/11 attacks in the streets and called for a temporary ban on Muslim immigration into the country, citing his concerns that some could be terrorists. Meanwhile, tensions within CNN about the amount of coverage the network had devoted to Trump began to spill over. According to three sources within the company, CNN's Zucker was confronted by a staffer at an internal town hall about Trump coverage. His answer, according to these sources, was similar to one he has given publicly: The coverage simply reflects Trump's position as the frontrunner in the Republican race for president.
Not everyone at the network agrees. "The higher-ups say it's because he's the Republican frontrunner," one CNN source said. "I think he's the Republican frontrunner because we've given him so much coverage."
Coverage only intensified as Trump solidified his frontrunner status with victory after victory. Again, his willingness to appear on TV, especially by phone, made him a regular presence on the network morning shows and Sunday political shows. Notably, CBS News is the one news division that does not regularly conduct phone interviews with the candidate.
But as Trump continues his march toward the Republican nomination, the networks are now grappling with reality — Trump is here to stay, and the coverage has to change.
An MSNBC producer said there is growing pushback at the network among the left-leaning primetime hosts and staffs to not give Trump free airtime.
Another MSNBC source maintained that there is a way to cover Trump on TV: to provide context, something the source conceded is often lacking. "Don't just cover it like pay-per-view, with people hoping to see blood. Cover it as a political phenomena … you have to give explanatory context," the source said.
For now, though, Trump appears to have succeeded in persuading the weakened television networks of the questionable premise that that they need him — by playing them off one another.
"If the competition's on Trump, then we're staying on Trump," said one top producer.
John Stanton contributed to this report.
UPDATE
A previous version of this article did not provide sufficient context to a quote from Les Moonves and has been updated with proper context.