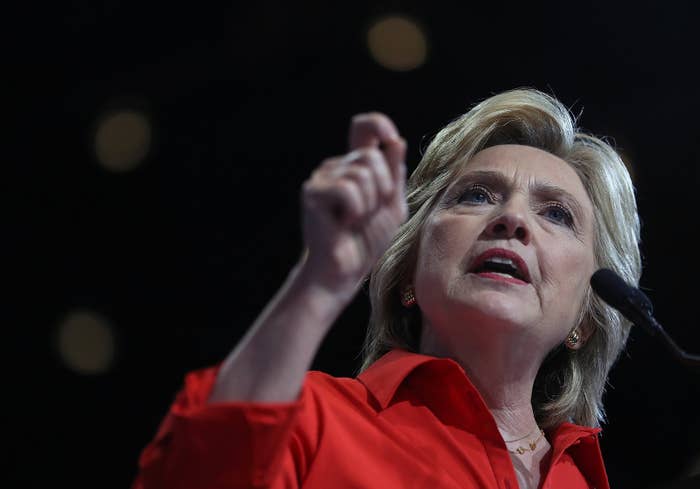 Hillary Clinton on Sunday placed blame squarely on Russia for hacking the Democratic National Committee's servers and said Donald Trump's praise of Russian President Vladimir Putin raises "national security issues."
"We know that Russian intelligence services, which are part of the Russian government, which is under the firm control of Vladimir Putin, hacked into the DNC," Clinton said on Fox News Sunday. "And we know that they arranged for a lot of those emails to be released."

Clinton then turned her attention to Trump, saying, "And we know that Donald Trump has shown a very troubling willingness to back up Putin, to support Putin, whether it's saying that NATO wouldn't come to the rescue of our allies if they were invaded, talking about removing sanctions from Russian officials after they were imposed by the United States and Europe together because of Russia's aggressiveness in Crimea and Ukraine, his praise for Putin, which is, I think, quite remarkable."
Experts have pointed to Russia as the most likely culprit behind the cyber-attack on the DNC, which led to WikiLeaks releasing the organization's emails. Clinton's campaign and the Democrats have attempted to tie Trump's praise of Putin to the hack. Director of National Intelligence James Clapper said last week he wasn't ready to pin the hack on Russia.
Asked in the interview Sunday if she was suggesting that Putin wants Trump to be president over her, Clinton responded that she wouldn't jump to that conclusion.
"But I think, laying out the facts, raises serious issues about Russian interference in our elections, in our democracy," Clinton said. "We would not tolerate that from any other country, particularly one with whom we have adversarial positions. And for Trump to both encourage that and to praise Putin despite what appears to be a deliberate effort to try to affect the election, I think, raises national security issues."
She added, "I think if you take his encouragement that the Russians hack into American email accounts, if you take his quite excessive praise for Putin, his absolute allegiance to a lot of Russian wish list foreign policy positions, his effort then to try to distance himself from that backlash, which rightly came not just from Democrats, but Republicans, independents, national security, and intelligence experts, leads us, once again, to conclude he is not temperamentally fit to be president and commander-in-chief."