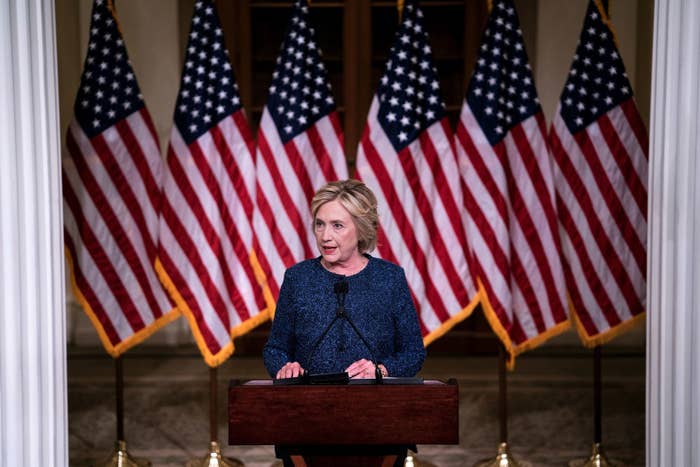 Hillary Clinton's campaign released new information about the Democratic nominee's health on Wednesday afternoon, including the results of a complete physical exam and more details about her recent pneumonia diagnosis.
Aside from the pneumonia diagnosis, Clinton's physical exam was "normal" and she is in "excellent mental condition," according to her physician, Dr. Lisa Bardack, the chair of internal medicine at CareMount Medicinal in Mount Kisco, New York.
Bardack detailed the results in a two-page letter shared by the campaign.
Clinton, 68, received a CT scan on Friday, the letter said. The result showed mild and noncontagious bacterial pneumonia, which Clinton is treating with a 10-day regimen of the medication Levaquin. "She is recovering well with antibiotics and rest. She continues to remain healthy and fit to serve as president of the United States," Bardack wrote.
In her most recent physical exam, Clinton had a blood pressure of 100/70, heart rate of 70, and a cholesterol of 189 (LDL of 103, HDL of 56).
The campaign's disclosure of Clinton's medical records comes three days after she was videotaped struggling to walk and being assisted into a van as she abruptly exited a 9/11 memorial service in New York City on Sunday. The campaign later revealed she had been diagnosed with pneumonia two days earlier on Friday.
Clinton has spent the early part of this week recovering at her home in Chappaqua, New York. She is expected to resume campaigning on Thursday. Her husband, former president Bill Clinton, stood in for her Wednesday at a campaign rally in Las Vegas, telling voters that he had just spoken with her and "she's feeling great."
"It's a crazy time we live in when people think there's something unusual about getting the flu," he said, making reference to the pneumonia, a spokesman said later. "Last time I checked millions of people were getting it every year."
Bardack, Clinton's personal physician since 2001, released a detailed summary of the candidate's health through the campaign on July 28, 2015. The letter released Wednesday was presented as "a summary update" on the previous disclosure.
The 2016 letter indicates that not much about Clinton's health condition has changed in the intervening 14 months. She still takes the same two medications regularly, Armor Thyroid and Coumadin, as well as occasional doses of vitamin B12 and antihistamines, which Clinton said she "upped" last week to "try to break through" her seasonal allergies after suffering a coughing attack on stage.
Clinton's vitals were also roughly the same as those released last year, with a blood pressure of 100/70, compared with 100/65 in 2015, and a heart rate of 70, compared with 72 in 2015. Her respiratory rate of 18 was the same both years, Bardack said.

Bardack also said Clinton's vaccinations remained up to date — including Prevnar and Pneumovax, she said, which both help prevent pneumonia.
Campaign aides also released medical information about Clinton's running mate, Tim Kaine, the 58-year-old senator from Virginia. His evaluation was conducted by Brian P. Monahan, the attending physician of the US Congress.
Kaine's physician, Dr. Monahan, reported that the vice presidential candidate is in "overall excellent health" and had his most recent physical in February, the results of which were normal with a blood pressure of 120/81, a pulse of 71, and a total cholesterol of 224 (LDL 138, HDL 65).
His physician recommended Kaine add a vitamin D supplement to his diet.
Monahan also noted a history of breast cancer on Kaine's maternal side and a history of prostate cancer on his father's side, as well as a left atrial enlargement.