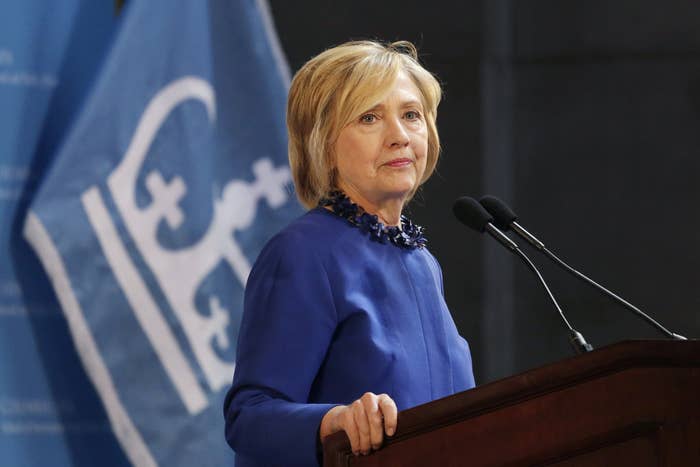 Invoking the names and locations that have become symbols for the tensions that exist between black communities and police, Hillary Clinton on Wednesday laid out her positions on criminal justice, calling for mandatory body cameras for police and an end to the "era of mass incarceration."
Her speech at Columbia University comes after days of violence in Baltimore, Maryland over the death of 25-year-old Freddie Gray, who died of a severed spine while in police custody. The remarks, in which Clinton argued police should be equipped with body cameras, though she did not detail a specific plan to implement that policy, were the Democratic candidate's first major foray into public policy since launching her presidential campaign in early April.
"What we have seen in Baltimore should, indeed, I think does, tear at our soul. From Ferguson to Staten Island to Baltimore, the patterns have become unmistakable and undeniable," Clinton said, before listing off the names of other black men or boys who have died in the last year after interactions with the police.
"Walter Scott shot in the back in Charleston, South Carolina. Unarmed, in debt, terrified of spending more time in jail for child support payments he couldn't afford. Tamir Rice, shot in a park in Cleveland, Ohio — unarmed and just 12 years old. Eric Garner, choked to death after being stopped for selling cigarettes on the streets of our city. And now Freddie Gray, his spine nearly severed while in policy custody," she continued.
"We have to come to terms with some hard truths about race and justice in America."
Clinton, citing statistics that show black men in America are more likely to serve prison sentences than white men, said the county needs to "restore balance" to the the criminal justice system. She said good police work was being done across the country, and the first step would be to build off practices that are already working.
"We can start by making sure federal funds for state and local law enforcement are used to bolster best practices rather than buy weapons of war that have no place on our streets," Clinton said.
Clinton referred specifically to the proposals made by President Obama's Task Force on 21st Century Policing, calling it a "good place to start," but said she would go even further, requiring body cameras for police departments across the country.
"We should make sure that every police department in the country has body cameras to record interactions between officers on patrol and suspects. That will improve transparency and accountability. It will help protect good people on both sides of the lens," Clinton said.
In the speech, Clinton praised the work of a bipartisan group of lawmakers — including presidential candidate Rand Paul — on criminal justice issues. In recent years, a growing nucleus of younger lawmakers, largely progressive or influenced by more small-government conservatism, have advocated for significant changes to the justice system, particularly with policing and drug policy. The proposals — and Clinton's positions this week and over the last year — stand in contrast to the generations of politicians, including notably Bill Clinton, who came of age politically in the tough-on-crime era of the 1980s and 1990s, when violent crime was a top political issue.
On Wednesday, Clinton also discussed steps she would take to tackle mass incarceration, including specialized drug and juvenile programs that would provide punishment for offenders while keeping them out of prison. In the latter half of her remarks, she honed in on the issue of mental health, a topic that will be a key part of her 2016 campaign.
"Our prisons and our jails are now our mental health institutions," Clinton said. "I have to tell you I was somewhat surprised in both Iowa and New Hampshire to be asked so many questions about mental health."
"It's not just a problem in our cities. There's a quiet epidemic of substance abuse sweeping small town and rural America as well."