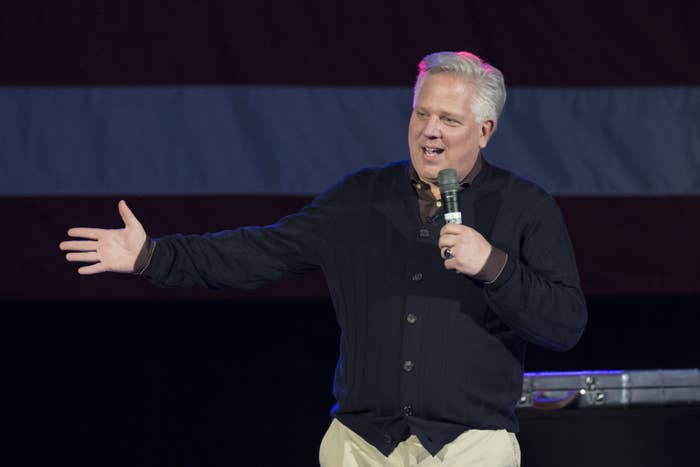 If Donald Trump loses in November, it has been widely speculated that, with Breitbart CEO Steve Bannon and ousted Fox News chief Roger Ailes by his side, he'll look to capitalize on his devoted audience by launching a television channel.
If he does so, he'll be following in the footsteps of another large, made-for-TV personality with a loyal following: Glenn Beck, who in 2011 left his perch at Fox News and launched GBTV (now The Blaze) as an online, subscription-based video channel. In an phone interview on Thursday, Beck told BuzzFeed News he thinks that Trump will start a channel of his own.
"To me, it seems very Trump. Trump steaks, Trump water, Trump TV," Beck said. "Why not?"
"Make sure that it is clearly understood my disdain for this entire vision, but I do believe that is a very big possibility of what he will do," he later added.
Most of the public conversation around Trump's potential venture has focused on him launching a cable channel — a risky and expensive decision for even large media conglomerates let alone a one self-proclaimed billionaire. A source familiar with the Trump family's thinking said he sees a bigger opportunity in what is known as an OTT product — content delivered online directly to a subscriber base without the involvement of a cable provider.
Beck said if he were advising Trump, he'd tell him to go the OTT route, not only because of the financial incentives, but also because controversial figures like Trump would face difficulty getting advertisers on cable. GBTV, in its first year as an OTT product, was reportedly on track to take in $40 million in revenue from 300,000 plus subscribers and advertising.
"I would start an OTT product and go for a $19.99 or a $10 a month subscription — maybe $19.99 with a premium wrestling event Donald Trump might do and roll in the money," Beck said.
He continued, "And then on top of it, if you want to make an impact, Don, you're going to have maybe, I don't know, 5 to 10 million people—maybe—and with those people, you can start your own kind of—I hate using this term—but kind of your own alt-right, rebel party. And come back in the 2020 election or even the midterms as a credible source for telling the truth for those people who believed you in 2016."

One of the real questions about a Trump media venture is what role the man himself would play. Unlike Beck, Trump has no daily talk-radio or television experience as a host — the kind of background that has served Beck well in programming his own network. In Beck's mind, Trump's name would be the draw for his base, but allies like Sean Hannity and Laura Ingraham could end up being the daily faces of the channel.
"Trump gets bored awfully darn quickly," he said. "First of all, I think the numbers might be big at first, but would dwindle quickly. My guess would be, if he wanted to start a network, he would look at people like Sean Hannity and Laura Ingraham, who have been backing him and believing in him from the beginning."
Beck added Trump would pop in on the channel as a guest occasionally, when, he said, Trump has a salad bowl and wants to talk about Hispanics. Bannon, who is currently heading up Trump's campaign, would run the channel, according to Beck.
"Bannon knows how to draw that angry, alt-right crowd," he said.
Trump is already building a subscriber base — a source within the Trump family orbit told BuzzFeed News his presidential campaign is the perfect market research, and by building email lists and collecting personal information, a lot of the groundwork will be done come November, if Trump chooses to pursue a channel.
Beck said that over time, Trump's audience doesn't really have much of a future and his channel would have influence over "a segment of the population that is best left in the past."
"He'll never broadcast," Beck said. "It seems to me he doesn't care really about the broadcast, he cares about the narrowcast. He cares about the people that are in the stadium, not the people on television. And that's vastly different."
"Trump is just that one story of '4 Racist Things Your Drunk Friend Says After He Voted.' And that's it," he added. "It doesn't also have the cat video and a serious story that I can actually learn from. It's just the drunk story."
CORRECTION
GBTV reportedly took in $40 million in revenue in its first year. This article originally misstated this.