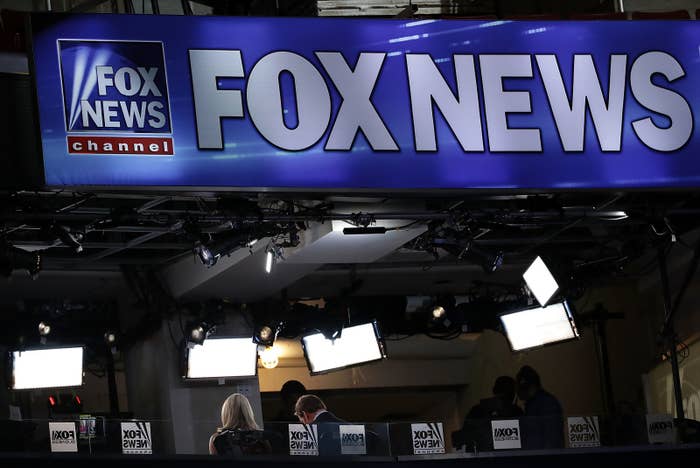 Fox News hit back in a legal filing on Monday at former host Andrea Tantaros's claim that she was retaliated against by the network for reporting sexual harassment by former CEO Roger Ailes and other several other men.
Lawyers for the cable network called Tantaros a "opportunist" and a "wannabe," and called her claim, filed in Manhattan last week, "baseless." Fox News is motioning to keep Tantaros's case out of the courtroom and compel arbitration, as stipulated in her contract.
"Tantaros is not a victim; she is an opportunist," lawyers for Fox News state bluntly in the filing.
"Tantaros's unverified complaint of August 22 in this Court bears all the hallmarks of the wannabe': she claims now that she too was victimized by Roger Ailes, when, in fact, contrary to her pleading, she never complained of any such conduct in the course of an investigation months ago," the filing adds.

Tantaros has been off Fox News's air since April, when her book, Tied Up In Knots, was published. Fox News lawyers say Tantaros did not follow the contractually required procedures to get her book approved and as a result she was removed from air. Tantaros tells a much different story, claiming the network made an issue out of her book only after she reported sexual harassment at the network.
Tantaros's lawyer, Judd Burstein, said in a statement on Monday that Fox News's motion to compel arbitration corroborates Tantaros's allegations.
"If Mr. Shine and his minions are innocent, why do they want this dispute to be resolved in the shadows," he said, referring to Bill Shine, the newly-minted co-president of Fox News.
Ailes, who resigned from the network in July and has denied all allegations against him, also responded in a legal filing on Monday, calling Tantaros's claims opportunistic and also motioning to compel arbitration in the case.
"To be clear, Mr. Ailes categorically denies her false and libelous allegations of harassment and retaliation, and views this case as a desperate attempt to sell books and speeches and otherwise raise money," Ailes's lawyers said in the filing.

Earlier on Monday, Tantaros's attorney said she would submit herself to a lie detector test if defendants would do the same.