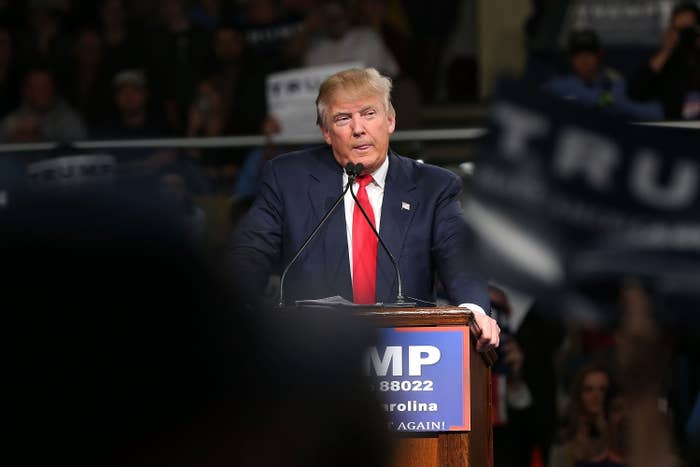 Donald Trump is calling Pope Francis "disgraceful" and "a pawn" for questioning his Christian faith.
During a news conference Thursday held during his flight from Mexico back to the Vatican, the pope answered a question about whether Catholics should vote for Trump, saying, "A person who only think about building walls, wherever they may be, and not building bridges, is not Christian."
The pope said he wouldn't advise Catholics on who to vote or not vote for, but repeated, "I say only that this man is not Christian if he said things like that. We must see if he said things in that way and in this I give the benefit of the doubt."
Trump responded, saying "if and when" ISIS attacks the Vatican, the pope would have wished he were president.
Trump continued:
For a religious leader to question a person's faith is disgraceful. I am proud to be a Christian and as president I will not allow Christianity to be consistently attacked and weakened, unlike what is happening now, with our current president. No leader, especially a religious leader, should have the right to question another man's religion or faith. They are using the pope as a pawn, and they should be ashamed of themselves for doing so, especially when so many lives are involved and when illegal immigration is so rampant.
And one of Trump's advisers took to Twitter to point out that the Vatican is surrounded by walls:
Before the pope's comments on Thursday, Trump had much kinder words for the religious leader when asked about his visit to the Mexican border
He said he loved the pope in an exchange on SiriusXM's Breitbart News Daily:
Host: Yesterday, the pope had a mass at the border and put the blame principally on Mexico…Do you believe the pope blinked because you brought up the fact that "Hey, please do not get involved in American domestic politics?"

Trump: I heard the pope and I respect the pope and I love the pope in many ways. I love what he stands for and I like his attitude. He's very independent and he's very different. He's sort of a modern-day pope if you think about it. But I put it out there because he was going to be at the border, and I said, you don't know, because he made statements about sort of me I guess or whatever, and I put out a very strong statement that you've got to take a look at what's happening. There's tremendous crime, there's drugs pouring through the border. It's not coming from us; it's coming from the other side. And I made a pretty strong argument and I talked about the wall very quickly and it got picked up. And he could have been persuaded. I don't know. But I really respect the fact that he sees both sides. You know a lot of people are inflexible – they won't change.