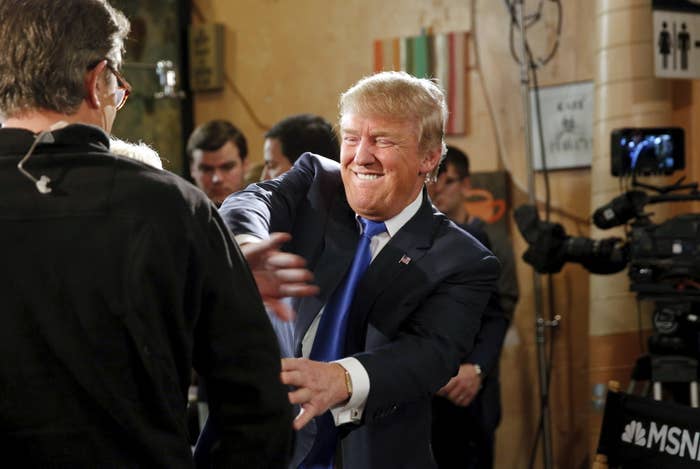 CNN President Jeff Zucker and Donald Trump are so close, according to MSNBC's Joe Scarborough, that Zucker personally handles Trump's appearances on the cable network.
Scarborough revealed to Politico's Glenn Thrush that Trump calls Zucker, with whom he has a longstanding relationship with dating back to Zucker's days as a NBC executive, his "personal booker" and laughs every time the CNN chief calls him.
"He and Zucker are very close. Zucker personally calls Trump and books Trump," Scarborough said on "Off Message," a podcast by Politico. "And Trumps laughs and calls Zucker 'my personal booker' because Zucker will call Trump. He hasn't said that publicly, but he's said it. I've said it publicly now. Trump will laugh every time Zucker calls."
A CNN spokesperson did not immediately respond to a request for comment.

Trump's relationship with Zucker has drawn criticism from observers, who believe the personal ties were behind CNN's wall-to-wall coverage of the presumptive Republican nominee last year and into early 2016. The relationship doesn't seem to prevent Trump from attacking the network, tweeting Sunday, "I am watching CNN very little lately because they are so biased against me. Shows are predictable garbage! CNN and MSM is one big lie!"
Zucker has publicly defended CNN's coverage of Trump. He told TheWrap in May of the criticism: "People see everything through the prism that they want to see it. Some people think that we give too much attention to Donald Trump. Some people think that we're too hard on Donald Trump."
He added, "I think what this proves is that you're never going to satisfy everybody. That means we're doing it right."
Scarborough has himself been criticized for what many saw as a cozy relationship between the Morning Joe hosts and Trump. However, the morning show host has been critical of Trump as of late, saying on Wednesday that Trump is acting like a bigot.