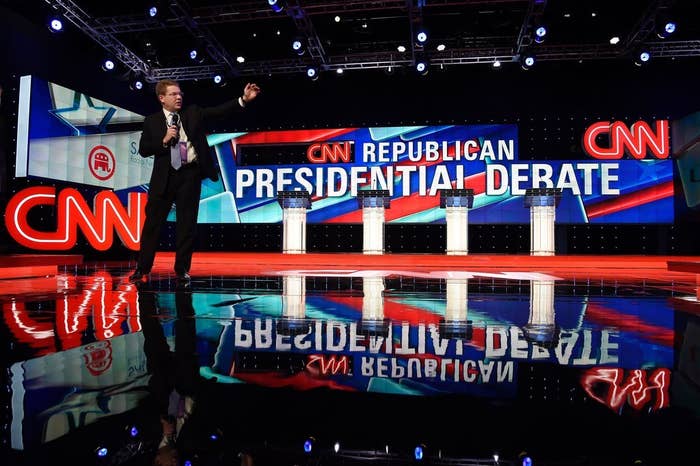 With CNN on the defensive over its role in the rise of Donald Trump, a top news executive defended devoting long blocks of time to live Trump events as a "valuable service."
CNN Washington Bureau Chief Sam Feist was grilled about Trump during a discussion of the 2016 presidential election at Harvard Kennedy School's Shorenstein Center in February, and said he favors airing the events of all the major candidates.
"I think that taking candidate rallies unedited is actually a valuable service," Feist said, noting that it gave the candidates exposure to viewers who don't live in early primary states.

"I think that taking those rallies live, unedited, without commentary is useful," he added. "We can do the commentary afterwards. I don't think we should interrupt them in the middle of it to annotate what they say."
Media observers and critics have, in recents weeks, found fault in the press coverage of Donald Trump's candidacy, particularly on cable news, where the airing of the Republican frontrunner's events live and uninterrupted has been common practice since he announced he was running last June. CNN has faced particularly sharp criticism.
Former network news correspondent Jeff Greenfield compared the airing of Trump's rallies to state television, telling CNN's Reliable Sources in mid-March, "That's what like happens when Fidel used to speak."
Feist, who has a major role in shaping CNN's election coverage, fielded multiple questions about the coverage of Trump at the event, including one about the line between reporting the news about Trump and simply perpetuating his controversial statements.
"Our job is to make sure you know what he's saying," Feist answered. "That you know perhaps that no one has ever said it before. That you understand what he said, what the context is, what the criticism of his comments are from either other candidates or in some cases experts and what the other candidates are saying about it.
"I believe our job is to put as much information as we possibly can and let the voters decide what they want to do with it. It's not a complicated mission."
Feist also argued that the amount of coverage a candidate receives is "commensurate with their likelihood of becoming president."

"I think that the leading candidates, the ones who either are well-funded or are particularly successful in the polls, are the ones who get the most attention, the most scrutiny, the most coverage," Feist said. "And I think that the candidates who are not, really don't seem to have as serious chance of becoming president get less coverage and I think that's probably OK."
He continued, saying, "I'm not sure that candidates who aren't at one percent in any poll have earned the coverage or should be covered the same way as candidates who have some reasonable likelihood of becoming president of the United States. I'm not sure that would be the right use of our resources."
Feist said Trump's message was resonating with a segment of Americans, some of them well-informed about the candidate and his positions.
"Clearly Donald Trump is striking a chord with some Americans," he said. "I don't think that they're necessarily ill-informed. They may agree with him. We have to at least accept the possibility that the positions he's taking are positions that quite a number of Americans agree with."