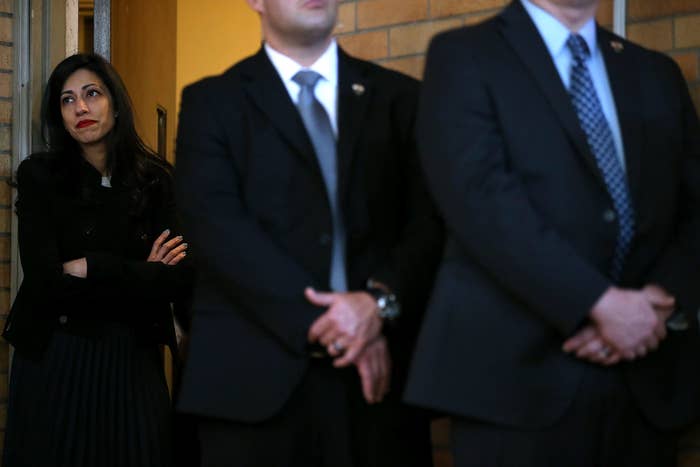 Newly released emails from Hillary Clinton's time as secretary of state show a Clinton Foundation official reaching out to one of Clinton's closest aides to set up a meeting between Clinton and a member of the Clinton Global Initiative (CGI).
CGI members make pledges to address global social issues. Their "commitments
to action" do not involve donations to the foundation or CGI.
The new emails, released Monday as part of a lawsuit brought by conservative watchdog Judicial Watch, come as Republican nominee Donald Trump has turned his attention on potential conflicts-of-interest between the foundation's work and Clinton's role as secretary of state. The foundation is already laying the groundwork to scale back operations if Clinton becomes president.
In a chain of emails sent in June 2009, Doug Band, a longtime aide to Bill Clinton and an official at the foundation, wrote to Huma Abedin to set up a meeting with the Bahrain Crown Prince Salman bin Hamad al Khalifa, who pledged his own foundation, the Crown Prince's International Scholarship Program, as a "commitment to action" in 2005.
"Cp of Bahrain in tomorrow to Friday. Asking to see her. Good friend of ours," Band wrote to Abedin, then Hillary Clinton's deputy chief of staff.
Abedin responded, writing that the crown prince asked to see Clinton through "normal channels."
"I asked and she said she doesn't want to commit to anything for thurs or fri until she knows how she will feel. Also, she says that she may want to go to ny and doesn't wan't to be committed to stuff in ny," Abedin responded.
Abedin would later reply that she was offering the crown prince a meeting with Clinton and that she reached out to him through "official channels."
It is routine for the secretary of state to meet with foreign dignitaries, although the newly released emails are sure to fuel accusations that those associated with the Clinton Foundation and its initiatives had special access to Clinton during her time as the nation's top diplomat.
Clinton campaign spokesperson Josh Schwerin told the Wall Street Journal the emails were another "utterly false" attack from a "a right-wing organization that has been going after the Clintons since the 1990s."
"No matter how this group tries to mischaracterize these documents, the fact remains that Hillary Clinton never took action as secretary of state because of donations to the Clinton Foundation," he told the Journal.

In a statement to BuzzFeed News, the crown prince said that he pledged to contribute to his scholarship program before meeting with Clinton and that he has never given any gift or donation to the Clinton Foundation.
"The crown prince's pledge in 2005 to continue to invest in educating young Bahraini men and women happened years before and was wholly unrelated to any meeting with Secretary Clinton," the statement explained.

It concluded by adding that "Bahrain's strategic relationship with the US" is an "enduring feature of the Kingdom's foreign policy and, as deputy head of state, the crown prince has and will continue to meet with US officials."
Below is the email exchange: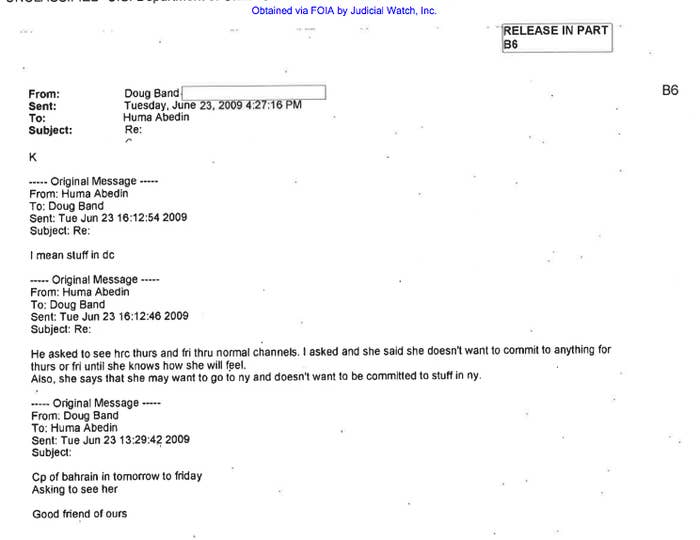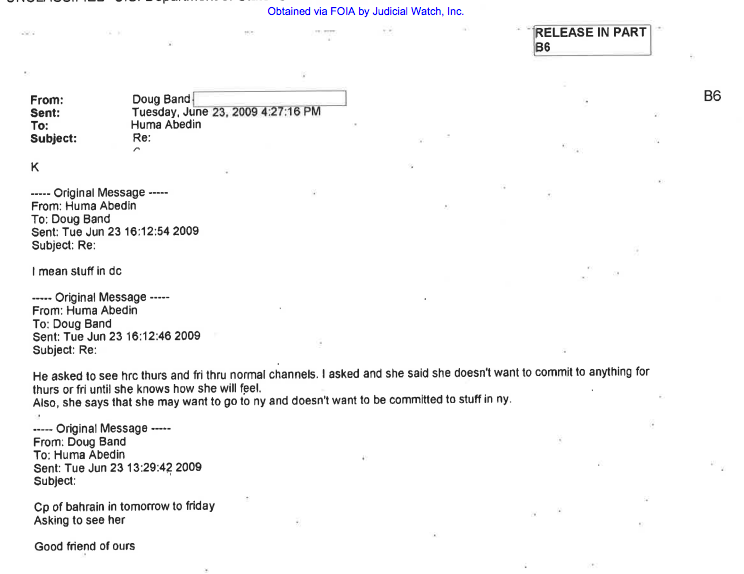 CORRECTION
In 2005 the Crown Prince of Bahrain pledged his foundation, the Crown Prince's International Scholarship Program, by way of a "commitment to action" as a member of the Clinton Global Initiative. This did not involve making a gift or donation to the Clinton Foundation. An earlier version of this post wrongly described the Crown Prince as a donor to the Clinton Foundation and those references have been removed.