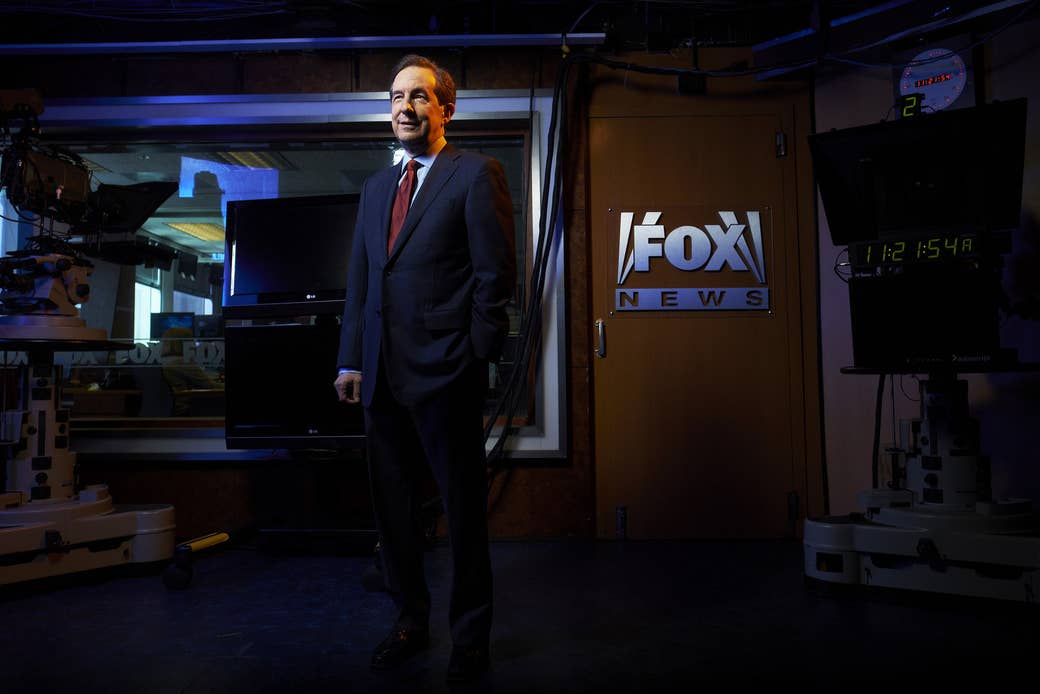 WASHINGTON — On Saturdays, Fox News Sunday anchor Chris Wallace sits in a modest office with a thick binder. He sifts through pages of transcripts and news articles and graphics, piecing together a blueprint.
This, the part that comes before the interview, is Wallace's favorite. Saturdays are the days he likes best.
"To put that all together into a 15-minute cross-examination, which in effect is what it is, is utterly satisfying to me," Wallace says.
That cross-examination has become Wallace's hallmark ("But sir!") during his 13 years at the helm of Fox News Sunday, which marks 20 years on the air this Thursday.
The anniversary arrives at an unusual time in American politics and for Fox News, nearly a year into Donald Trump's rise. The Republican frontrunner has an unusual effect on institutions like political and media organizations. Because he is so different from the accepted political routine, Trump often exposes hypocrisies, exacerbates quiet tensions, and reveals the existence of principles.
As cable news networks (including Wallace's own) have faced criticism for their fever-pitch coverage of Trump, Wallace is having a bit of a moment. His show delivers news. He's cross-examined all the presidential candidates but one (Hillary Clinton). The debates he moderates with Megyn Kelly and Bret Baier are considered the strongest, most interesting, highest rated of the election cycle. And he hasn't made any concessions to Trump.
Early on, Wallace bucked the trend of Sunday shows allowing Trump to call into their programs for interviews instead of appearing on air, and says he was "genuinely shocked" last year when he first saw his competitors engage in the practice. "I just in my bones knew it was the wrong way to go," he says. "And, I just — no discussion, no talking to the second floor in New York — I just said, 'Over my dead body.' Not gonna happen."
Wallace, who left ABC News for his current job in 2003 at a time when the jump from broadcast to cable wasn't an obvious one, is something of a cable news partisan.
He contends that if you care about politics, it's cable that provides the news. On big primary nights, he notes, people watch cable. "You're not going to watch the broadcast networks, because the broadcast networks aren't even going to cover it," he says. "So anybody who's serious about politics, whether it's covering it or watching it, and following it, we're the only game in town."
And he doesn't buy into the argument that the media "created" Trump, calling him a "natural phenomenon" — though he acknowledges that there have been problems with the coverage.
"Do I think we have over-covered Trump? Absolutely," he says, noting in particular the frequent airing of uninterrupted Trump speeches and rallies. "Do I think that we have put him on the air too much? Yes."
He adds, "I don't mean just Fox — I mean all of cable news. In fact, I don't think we're even the worst offender; I think CNN was."
He thinks there are smart ways to cover Trump — and the current state of the Republican Party — on television. Wallace recalls in 2008, when John McCain was the Republican nominee, receiving emails from viewers about the RINOs.
"There were a number of Republican viewers who were upset about the continued dominance of the 'establishment' and these, as they say, Republican in Name Only, who they don't think are true conservatives," Wallace says. "That split has certainly only increased in the last eight years — 2010 with the tea party and especially now with Trump. I can just see it in the viewers."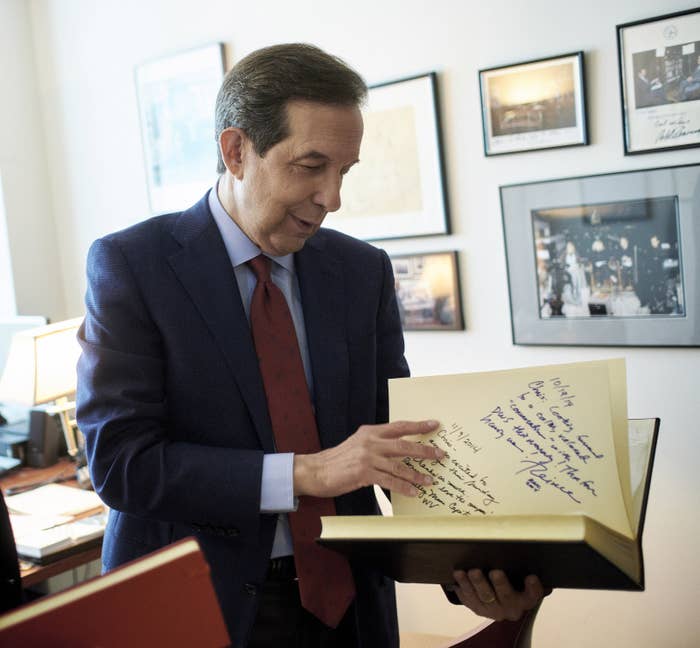 And those viewer responses, Wallace says, have led to changes in the show's makeup, primarily the addition of new commentators to its roundtable panel. "I realized we had to have people on the show, not to push for Trump, not to be in any sense pitching Trump, but who understood what was going on in that movement," he says. "And so we've made a concerted, conscious effort to have that representation on the panel of younger, less establishment-type commentators that understand that."
How Fox News has handled Trump — you can watch Wallace and Megyn Kelly interrogate the billionaire on stage on the same network that airs gentle townhalls with him in primetime — has become a point of intense interest and sometimes criticism among the media and conservatives this year.
Wallace wouldn't go there. He says the split between news and opinion has always been there on Fox, and that he's "very pleased and proud to see what a firewall Roger [Ailes] created between the news side and the opinion side."
"The one difference, and I will compare us to MSNBC in that regard, is that we've always had a firewall between the two," Wallace added.
"It's the news people who conduct the debates, it's the news people who are the anchors on primary nights and election nights and at conventions," he says. He notes that MSNBC has had Rachel Maddow, who hosts her show from a progressive point of view, anchor debates or election nights. "Fox has never done that."
He's also got plenty of opinions about the state of the traditional broadcast networks, praising CBS News for its decision to focus on hard news in its coverage, while confessing that his former employer, ABC News, has "moved the most in the direction of tabloid news, news you can use, not what we traditionally consider front-page news." But he's critical of all three evening newscasts.
"I often think to myself, if you really care about politics and government and policy, and all you watched was a network evening news cast, I don't know how you'd have a clue what's going on," he adds.
But it's clear that Wallace is quite proud of the interviews he's done with all the candidates — especially Trump — and the exchanges they've had this year.
In a March debate, Wallace honed in on a very specific claim of Trump's: that he could make up a $10 trillion deficit by cutting waste, fraud, and abuse. Predicting what Trump's answer would be based on prior statements, Wallace came armed with four full-screen graphics, using two of them during the debate to discredit Trump's claims.
"First time in history that a graphic got a standing ovation at a presidential debate," Wallace says. "And my producers were very skeptical of this. When I said, 'Make these four up,' and one of them is about defense spending, and one of them is about waste and fraud in various departments, and they said, 'You know, what if he doesn't say that?' And I said, 'Well, first of all, I'm really confident he is going to say it, and two, if he doesn't, we're screwed.'"
"My son, who's a smartass, said, 'America wants desperately to know what were on full screens one and three.'"
With the retirement of CBS anchor Bob Schieffer last year, Wallace is now the longest-serving moderator of a Sunday political affairs program — the de facto "dean" of Sunday television. Even with the lightning speed of the political news cycle, Wallace still believes in the power of the platform.
"It's a Sunday talk show, and I think they have a very special place in the television landscape when you got so many different shows doing so many different things," he says. "I think it's the one place that the viewer can still go on a Sunday morning to get serious, in-depth, lengthy, well-researched interviews with top policymakers over serious issues. And that's what people want."