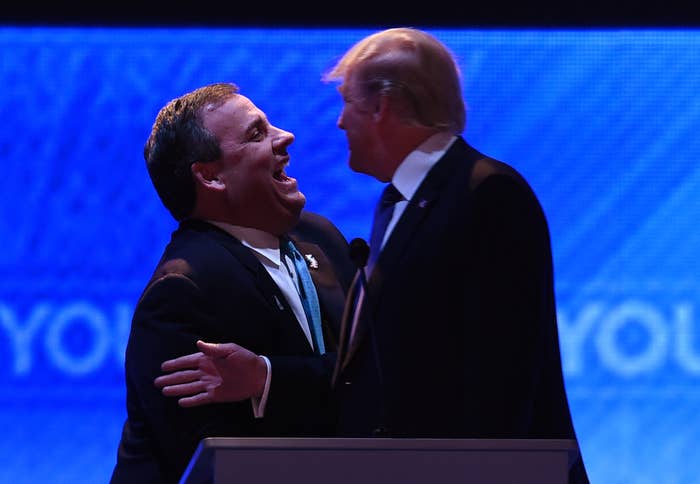 At a news conference in Ft. Worth, Texas, on Friday, billed by Donald Trump as a "big announcement," New Jersey Gov. Chris Christie endorsed Trump for president, calling the businessman "the clear standout" among Republican candidates.
"I am proud to be here to endorse Donald Trump for president of the United States," Christie said.
Christie, who dropped out of the presidential race in early February, cited his decade-long friendship with Trump as the first reason he was endorsing the businessman, saying, "I appreciate him as a person, and as a friend."
Christie continued, "There is no one who is better prepared to provide America with the strong leadership that it needs both at home and around the world, than Donald Trump. He is, looking at the five people on that stage last night, the clear standout, and the person who will do exactly what needs to be done to make America a leader around the world again."
Trump, Christie said, was the only Republican presidential candidate who could take on Hillary Clinton in the general election.
"I can guarantee you, that the one person that Hillary and Bill Clinton do not want to see on that stage, come next September, is Donald Trump," he said. "They know how to run the standard political playbook against junior senators and run them around the block. They do not know the playbook with Donald Trump because he is re-writing the playbook."
The first question from reporters for Christie was about Marco Rubio calling Trump a "con artist" on Friday. Christie said "desperate people do desperate things."
"Listen, the fact is that desperate people do desperate things," Christie said. "And I've seen it throughout politics and so have you. And so the idea that Marco Rubio can get inside Donald Trump's head is an interesting proposition, but one that's really for the D.C. parlor game."
Earlier on Friday, Rubio hurled several insults directed at Trump during a campaign rally in Texas. "First he had one of those makeup things applying around his mustache because he had one of those sweat mustaches," Rubio said. "Then, then he asked for a full length mirror. I don't know why because the podium goes up to here (gestures to chest). I don't know why maybe to make sure his pants weren't wet."
Trump, responding to a reporter's question about Rubio's comments, said, "I'll tell you about backstage, I mean, if you like. I walk back there, and he's with a pile of makeup putting it on his face. I said, 'Marco, easy with the makeup, you don't need that much.'"
Later in the news conference, Trump called Rubio a "desperate guy" who doesn't have the temperament to be president. "He is not presidential material, that I can tell you," Trump said. "He doesn't have the demeanor, he is a nervous nelly, I watch him back stage, he's a mess, the guy's a total mess."