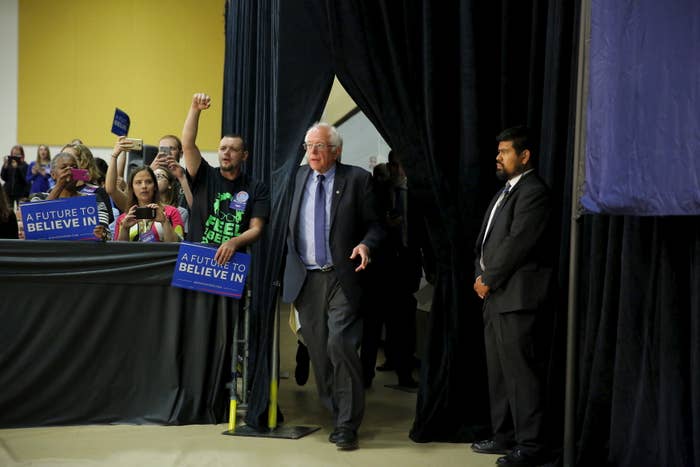 Bernie Sanders' campaign will shed hundreds of staffers across the country, the candidate told the New York Times in an interview on Wednesday. The move comes after Hillary Clinton defeated Sanders in four out of five states in Tuesday's primaries.
"We want to win as many delegates as we can, so we do not need workers now in states around country. We don't need people right now in Connecticut. That election is over. We don't need them in Maryland. So what we are going to do is allocate our resources to the 14 contests that remain, and that means that we are going to be cutting back on staff," Sanders told the Times. When pressed by the Times on how many staffers would be affected, Sanders said "hundreds."

On Wednesday, three campaign staffers told BuzzFeed News that there had not been guidance about the layoffs and there is some uncertainty currently about what's happening.
In a statement to BuzzFeed News, a senior campaign official said that the campaign will continue to have a staff of "more than 300 workers."

"Our campaign has now completed 80% of the primaries and caucuses, said spokesman Michael Briggs. "We look forward to winning here in Indiana next Tuesday and in the few remaining states and territories holding primaries and caucuses in May and June. That means that we no longer require many of the loyal and dedicated state and national support staffers who helped us in places like New York, Connecticut, Rhode Island, Maryland, Delaware, Pennsylvania and other states where the nominating contests have been completed.
"We will continue to have a strong and dedicated staff of more than 300 workers who are going to help us win in California and other contests still to come," Briggs said. "This campaign believes that we have a path toward victory and we're going to marshal our resources to do everything we can to win the Democratic nomination."
Clinton has a nearly insurmountable lead over Sanders in the earned delegates needed to clinch the Democratic nomination.
After his losses on Tuesday, the Sanders campaign issued a statement vowing to stay in the race until the last primaries in June in order to pick up as many delegates as possible as a way to influence the party's platform in July.
"That's why we are in this race until the last vote is cast," the statement read. "That is why this campaign is going to the Democratic National Convention in Philadelphia with as many delegates as possible to fight for a progressive party platform that calls for a $15 an hour minimum wage, an end to our disastrous trade policies, a Medicare-for-all health care system, breaking up Wall Street financial institutions, ending fracking in our country, making public colleges and universities tuition free and passing a carbon tax so we can effectively address the planetary crisis of climate change."