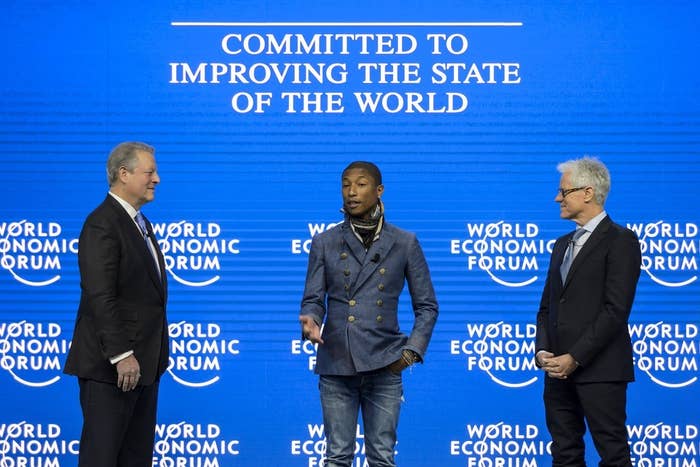 PETA is demanding to know: Why won't Al Gore's climate change music festival go vegan?
On stage at Davos this year, Gore and Pharrell Williams announced the return of the Live Earth music festival — a concert series meant to raise awareness of climate change. And now the animal rights group is demanding each of the concerts exclusively serve vegan products, arguing that Gore's own group touts the benefits of giving up meat to reduce greenhouse gas production.
In a series of emails obtained by BuzzFeed News, representatives from PETA repeatedly ask Live Earth's organizers if they plan to serve vegan only food, meaning the menu would be absent from all animal products like meat and dairy. The organizers do not directly answer PETA's questions in the emails, but say that they were working with their partner organizations on sustainability at the events and that they were invested in promoting the vegan lifestyle.
Lisa Lange, senior vice president of PETA, accused Live Earth of "hypocrisy and sheer laziness" if they serve non-vegan food at their events.
"They either care about stopping climate change or they're more interested in the appearance of caring," Lange said in an email to BuzzFeed News. "While they decide, the earth is dying so PETA is hoping they immediately announce that they're putting their mock meat where their mouths are, and making the Live Earth events vegan."
Several studies, including one conducted in 2006 conducted by the United Nations, have concluded that livestock production is a top contributor to global warming.
In fact, Live Earth's official guidebook mentions the 2006 U.N. study and says "the single most effective thing you can do to reduce your carbon footprint" is to not eat meat: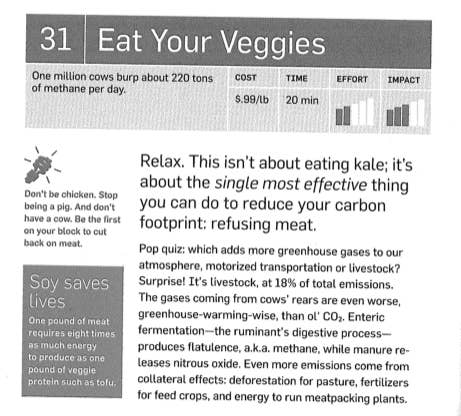 A representative for Live Earth told BuzzFeed News that they did not have complete control over the food served at the venues where their events are being held due to pre-existing agreements between those venues and their vendors.
"Where it's in our control, we go with what the principals of our events and our campaign are and that falls into being as vegan as possible," Jillian Dunn, director of communications for Live Earth, said in a phone interview with BuzzFeed News. "We're very conscious of how animal production and animal waste affects climate, as well as animals themselves."
Gore and his climate change movement are no strangers to the charge of hypocrisy. The original Live Earth concert event that took place in 2007 was criticized for featuring acts that flew in on private jets and whose songs promoted gas-guzzling SUVs.
BuzzFeed News contacted the venues where the two main concerts where the events are expected to be held — MetLife Stadium in New Jersey and Stade de France in Paris — asking whether animal products would be served during the event. A representative for MetLife stadium said that LiveEarth is not on their events calendar, and therefore she couldn't comment. Representatives for Stade de France have yet to respond.