Advocates Say U.S. Government Is Treating Some Syrian Refugees Like Terrorists
Refugee resettlement advocates say that laws designed to protect U.S. national security are needlessly delaying or preventing Syrian refugees from being resettled in the United States.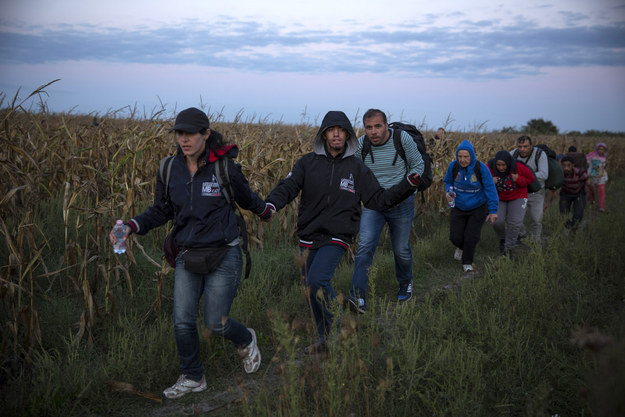 The United States government has, since 2012, been providing assistance in one form or another to moderate Syrian rebels who are fighting to topple the regime of Bashar Al-Assad. This year, the U.S. began training those rebels to defend their towns and villages against ISIS.
If those U.S.-backed rebels were to apply for asylum or resettlement inside the states, however, they could be categorically deemed inadmissible under current anti-terrorism laws for engaging in "terrorist activity." Other Syrians who assisted the armed opposition could also be found inadmissible for providing "material support" to a terrorist group.
It's one of the strict limitations of admitting refugees into the United States. The U.S. government is under renewed pressure to increase the number of Syrian refugees it resettles as Europe is flooded with Syrians trying to escape the horrors of their home country.
But the expansions of what it means to be or to provide support to terrorists after September 11th, as well as the deteriorating security situation in Syria which makes it difficult to vet refugee claims, complicates any effort to drastically increase the number of Syrian refugees taken in by the United States.
Since the passage of the USA Patriot Act in 2001, the United States has defined "terrorist activity" and "terrorist group" to be any armed opposition or any support for armed groups, even if those groups are receiving assistance from the U.S. government, like the moderate rebels in Syria.
That law, as well as the 2005 REAL ID Act, also expanded the definition of "material support" to terrorist groups to include, but not limit to, lodging, transportation, and or exchange of currency, no matter how insignificant.
Refugee advocates say it's one of the unfortunate ironies of post-9/11 immigration laws that provisions designed to cut off pathways for terrorists intent on harming the homeland to gain entry into the country instead have resulted in thousands of legitimate refugee resettlement cases being placed on hold or denied for something as minimal as serving a bowl of rice or providing lodging to a family member.
Advocates also say these provisions pose a serious challenge to the United States' ability to drastically increase the number of Syrian refugees it accepts for resettlement.
Refugee advocates have been fighting against the provisions, referred to as terrorism-related inadmissibility grounds, for the past decade, providing testimony at Congressional hearings and lobbying the administration to make changes to how the laws are enforced.
"This law is overbroad, it applies to conduct that none of us consider to be terrorism, and innocent refugees are being caught up in this process," said Melanie Nezer, vice president of policy and advocacy for the refugee resettlement agency HIAS.
"Our anti-terrorism law should serve to make us safe, and this specific law, and the ways it's applied, doesn't meet that goal," Nezer added. "Refugees have to go through an entire bureaucratic process to prove that they are admissible."
The laws, in the past, have barred entry into the United States for those who participated or assisted groups who actively resisted brutal regimes. Under the Bush Administration, the Department of Homeland Security and the State Department granted exemptions to some of these groups, such as Burmese religious and ethnic minorities. In 2008, Congress codified many of these exemptions and several others seen as unjustly barred by the law.
The Obama administration also issued exemptions for groups, including Iraqi participants in the uprisings against Saddam Hussein in 1991, as well as for activities committed under duress and for those who provided medical care.
In February of last year, the Obama administration issued two new exemptions in an effort to allow more Syrians to resettle in the United States. The exemptions are granted to those who provided so-called insignificant assistance or who engaged in certain routine commercial or social transactions, like serving a patron at a restaurant or lodging a family member.
By July 2015, however, only 10 cases have been approved for these new exemptions according to statistic provided to advocates by U.S. Citizenship and Immigration Services. It is unknown if any of those cases are from Syria.
Despite these efforts, Nezer told BuzzFeed News she believes the administration wasn't using all of its authority to address the crisis.
"The administration should use the authority Congress gave them to issue exemptions more efficiently and more effectively than they are doing so now," Nezer said, but added, "Congress enacted this law, and congress needs to change this law."
Even with exemptions, advocates say the provisions create a bureaucratic nightmare that unnecessarily prolongs the time it takes to process resettlement requests. In order to be considered for an exemption, a refugee must first be deemed inadmissible on grounds of "material support."
One advocate says the delay in processing directly impacts the well-being of a refugee.
"Each delay in relocating people who have been identified as at-risk in their current situation contributes to their ongoing lack of protection and causes them to face continuing danger while they wait," Daryl Grisgraber, senior advocate for the Middle East for Refugees International, told BuzzFeed News.
A spokesperson for the State Department told BuzzFeed News that the U.S. government has worked to enhance the screening protocols for Syrians.
"The United States remains deeply committed to achieving the dual goals of safeguarding the American public from terrorists and providing refuge to some of the world's most vulnerable people, many of whom are themselves the victims of terrorism," the spokesperson said. "Mindful of the particular conditions of the Syria crisis, the United States has reviewed the security screening protocols for refugees, which are extremely rigorous, worked to further enhance the forms of security screening applicable to this particular population."