Obama At The State Of The Union: I'm Ready To Veto The Republican Congress
The president calls on Congress to act on several key policies, but promises to veto Republican priorities.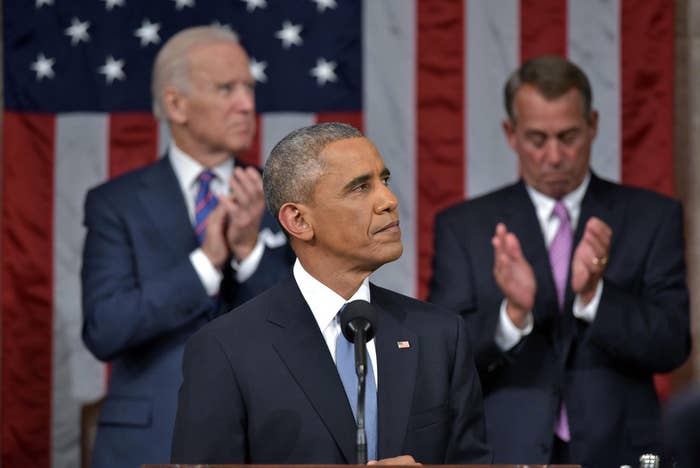 What We Know So Far
President Obama promises to veto several Republican priorities.
The address focused largely on middle-class economics.
The president called on Congress to act on new trade policy, taxes, and an authorization for force against ISIS.
Specific proposals — including a new tax plan, free community college, and increased availability of broadband internet — have already been laid out in recent weeks.
Many of the president's proposals will meet stiff resistance in the Republican-controlled Congress.
Updates
Lawmakers from both parties expressed disappointment that President Obama did not say he will send draft legislation authorizing the U.S. military operation in Iraq and Syria.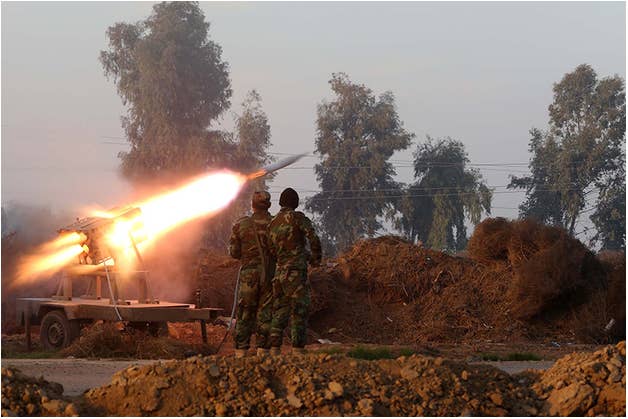 President Obama called on Congress to "a resolution to authorize the use of force against" ISIS in his State of the Union address — but what that will look like or even who will write the new authorization remains a mystery to most lawmakers.
Following the president's speech, lawmakers from both parties expressed disappointment and confusion that President Obama did not say Tuesday that his administration will take the lead on language approving the U.S. military mission.
"I am disappointed [Obama] did not signal an intention to send a draft to Congress for consideration," said Democratic Sen. Tim Kaine in a statement. "I was pleased the Senate Foreign Relations Committee acted last month. But Congress as a whole will be better prepared to act with specific guidance from the administration on the language of an AUMF. I hope that guidance is forthcoming soon."
Sen. Ron Johnson, a Republican who sits on the Foreign Relations committee, told BuzzFeed News that the AUMF mention left him "totally confused."
"The president needs to define what he means by 'defeat'…He has to lay out what he needs to accomplish defeat and then he has to lay out the strategy and send us some language," Johnson said. "We need some leadership out of the commander-in-chief and he's provided none."
Full story here.
Sen. Ted Cruz's office accidentally uploaded a bad take of his SOTU response.
In a response on Facebook, Jeb Bush criticized Obama for using "the tax code to divide us."
The State of the Union is a chance to start anew, but all the president offered tonight is more taxes, more government, and more of the same approach that has failed middle-class families. These aren't just the wrong policies, they're the wrong priorities: growing Washington's bureaucracy instead of America's economy. To Americans looking for the real reform and bold solutions they voted for in November, I would point them to Joni Ernst's address, in which she talked about the need to fix our tax code, balance our budget, and replace the health care law with solutions that will lower costs and protect jobs. To lay the foundation for this work, we have already advanced several jobs bills based on areas of bipartisan agreement, including building the Keystone XL pipeline. Finding common ground is what the American people sent us here to do, but you wouldn't know it from the president's speech tonight. While veto threats and unserious proposals may make for good political theater, they will not distract this new American Congress from our focus on the people's priorities.
In the GOP response, Iowa Senator Joni Ernst laid out Republican priorities, saying, "with a little cooperation from the President, we can get Washington working again."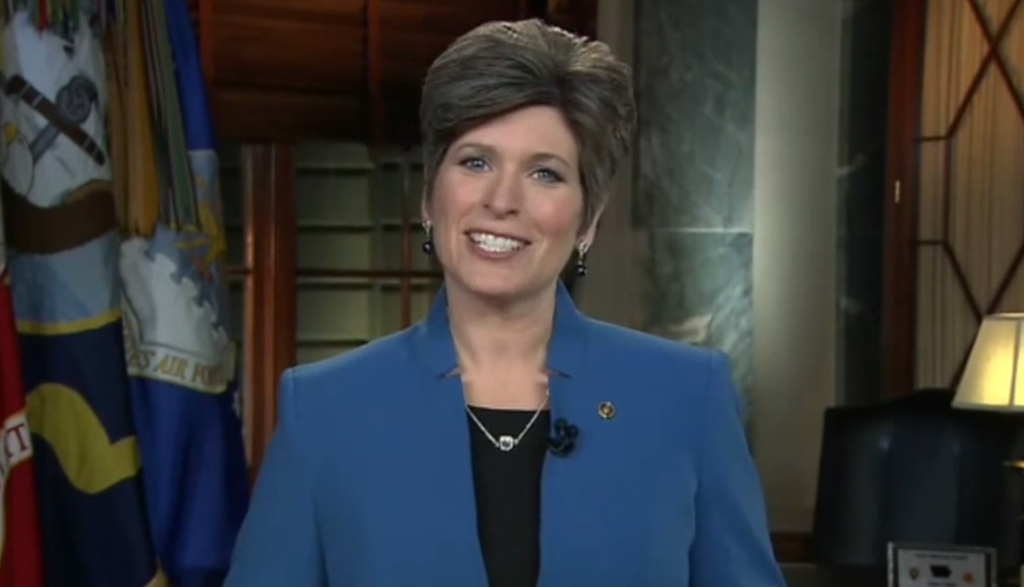 "Let's tear down trade barriers in places like Europe and the Pacific. Let's sell more of what we make and grow in America over there so we can boost manufacturing, wages, and jobs right here, at home."
"Let's simplify America's outdated and loophole-ridden tax code. Republicans think tax filing should be easier for you, not just the well-connected. So let's iron out loopholes to lower rates - and create jobs, not pay for more government spending."
"We'll also keep fighting to repeal and replace a health care law that's hurt so many hardworking families."
"We'll work to correct executive overreach."
"We'll propose ideas that aim to cut wasteful spending and balance the budget - with meaningful reforms, not higher taxes like the President has proposed."
"We'll advance solutions to prevent the kind of cyberattacks we've seen recently."
"We'll work to confront Iran's nuclear ambitions."
"And we'll defend life, because protecting our most vulnerable is an important measure of any society."
Mitt Romney says "true to form," Obama "more interested in politics than in leadership."
Obama says he knows he has no more campaigns to run because he "won both of them."
When Obama's line "I have no more campaigns to run" was received by an applause from some members in the audience, Obama shot back, "I know because I won both of them."
2015 State of the Union first to say "ironic."
No president had ever said (or written) that word in a State of the Union address before. Other firsts: "hype," "Putin," "fake," and more.
Full story here.
Obama promises to veto any Iran sanctions bill.
"There are no guarantees that negotiations will succeed, and I keep all options on the table to prevent a nuclear Iran. But new sanctions passed by this Congress, at this moment in time, will all but guarantee that diplomacy fails — alienating America from its allies; and ensuring that Iran starts up its nuclear program again. It doesn't make sense. That is why I will veto any new sanctions bill that threatens to undo this progress. The American people expect us to only go to war as a last resort, and I intend to stay true to that wisdom."
Obama says he has worked to "properly constrain" the use of drones.
"As Americans, we respect human dignity, even when we're threatened, which is why I've prohibited torture, and worked to make sure our use of new technology like drones is properly constrained."
Obama says he will send a budget to Congress in two weeks.
"In two weeks, I will send this Congress a budget filled with ideas that are practical, not partisan. And in the months ahead, I'll crisscross the country making a case for those ideas."
Obama addresses Ferguson and New York in State of the Union.
"We may have different takes on the events of Ferguson and New York. But surely we can understand a father who fears his son can't walk home without being harassed. Surely we can understand the wife who won't rest until the police officer she married walks through the front door at the end of his shift. Surely we can agree it's a good thing that for the first time in 40 years, the crime rate and the incarceration rate have come down together, and use that as a starting point for Democrats and Republicans, community leaders and law enforcement, to reform America's criminal justice system so that it protects and serves us all."
Obama to recommit to shutting down Guantanamo Bay.
"As Americans, we have a profound commitment to justice — so it makes no sense to spend three million dollars per prisoner to keep open a prison that the world condemns and terrorists use to recruit," Obama is expected to say.
"Since I've been President, we've worked responsibly to cut the population of GTMO in half. Now it's time to finish the job. And I will not relent in my determination to shut it down. It's not who we are."
Obama to call for Congress to end the Cuba embargo.
"Our shift in Cuba policy has the potential to end a legacy of mistrust in our hemisphere; removes a phony excuse for restrictions in Cuba; stands up for democratic values; and extends the hand of friendship to the Cuban people," Obama is expected to say.
"And this year, Congress should begin the work of ending the embargo. As His Holiness, Pope Francis, has said, diplomacy is the work of 'small steps.' These small steps have added up to new hope for the future in Cuba. And after years in prison, we're overjoyed that Alan Gross is back where he belongs. Welcome home, Alan."
Obama to call for new trade deals with Asia and Europe.
"But as we speak, China wants to write the rules for the world's fastest-growing region. That would put our workers and businesses at a disadvantage. Why would we let that happen? We should write those rules. We should level the playing field," Obama is expected to say.
"That's why I'm asking both parties to give me trade promotion authority to protect American workers, with strong new trade deals from Asia to Europe that aren't just free, but fair."
And here was the reaction: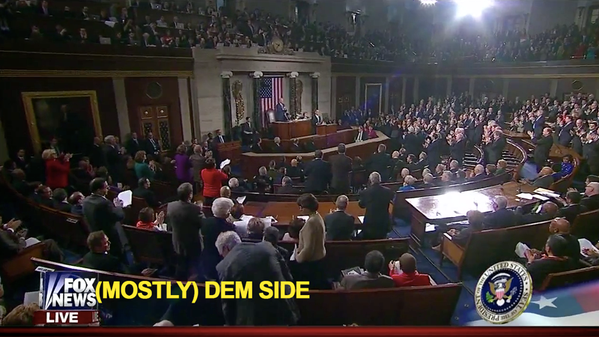 In State of the Union, Obama to declare marriage equality a "civil right."
"I've seen something like gay marriage go from a wedge issue used to drive us apart to a story of freedom across our country," he is to say, according to prepared remarks released by the White House, "a civil right now legal in states that seven in ten Americans call home."
The words come four days after the Supreme Court announced that it will be taking up the issues of whether states can ban same-sex couples from marrying and whether they can refuse to recognize same-sex couples' marriages granted in other states in four cases to be heard later this spring.
Full story here.
Supreme Court Justice Ruth Bader Ginsburg arrived for the State of the Union with a copy of the New York Times in hand.