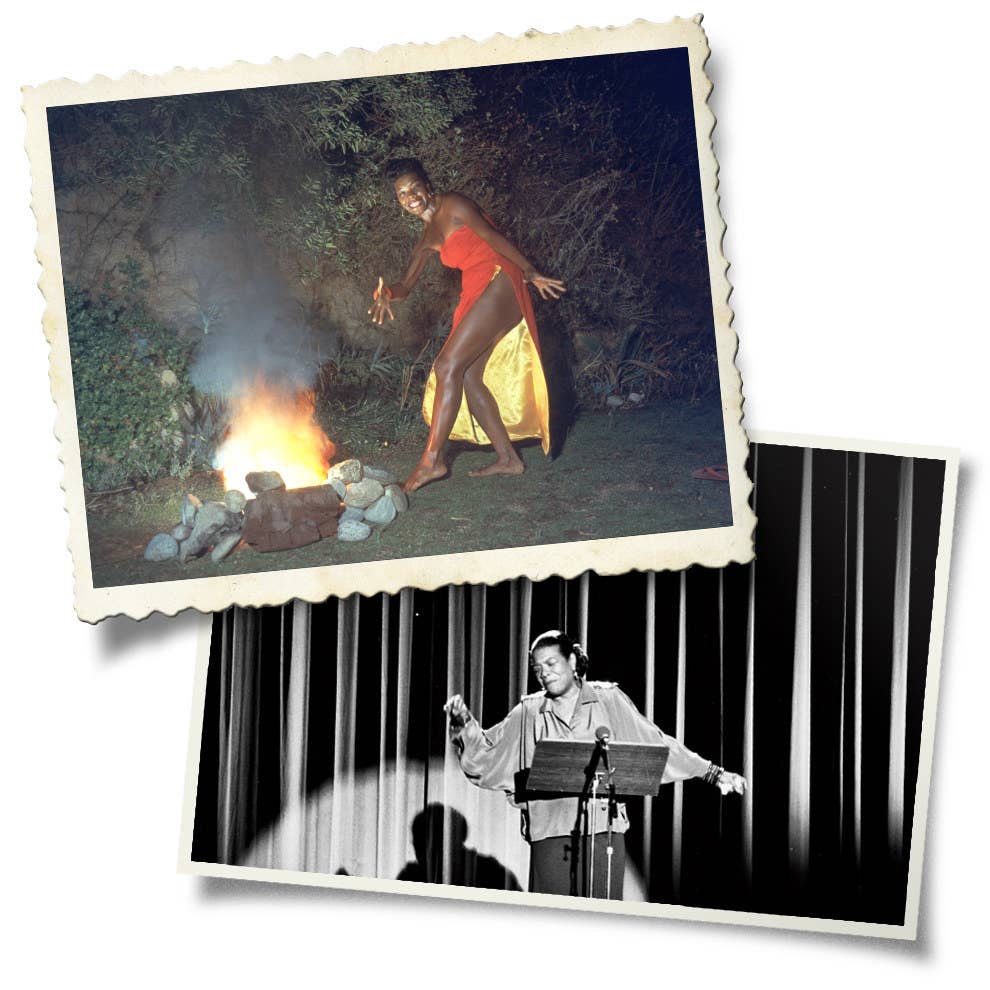 Until she died in May of 2014, the only image I had of Maya Angelou was of a grandmotherly figure who wrote light verse. I knew many black girls to be named for her, and almost all of them to be poets. I knew of her friendship with Oprah. But not much more, not until the memorials began to pour in. That was how her life opened up to me, and I saw her in full flower: the filmmaker, singer, dancer, actor, activist — the full person.
Though I knew she'd been in the TV miniseries Roots, I hadn't known that she received an Emmy nomination for her performance; or that four years earlier, she'd been nominated for a best actor Tony for her work in the play Look Away. She was the first black woman member of the Directors Guild of America. She wrote the screenplay and the score for the film Georgia, Georgia. She toured in a 1950s production of Porgy and Bess. And as a teenager in California, she'd worked both as a streetcar operator — San Francisco's first — and as a madam for two enterprising women in San Diego. As the New York Times obituary noted, she was "a dancer, calypso singer, streetcar conductor, single mother, magazine editor in Cairo, [and] administrative assistant in Ghana" — all this, in just the first half of her life.
Of course, she'd always been there. I was a little black girl who liked to write poetry, and she was the most famous living black poet. I was somewhere between 12 and 15 when I received The Complete Collected Poems of Maya Angelou, which meant I had become serious, self-serious about poetry, which meant I could not find the value in this woman's inspirational, rhyming verse.
At that age, I wanted to be Coco in Fame: a triple-threat dancer, actor, singer, radiating confidence in her abilities. I loved that Coco was more than one thing; it was how I saw myself. Meanwhile, Maya was busy directing her first feature film, Down in the Delta, while I did little more than flip through the one book of hers I owned.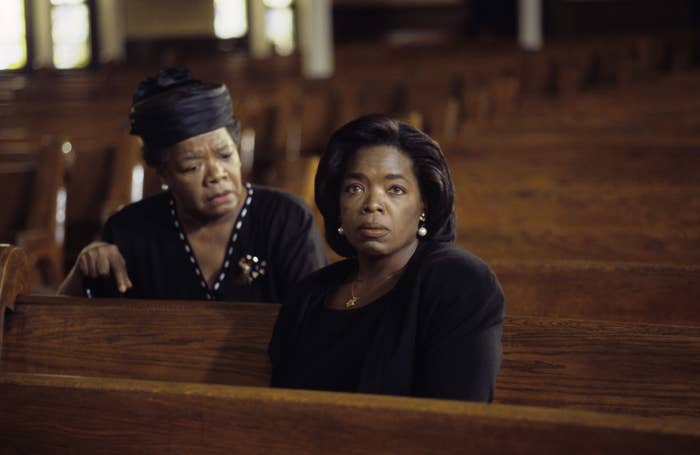 Another part of Maya that I hadn't seen before she died was her beauty. She was 6 feet tall, a fact that had bothered her as a girl but suited her in womanhood. It made her statuesque, regal. Her beauty had largely been obscured over the years, in part because the things that made her most famous — I Know Why the Caged Bird Sings, Roots, and serving as Bill Clinton's inaugural poet — happened in her forties and later. But it was also because Maya, like Cicely Tyson, like Oprah, like so many black women, had been grandmothered, auntied — relegated to a nonsexualized place in our cultural imagination. The most prominent images I had of Maya were with gray hair, dressed like a deacon and treated like one, too. She identified, strongly, as a mentor and cultural grandmother; but when she was my age, she'd worn off-the-shoulder numbers and skirts with thigh-high slits, as on the cover of her 1957 album Miss Calypso. Barefoot, dressed in a radiant red, she beams into a bonfire.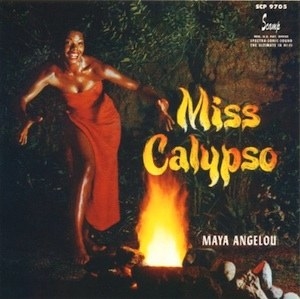 And that album. Hearing it 60 years after the fact is like looking at old pictures of your elders for the kick. In "Stone Cold Dead in the Market," she sings with utter delight over congas and guitar about killing an abusive husband with a frying pan. But what I hear in those songs, besides all the fun she's having, is the daring, the audacity that seems to have fueled her life. An ethos of yes.
In the recently released PBS American Masters special on Maya, she spoke frankly and plainly about her first time having sex, the birth of her son, her marriage and divorce to Tosh Angelos, and much more of her life. In these accounts, I heard that same note of curiosity that drove her to have each experience, the lack of self-judgment. To be a singer, actor, dancer, director, composer, author, and all the rest of it, requires, at the most base level, an absence of self-consciousness, and at best, courage. Daring.

"A person should be able to be a painter and a plumber and a poet. And I don't see why we have decided we should only be one thing or the other. It should be and," she said once in an interview with Ebony magazine.
After she died, and I came to understand all that I had missed about her over the years, I didn't just up and decide to go be every woman. Something else arose: a question of choice versus chance, of what role I had in the creation of my life. For so long, I'd been disinclined to force revelation or outcomes, opting instead for a patient, hands-off approach. But I was at some kind of crossroads, hovering between advanced adolescence and full-fledged adulthood, not getting what I wanted, not being where I wanted. And I wondered, if I didn't act, would I fall prey to a life filled only with what had happened to me?
I wondered, if I didn't act, would I fall prey to a life filled only with what had happened to me?
The things that could happen to you in life were myriad, and mostly tragic: Someone dies; someone is born; chance, chance, chance. But that wasn't enough, especially not for a writer. Writers needed experiences — not only things to write about, but a way of interpreting the world beyond the theoretical.
And so I began to choose, to involve myself in failed experiments, to be, in a sense, as eclectic as possible. As eclectic as Maya had been. When I was summoned the following year for grand jury duty, I accepted, gladly, the opportunity to do something new. A month later, I went to Riverside, California, for a familiarization tour, a free trip offered to meeting planners (or in my case, the daughter of meeting planners) to entice them to have their next event in the city. With a group of much older strangers, I wined, dined and zip-lined. I auditioned for a Dove deodorant commercial. I posed for an underwear ad. More than once, I've been in a music video. These experiences for me were something like that one not-like-the-other thing on Maya's list of accomplishments — being San Francisco's first black streetcar operator. What did trolleys have to do with her artwork? And what did my presence, in this assortment of places, have to do with mine?
I remember the confusion and surprise when, without knowing about it, people came across the video I was in. "Is that you?" they asked. "Is that really you?" In that question, I heard more than a desire to verify me, but the underlying question: Why are you in this space where I didn't expect you?

I liked that surprise. I liked a life that was borderless, genre-defiant. The life I wanted to create was filled to the brim with surprises and unmatched pieces; not a life you could characterize with just one word, title, or role; never able to be told in full.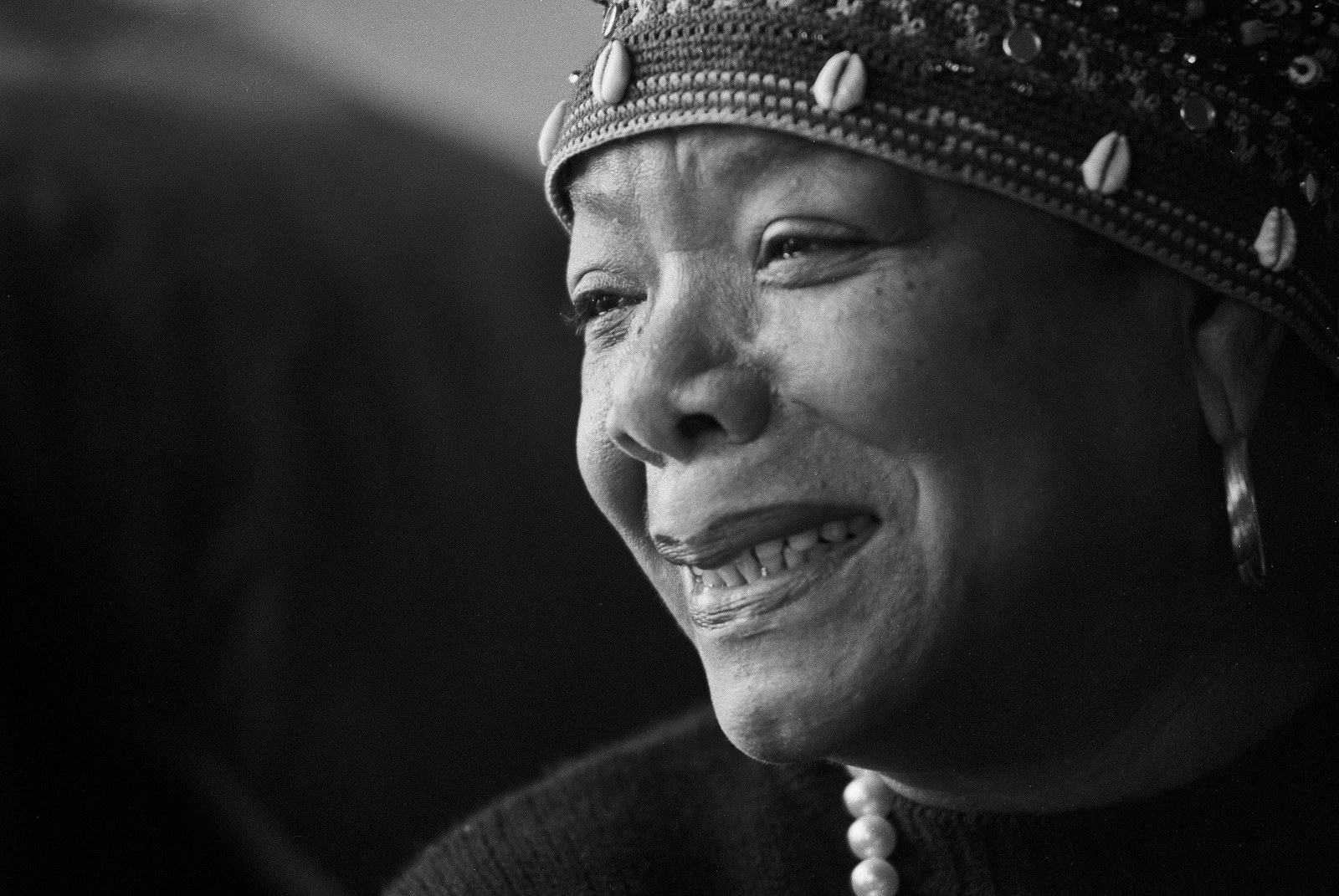 My grandmother, Maurice, has one of those lives, and every so often, she tells me something about it I didn't know. When I was 11 and she was in her sixties, she casually mentioned that she was the youngest of her siblings and, seeing the shock on my face, mocked my gaping mouth with her own. What made it so surprising was the idea of her being young — something my nascent little mind had never considered. But before she was ever a grandmother, or a mother, or a wife, she was a woman, a girl, the baby of the family, with her own cosmos swirling in her head. Never just one thing.

"I think, though, human beings often paint our own selves into corners, or allow ourselves to be painted into corners," Maya goes on to say in the Ebony interview. "That is to say we accept labels for ourselves, and then say, 'This is what I do, and this is all I do.' Well, I don't believe that that is true of any human being."
In that nexus between Maya, Maurice, and me is the yes, the and, the multiplicity of artists, of women, of everyone. Maya taught me how to see myself as more than, and reminded me that she was more than, too. We all are. ●
Kyla Marshell's work has appeared in The Guardian, Gawker, and O, the Oprah Magazine, among other places. Say hello on Twitter.