Whoopi Goldberg, speaking to BuzzFeed News at Saturday's Women's March in New York City, said women everywhere are part of the so-called anti-Trump resistance "whether you like it or not," and those who can't join the nationwide demonstrations still have an obligation to stay informed and vote.
"We don't always agree with each other, but as women we know that we have to make sure that all of the things we fought for don't move," the actor and host of The View said. "Listen, you're part of the resistance whether you like it or not. It's just the way it is."
"Not everybody can come out and do this, not everybody can march," Goldberg said. "But you can do little things.
"Make sure you vote. Whether you vote the way I think or whether you vote the way somebody else thinks, it's not important. You vote what you believe and then you stand tall and you defend what you believe, and that's how we do this. That's how America is supposed to work."
To mark the first anniversary of President Trump's first year in office, and the ensuing massive 2017 Women's March, thousands of women joined protests on Saturday across the country. Demonstrations were held in cities as diverse as Washington, DC; Montgomery, Alabama; and Park City, Utah.
Goldberg said she takes her celebrity platform seriously when it comes to raising awareness.
"I have a different responsibility in the world because I actually am around a lot of different people and I do hear a lot of stories," Goldberg said. "So I want to pass it on so that you can not be willfully ignorant."

"For me, there are things that I think everybody should be aware of," she continued. "I don't say, 'You have to think like me.' I just want to make you aware."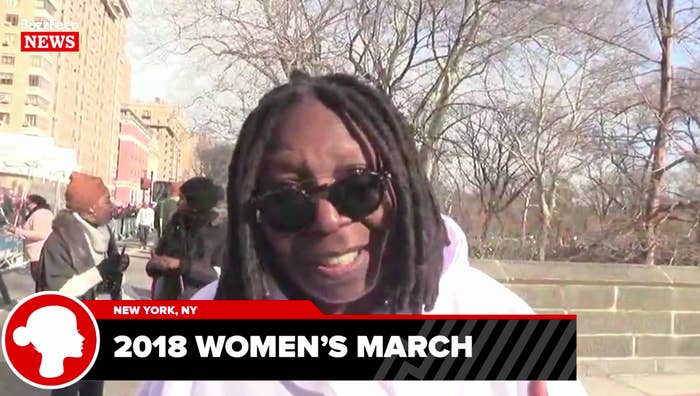 At a time when sexual assault, harassment, and misconduct in Hollywood are a major topic of conversation, Goldberg said women's rights are a bipartisan issue of paramount concern.

"Women are supporting women. You see the #MeToo movement, all these movements," she said. "We're all coming out and saying, 'I don't know you, I don't know your politics, but nobody should be treated like this. Nobody should be treated like this.' That's the takeaway."