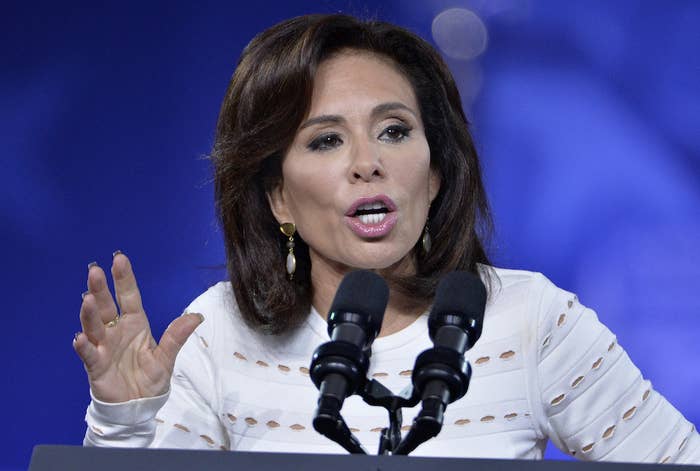 Fox News host Jeanine Pirro did not appear on the network Saturday night, a week after making offensive comments about US Rep. Ilhan Omar on her show.
On Sunday, President Donald Trump tweeted in Pirro's defense, and asked that the Fox host return.
"Fox must stay strong and fight back with vigor," Trump tweeted.

A spokesperson for Fox News told BuzzFeed News, "We're not commenting on internal scheduling matters" when asked about the status of Pirro's Saturday show, Justice with Judge Jeanine.
On the show last week, Pirro brought up Rep. Omar, the recently-elected Democrat from Minnesota.
"Think about it: Omar wears a hijab. Is her adherence to this Islamic doctrine indicative of her adherence to Sharia law, which in itself is antithetical to the United States Constitution?" Pirro said.
Pirro's comments were panned as offensive and anti-Muslim.
Last week, Fox News issued a statement saying that the network does "strongly condemn Jeanine Pirro's comments about Rep. Ilhan Omar. They do not reflect those of the network and we have addressed the matter with her directly."
In a statement, Pirro said that her "intention was to ask a question and start a debate," and invited Rep. Omar to appear on her show.
Instead of airing Pirro's show at 9:00 pm ET last night, Fox News ran a repeat of a documentary series called Scandalous.
Trump also tweeted on Sunday morning in defense of Tucker Carlson, who has been criticized after the advocacy group Media Matters for America resurfaced old, offensive comments that Carlson made on a radio program.
"Keep fighting for Tucker, and fight hard for @JudgeJeanine," Trump tweeted.
"Stop working soooo hard on being politically correct, which will only bring you down, and continue to fight for our Country," Trump continued.
"The losers all want what you have, don't give it to them. Be strong & prosper, be weak & die!"
It's unclear if Justice with Judge Jeanine will return next week.