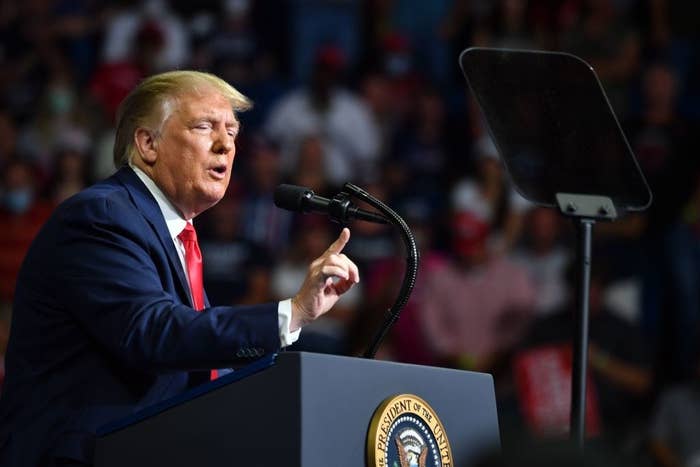 At his first campaign rally in months in Tulsa, Oklahoma on Saturday, President Trump said he told "his people" to "slow down" coronavirus testing so the number of COVID-19 cases wouldn't increase.
"When you do testing to that extent, you're going to find more people, you're going to find more cases," Trump said. "So I said to my people, 'Slow the testing down, please.' They test and they test."
He told the smaller-than-expected crowd that "testing is a double-edged sword" because the "bad part" is the increase in recorded coronavirus cases.
Trump also used racist terms to refer to the coronavirus in his speech, calling it the "Chinese virus" and "kung flu."

"It's a disease — without question — has more names than any disease in history. I can name 'kung flu,' I can name 19 different versions of names," Trump said, as his supporters cheered and clapped. "Many call it a virus, which it is. Many call it a flu, what difference."
Back in March, CBS News reporter Weijia Jiang, who is Chinese American, said a White House official referred to the coronavirus as the "kung flu" to her face. White House adviser Kellyanne Conway said the term was "highly offensive," but told Jiang she "can't just say that and not name" the official.
Trump has called the coronavirus the "China virus" in the past, as an increased number of Asian Americans reported facing hate crimes. He denied that the term was racist.
The vast majority of attendees showed up to Trump's rally, which was held at the BOK Center, without masks to help prevent the spread of the virus. Those who went to the rally were also required to sign coronavirus waivers when they registered for tickets, agreeing not to sue Trump's campaign if they get infected with COVID-19 at the event.
Health officials have long emphasized that widespread testing is key to containing and preventing the virus from spreading further. The Trump administration has been criticized for its slow response to the coronavirus outbreak from the start, including the failure to implement widespread testing.
Tim Murtaugh, a Trump campaign spokesperson, said the president made his comment in jest. "He was clearly making a joke about media coverage and making the point that more testing means finding more cases of the virus," he told BuzzFeed News in an email.
But it's not the first time he has made similar remarks about widespread testing. Most recently, during an event the week before, Trump said, "If we stop testing right now, we'd have very few cases, actually."

More than 2.25 million people in the US have tested positive for the coronavirus to date, and 119,654 people have died — the highest COVID-19 death toll of any country in the world.

The CDC did not immediately return BuzzFeed News' request for comment about Trump's remarks.