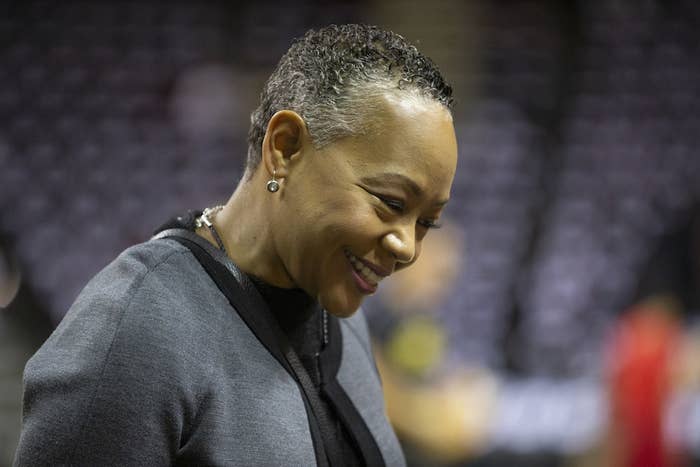 WNBA President Lisa Borders is stepping down from her current role to accept the position as the first president and CEO of Time's Up, the organization announced on Tuesday.
Mark Tatum, the NBA deputy commissioner, will fill in for Borders and run the WNBA on an interim basis.
"I'm honored to have this opportunity to combine my experience working across all three sectors, as real, systemic change will require collaboration from each of these arenas," Borders said in a press release.
The announcement from Time's Up comes nine months after the organization was first conceived. Originally, the initiative did not intend to have a single leader heading up the organization. But today, Time's Up set a new precedent for leadership and it hopes to "continue its focus on creating solutions that increase safety and equity at work for women of all kinds ... under Border's stewardship."

Showrunner Shonda Rhimes and actor Kerry Washington were among those involved in the process of Borders' hiring, as members of the Time's Up President and CEO Search Committee. Washington said that while Time's Up "was born in the entertainment industry," the organization aims to focus on "the safety and equity of all women everywhere."
"Lisa will help us ensure that this isn't a moment that passes us by," Washington said. "We're so thrilled to have her leadership."
Rhimes said, "With Lisa's skills and leadership, Time's Up is now in the best position to achieve what we all started — to create a more positive future for workplace culture and a more powerful network for working women of all kinds."
Before joining the WNBA, Borders was the vice president of global community affairs at the Coca-Cola Company, the chair of the Coca-Cola Foundation, the vice mayor of Atlanta, and the president of the Atlanta City Council.

"To disrupt and reinvent the ingrained status quo, we will need all hands on deck to create and sustain enduring change," Borders said. "I'm thrilled to lead Time's Up and I am convinced that together, we will shift the paradigm of workplace culture."