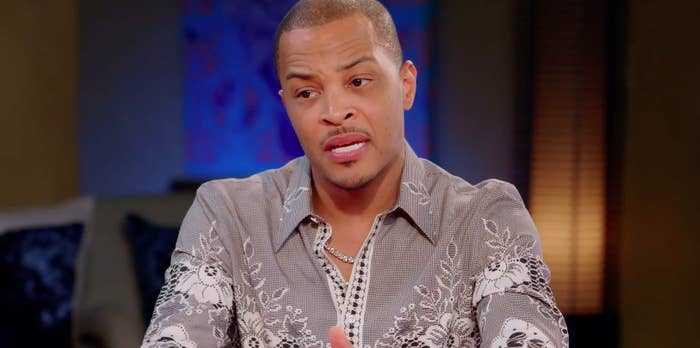 Rapper T.I. defended himself in his first interview since his comments about attending annual gynecological appointments with his daughter Deyjah Harris to "check her hymen is still intact."
Appearing in an interview Monday on the Facebook Watch show Red Table Talk with Jada Pinkett Smith, the rapper said he's "incredibly apologetic" to Deyjah Harris — but he isn't sorry to other people who were outraged by his comments.
"She did have a problem with me talking about it and I understand that and I am incredibly apologetic to her for that," T.I. said. "Not to any of these other strangers and any of these weirdos who just kind of toss lies around."
Sitting at the table with Pinkett Smith, her mother Adrienne Banfield-Jones, and his wife Tameka "Tiny" Harris, T.I. said that his intentions "have been terribly misconstrued and misconceived."
"I never said I was in any exam room. That is an assumption; that is a falsity. I never said it was being done present-day as an 18-year-old. I never said that her mother wasn't present," T.I. said.
"All of this false narrative has just been sensationalized."
Earlier this month, during an interview with Nazanin Mandi and Nadia Moham on the Ladies Like Us podcast, T.I. said he went "yearly" to gynecological appointments with his daughter, who is now 18.
"So we'll go and sit down and the doctor comes and talk, and the doctor's maintaining a high level of professionalism," T.I. said on Ladies Like Us. "He's like, 'You know, sir, I have to, in order to share information' — I'm like, 'Deyjah, they want you to sign this so we can share information. Is there anything you would not want me to know? See, Doc? Ain't no problem.'"
"And so then they come and say, 'Well, I just want you to know that there are other ways besides sex that the hymen can be broken like bike riding, athletics, horseback riding, and just other forms of athletic physical activity,'" he said on the podcast. "So I say, 'Look, Doc, she don't ride no horses, she don't ride no bike, she don't play no sports. Just check the hymen, please, and give me back my results expeditiously.'"
Then he added, "I will say, as of her 18th birthday, her hymen is still intact."
His comments sparked outrage and backlash from people online as well as public figures like the founder of the #MeToo movement Tarana Burke and Gloria Steinem. Critics said T.I. monitoring his daughter's virginity and having her waive her right to doctor–patient confidentiality so he can access her results was controlling and even abusive.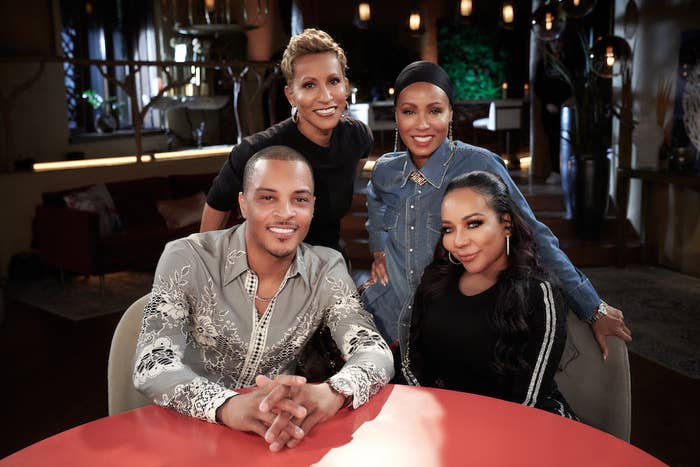 "I think all of this surrounds a conversation I was having in a very joking manner when asked how do I deal with parenting in this day and age," T.I. pushed back during his Red Table Talk interview, calling the controversy "hymen-gate."
"From a place of truth, I began to embellish and exaggerate, and I think a lot of people took it extremely literal because if you put any of my reputation — who I am as a father and who I've been — I honestly thought people knew me better than that."
As the backlash to T.I.'s comments grew online, his daughter's account liked several tweets criticizing her dad and she eventually unfollowed him. The rapper said Deyjah Harris initially asked him not to say anything in response to people's criticism, but that he decided to come on the Red Table Talk when she changed her mind and wanted him to address it.
"Our women, black women, are the most unprotected … women on the planet. I'm being criticized because I'm willing to go above and beyond to protect beyond mine," T.I. said.
The rapper said in the wake of this controversy that he wants to know what "the purpose and place of a father in this society" is because he said his goal as a father is to be as involved as possible, but "we could draw the conclusion that we just donate sperm and come pay for things and we don't really have no say so in how things are handled."
"I'm not there to protect necessarily virginity, I just know that is a big move," he said. "So [if] you make that move, there are things that happen that follow you have to be equipped and I don't know if you're equipped."
T.I. said his daughter "definitely should be afraid for what could eventually come" from having sex, mentioning the possibility of pregnancy, sexually transmitted diseases, and "the dangers of just having your heartbroken, thrown away, and discarded to be forgotten."
When Pinkett Smith asked him what if his reaction would've been if he found out that Deyjah Harris did have sex for the first time when she was younger, T.I. said he sees having sex for the first time as an end to one's childhood.
"Your childhood is [over] when you lose your virginity. That's it, now you've ended your childhood and it's time to begin adulthood," he said. "And I can't let you run around trying to enjoy the luxuries of adulthood without any of the responsibilities of adulthood."
T.I.'s wife Tiny Harris asked her husband what he specifically meant by responsibilities, to which the rapper said "heightened levels of responsibility" for a hypothetical sexually active daughter "could be birth control, it could be financial, or just having a plan."
"You can't just run around not knowing what you want to do no more," T.I. said. "Now you've made a decision that you want to be an adult, you have to have a plan together because if you figured this out, you need to figure all this out too."