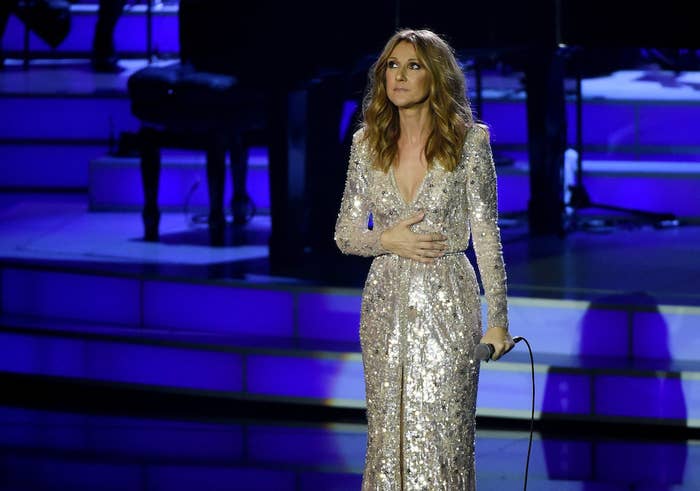 On Sunday, 58 people were killed and at least 480 more were injured when a shooter opened fire on Route 91 Harvest, a country music festival in Las Vegas. It is now the deadliest mass shooting in recent US history.
The gunman — 64-year-old Stephen Paddock — had 23 guns in his hotel room at the Mandalay Bay Resort and Casino, where he shot from late Sunday night.
There are dozens of performances in Las Vegas nightly and in light of the recent shooting, other venues are taking more safety precautions, though few performances have been affected. A representative for The Colosseum at Caesars Palace — where Celine Dion, Elton John, Mariah Carey, and Reba McEntire and Brooks & Dunn all have upcoming performances — told BuzzFeed News they plan on updating their security measures and taking extra precautions. The spokeswoman said she's unable to share specific details around those efforts, however, for security reasons.
"We are constantly reviewing our security policies and practices to keep our guests and employees safe," Jennifer Forkish, vice president of corporate communications for Caesars Entertainment, told BuzzFeed News in a statement. "We are also working very closely with law enforcement, especially Las Vegas Metro, to continue to keep our properties secure."
Dion performed at The Colosseum on Oct. 3, and told the audience that she would be donating the proceeds from that night's show to the victims of the Route 91 shooting.
According to a representative for Caesars Entertainment, previously scheduled performances at The Colosseum and at The Axis at Planet Hollywood Resort & Casino, which they also oversee, will resume as scheduled — including Britney Spears', Lionel Richie's, Ringo Starr's and the Backstreet Boys's. A representative for the Backstreet Boys told BuzzFeed News the band "loves Las Vegas and they're looking forward to coming back in November to perform." However, Jennifer Lopez did postpone her three shows at The Axis this week.
The CW also decided to postpone its two-night broadcast of the iHeart Radio Music Festival, which took place in Las Vegas at the T-Mobile Arena on Sept. 22 and 23 "out of respect to the victims of last Sunday's terrible tragedy in Las Vegas and their families." It was scheduled to air on Oct. 4 and Oct. 5.
Debra DeShong, a spokesperson for MGM Resorts — which includes 13 hotels and casinos on the Las Vegas Strip, including the Mandalay Bay — also told BuzzFeed News in a statement that its venues have increased security.
"MGM Resorts has increased its level of security to add to the level of comfort and safety of our guests and employees," she said. "The company has procedures in place related to the safety of our guests and employees and it remains of utmost importance for our security team. MGM Resorts works consistently with local and national law enforcement agencies to keep procedures at our resorts up to date, and are always improving and evolving. We continue that close working relationship now during the ongoing investigation into this tragic incident."
A representative for Diana Ross confirmed to BuzzFeed News that she will still perform at the Encore Theater at the Wynn in Las Vegas starting next week and did not provide further comment. The Wynn did not respond to BuzzFeed News's request for further security information.
Concerts have recently become the target of violence both in the US and UK. On May 22, a 22-year-old man detonated a bomb outside of Manchester Arena when an Ariana Grande concert was letting out, killing 22 people.
Shortly after the Las Vegas shooting, Grande tweeted: "My heart is breaking for Las Vegas. We need love, unity, peace, gun control & for people to look at this & call this what it is = terrorism."
Many celebrities who are performing in Las Vegas tweeted their condolences to those affected by the shooting. BuzzFeed News has also reached out to representatives for Dion, Spears, Richie, John, Carey, Starr, and McEntire for further information, as well as Jay Z and The Weeknd, who are scheduled to perform at Las Vegas' T-Mobile Arena in October; Janet Jackson and Maroon 5, who have dates upcoming at the Mandalay Bay Events Center; Carlos Santana, who is performing at the House of Blues in Las Vegas; the Rascal Flatts, who are set to perform at the Venetian Theater; Bob Dylan, who soon has dates at The Chelsea at The Cosmopolitan; and Cher, who has a residency upcoming at the Park Theater at Monte Carlo Resort and Casino. BuzzFeed News has also reached out to the Venetian for updates on their safety procedures. When reached, The Cosmopolitan had no comment.