The Onion Wins Serious Praise For Its Take On College Sexual Assault
"The sarcasm is a really nice comic relief to what is a really frustrating battle."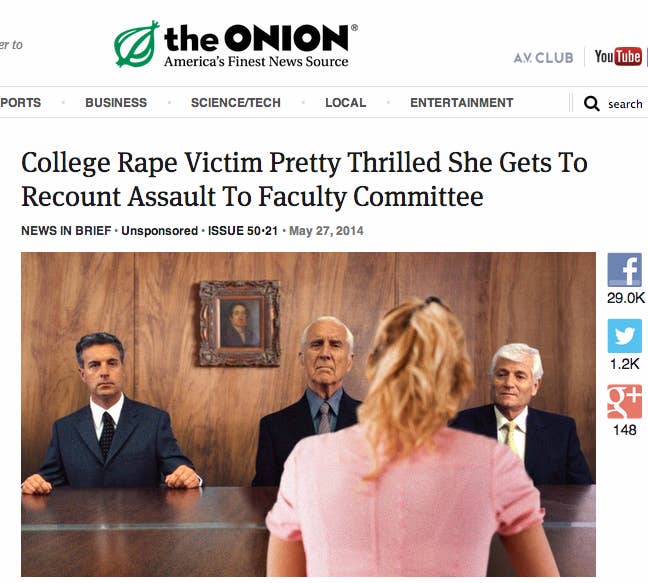 On May 21, The Onion published an article titled, "Date Rapist Tossing His Mortarboard Into Air 3 Rows in Front of You." The headline is pretty self-explanatory: In four sentences, the anonymous writer describes a scene in which someone who raped another student celebrates his college graduation as the rape victim watches on at the same graduation. To date, the piece has nearly 1,000 Facebook shares, 500 tweets, and likely tens of thousands of total views.
Less than one week later, The Onion published another article on sexual assault on college campuses — "College Rape Victim Pretty Thrilled She Gets To Recount Assault To Faculty Committee" — that's been shared nearly 30,000 times on Facebook and over 1,000 times on Twitter.
The internet's reaction to The Onion's decision to take on such a serious social issue has been mostly positive. In addition to the simple number of clicks and shares, readers have tweeted comments like "An accurate, hilarious, heartbreaking, infuriating joke at the expense of my alma mater" and "Wish it wasn't so close to the truth."
The Onion declined BuzzFeed's request to comment.
Students and rape survivors said satire and sarcasm is an effective way to shed light on what they consider to be frustrating issues on campus.
"It's satirical but if you were to read through it, it's pretty true to form," Savannah Badalich — class of 2015 at the University of California Los Angeles and ​campaign manager of 7000 in Solidarity, a campaign against sexual assault — told BuzzFeed. "People go into a room where they have to recount their assault and have it pulled apart over and over again ... it's funny because it's true and it's ridiculous."
Badalich said she found the first Onion article because her brother, someone who normally doesn't read much about sexual assault, shared it with her.
"He knows the kind of work that I do, but he's this bro who doesn't usually care much," she said. "He's also the type of dude that watches South Park and goes to the gym and drinks with his friends, so the fact that he read it and felt comfortable enough to share it with me was a big deal."
Tracey E. Vitchers, Students Active for Ending Rape's (SAFER) communications coordinator, also told BuzzFeed that The Onion's articles did a good job of attracting new readers who may not normally pay attention to the issue.
"An article on campus sexual assault in The Onion may get readers who otherwise may not have been aware campus sexual violence was an issue interested in the topic or at least aware that it is happening," she said.
Of course, it isn't unusual for The Onion to write about a serious issue. On May 21 it published a story titled "High School Suspends Hunky Student for Wearing Shirt", which describes a scenario in which a male student with "rock-hard abs" was suspended by administrators because his clothes were "disruptive." In response to the shooting in Isla Vista, Calif., it ran a piece titled "'No Way to Prevent This,' Says Only Nation Where This Regularly Happens" on May 27. And way back in 2011, The Onion aired a two-and-a-half-minute video titled "College Basketball Star Heroically Overcomes Tragic Rape He Committed."
But The Onion's take on sexual violence hasn't always been well-received. In August 2013 it published a piece titled "Adolescent Girl Reaching Age Where She Starts Exploring Stepfather's Body" that generated outrage around the internet. Angi Becker Stevens wrote in Ms. Magazine, "Being both a feminist and a lover of comedy, there have been far too many times I have cringed when a comedian I enjoy and respect surprises me with a rape joke. I think it says a lot about the pervasiveness of rape culture that virtually no source of humor seems free from the occasional ha-ha about sexual violence."
Students BuzzFeed spoke to said that The Onion got it right this time around because it stayed true to the authenticity of victims' experiences.
Marybeth Seitz-Brown, one of the 23 students who filed a Title IX complaint with the federal government against Columbia University alleging the school mishandled their sexual assaults, told BuzzFeed that The Onion articles really hit home because they spoke directly to her experience as a survivor on campus.
"[The Onion's article] shows the ridiculousness of being in the same crowd as the person who raped you and getting the same treatment from the university if they were found responsible," she said.
Seitz-Brown also said she thinks that The Onion has an edge in reaching a different kind of audience with its sexual assault articles because the publication's tone mirrors the annoyances and grievances that students and survivors feel.
"The sarcasm is a really nice comic relief to what is a really frustrating battle. I've sat in meetings with university administrators time and time again ... it was like talking to a wall," Seitz-Brown said. "These stories help people see how ridiculous their rhetoric is."