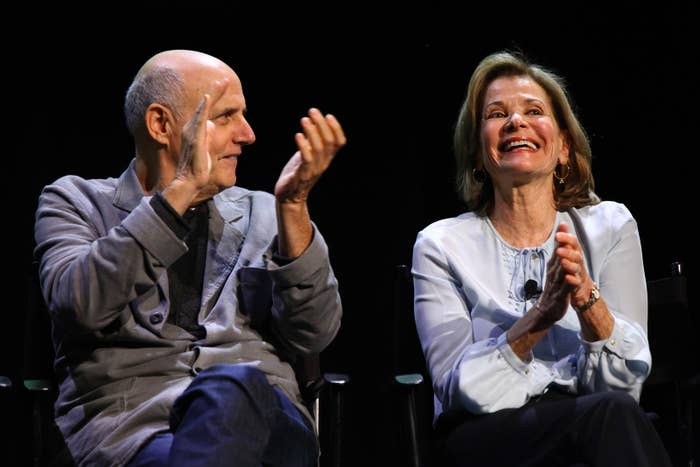 Sopan Deb, the New York Times reporter who did that interview with the cast of Arrested Development ahead of its Season 5 debut, told BuzzFeed News he thought the interview "took an unexpected direction" when he asked about sexual harassment allegations against Jeffrey Tambor.
"We were in the room for about an hour," Deb said on BuzzFeed's AM to DM. "When they were discussing the impact of the show it was obviously a lot more comfortable...when I asked about Jeffrey Tambor, obviously the room's tone changed quite a bit."
Tambor, who plays George Bluth Sr. on Arrested Development, was fired from Amazon's Transparent after denying sexual harassment allegations. In the recent NYT interview, Tambor's fictional wife and castmate Jessica Walter, who plays matriarch Lucille Bluth, said she was also harassed by Tambor on set. "Verbally, yes, he harassed me, but he did apologize. I have to let it go."
A lot of people responded to Deb's interview, saying none of the men in the cast came to Walter's defense and instead defended Tambor.
Jason Bateman (Michael Bluth) and Tony Hale (Buster Bluth) have since publicly apologized.
Deb said he assumed the cast knew those kinds of questions were going to come up and that he thought they had a plan for how they were going to handle it.
"Obviously I don't think it went to whatever that plan was," he said. "But it certainly, for at least a few minutes as I'm sure you heard in the audio, it got a bit uncomfortable for the people in the room."
The reporter said the only known facts about Tambor's harassment of Walter on set are that he yelled at her in a way that she said she'd never been yelled at in more than 60 years in Hollywood. Instead of getting into the details of the interaction, Deb said he "felt it was more important to hear what her reaction to it was."
After bringing up the incident and Walter confronting Tambor, Deb said everyone in the room "knew it was a moment."
"I just did not get the sense afterwards that this was a normal, hunky-dory situation afterwards," Deb said.