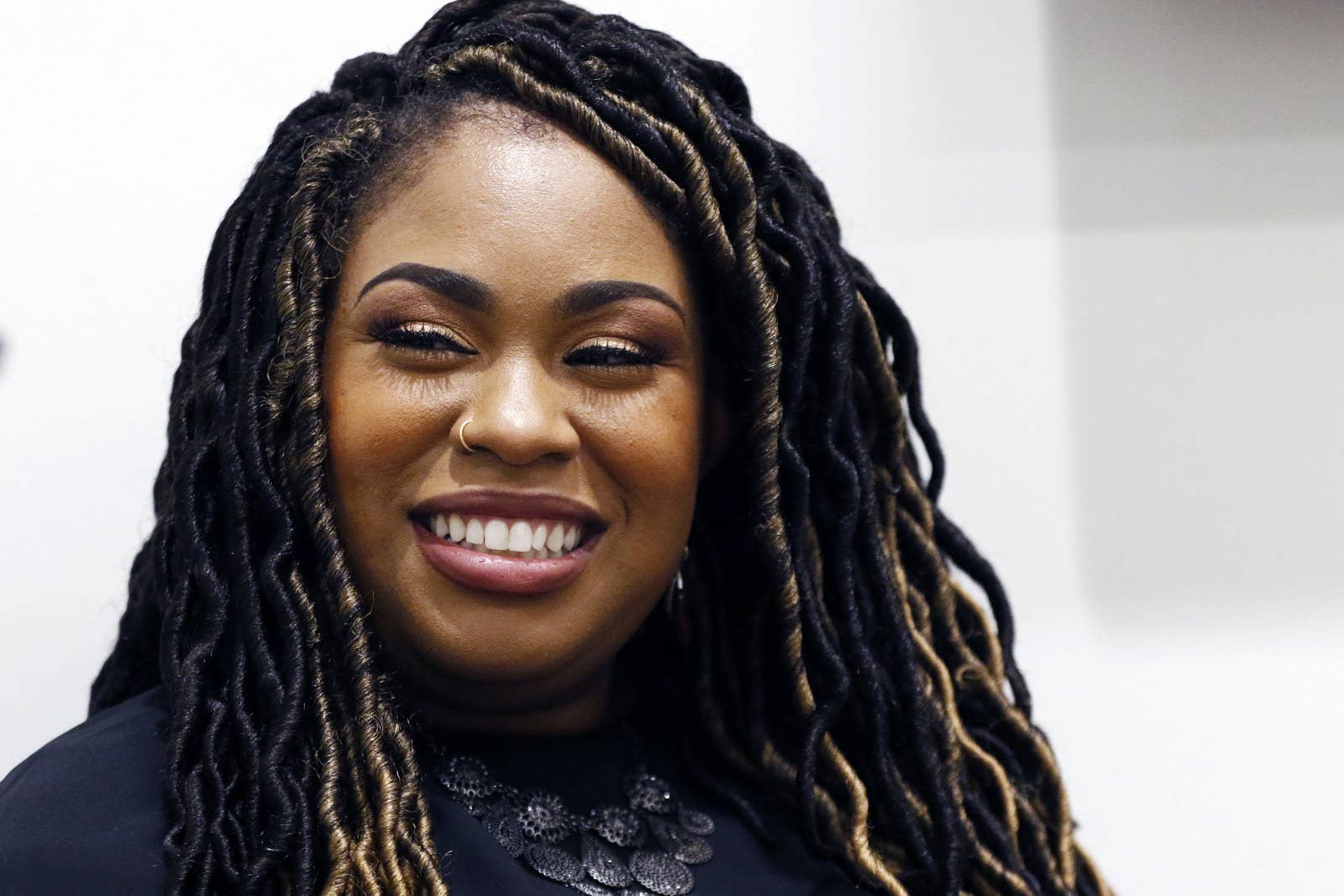 ATLANTA — The sun was setting on another long day of filming in Atlanta in October 2017 as the cast and crew of The Hate U Give rushed to film a few more shots before they lost their light.
Author Angie Thomas sat in one of the many crew chairs set up in front of a monitor in the middle of a parking lot. Joined by her mom, she watched as background extras marched in the middle of the street, held protest signs, and raised their fists in memory of the young black male character from Thomas's book who is killed by police.
"Justice for Khalil!" the crowd chanted.
In between takes, two young black boys wandered over to the lot on Cascade Avenue after getting off their school bus. With security noting their presence but deeming them harmless, the boys started chatting with Thomas.
"Who's Khalil?" they asked. "Is he sick? Is he in jail?"
Thomas, who wore a vintage TLC T-shirt and a lucky yellow bandana that once belonged to Lisa "Left Eye" Lopes and was gifted to her by the singer's mother, tried to explain to the boys that Khalil wasn't real, but that in the movie they were filming he had died.
"I remember we were telling them 'He died,' and it really hurt them," Thomas told BuzzFeed News in another interview one year on. "They didn't even know him but they were like, 'No, he can't be dead.'"
For Thomas, the moment was yet another powerful confluence of reality and fiction. Her debut novel, The Hate U Give, is steeped in the fresh black trauma of police killings that has dominated headlines in recent years. While she wrote for a young audience, Thomas never simplified the real social issues she wanted to explore.
"The young people I write for now will run this country one day. What kind of impression do I want to leave on them now?"
Her strategy proved wildly effective and popular. THUG spent 82 weeks on the New York Times best-sellers list and landed on the National Book Awards' longlist for young adult literature. 20th Century Fox soon announced they'd optioned the novel for a film adaptation that would star some of the entertainment industry's most popular actors (Amandla Stenberg, Regina Hall, KJ Apa, and Issa Rae) and even a hip-hop star (Common).
But from her newfound perch of influence, the 31-year-old author from Jackson, Mississippi, is also thinking more about what message she wanted to impart.
"The young people I write for now will run this country one day," she told BuzzFeed News. "What kind of impression do I want to leave on them now?"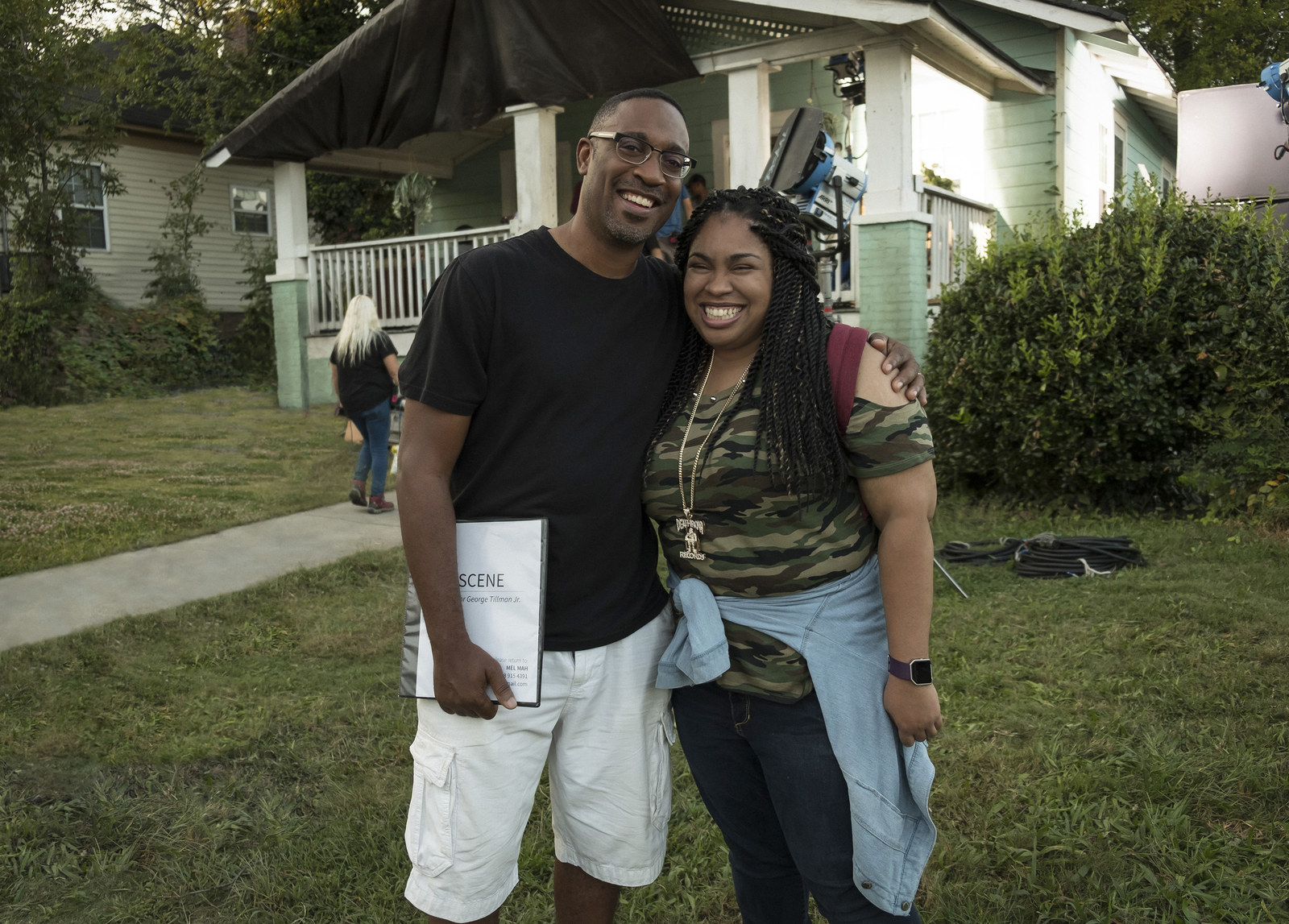 As a creative writing student at Belhaven University in Mississippi in 2011, Thomas wrote a short story about a young black boy who was shot and killed by a white police officer. That piece was inspired by the 2009 shooting of Oscar Grant by a transit police officer in Oakland — a death later chronicled in the 2014 film Fruitvale Station. After graduating, Thomas worked on expanding her short story into the more than 400-page novel that is The Hate U Give.

In June 2015, Thomas reached out via Twitter to literary agent Brooks Sherman. "Are novels that deal with sensitive current issues a no-no?" she asked, explaining she had a book dealing with the Black Lives Matter movement.
"For me, no subject should be off-limits in children's books," responded Sherman. "It's all about how you approach the subject."
"Thank you so much. I've been afraid to query it," wrote Thomas. "This has given me the push to go ahead with it."
Sensing a raw talent, Sherman signed Thomas a few months later. In February 2016, an astonishing 13 publishing houses competed in an auction for the rights to the novel.
"I was struck from the very first pages," Donna Bray of HarperCollins' Balzer + Bray told Publishers Weekly of her agency's rumored six-figure successful deal with Thomas. "What an accomplished debut."
Critical reaction to the book was similarly effusive. The Atlantic said it was "a vital new contribution to the white-dominated publishing industry" and declared it had immediately entered the ranks of the "great YA novels." Vox said it was "charming and funny and carefully crafted." Salon said it was "maybe the most hotly anticipated YA novel of the last year" and should be "required reading for clueless white people."
"Every so often the right book comes along at the right time and quite deservedly catches fire," wrote Salon's Eric Keane.
Film critics have also reacted warmly to THUG since its premiere at the Toronto International Film Festival, calling the film "powerful," a "career highlight" for director George Tillman, and "an Oscar-worthy masterpiece." It currently enjoys a 96% rating on Rotten Tomatoes. The movie had a successful run when it opened in limited theaters on Oct. 5, earning nearly $3 million at the box office, and was finally released nationwide this past Friday.
"There's this elite attitude amongst some people, like, Oh, it's YA. That means it's for teen girls. First of all, what the heck is wrong with teen girls?"
Thomas has been excited by the movie gaining some awards buzz, despite the fact that THUG doesn't exactly fall in the tradition of Academy Award–nominated pictures. "I hate that there's this elite attitude amongst some people, like, Oh, it's YA. That means it's for teen girls," Thomas said. "First of all, what the heck is wrong with teen girls?"
Thomas hopes the Academy will consider Russell Hornsby's performance as Starr's dad, Stenberg's iteration of Starr, Tillman's directing, and the work of the late screenwriter Audrey Wells, who adapted Thomas's novel.
"They really deserve it," Thomas said. "The book has won a lot of awards, so I want the movie to, too. For their sake, not for mine."
Thomas's arrival on the set of a movie that explored racial politics came as Hollywood, and the rest of the country, began grappling with yet another set of controversial social dynamics. As she sat on location that day in Atlanta speaking with the two boys, it had been just a few weeks since the New York Times and the New Yorker published their bombshell investigations about Harvey Weinstein. Mixing with producers and crew members, Thomas discovered there was only one big topic of conversation.
"It was interesting to hear, as an outsider, their take on things, and to hear how they felt about how this would change the industry and what it meant for maybe colleagues of theirs," Thomas later told BuzzFeed News.
"It gave me an insider's view. I felt like I was a fly on the wall."
Being on set during the first weeks of the Reckoning helped her realize this was an issue extending well beyond Hollywood. She began evaluating the men in her life and wondered what they might have done to other women.
"I wondered how is [the publishing industry] going to handle this, because I thought, If it's happening in Hollywood, eventually it's going to make its way over," she said.
And make its way over, it did. The world of publishing, like many other industries, soon had its own wave of publicized allegations. In February, a literary organization removed Thirteen Reasons Why author Jay Asher for past sexual harassment allegations. Asher denied all claims made against him and said that he was the one who had been harassed. In March, The Absolutely True Diary of a Part-Time Indian author Sherman Alexie admitted to sexual harassment. In May, Pulitzer Prize winner Junot Diaz was accused of forcibly kissing another writer.
"I'm glad that if nothing else, the movement in Hollywood gave so many people in publishing the bravery to speak up and speak out," Thomas said.
"Let's start believing victims," she added, urging others in her industry to stop putting men on pedestals.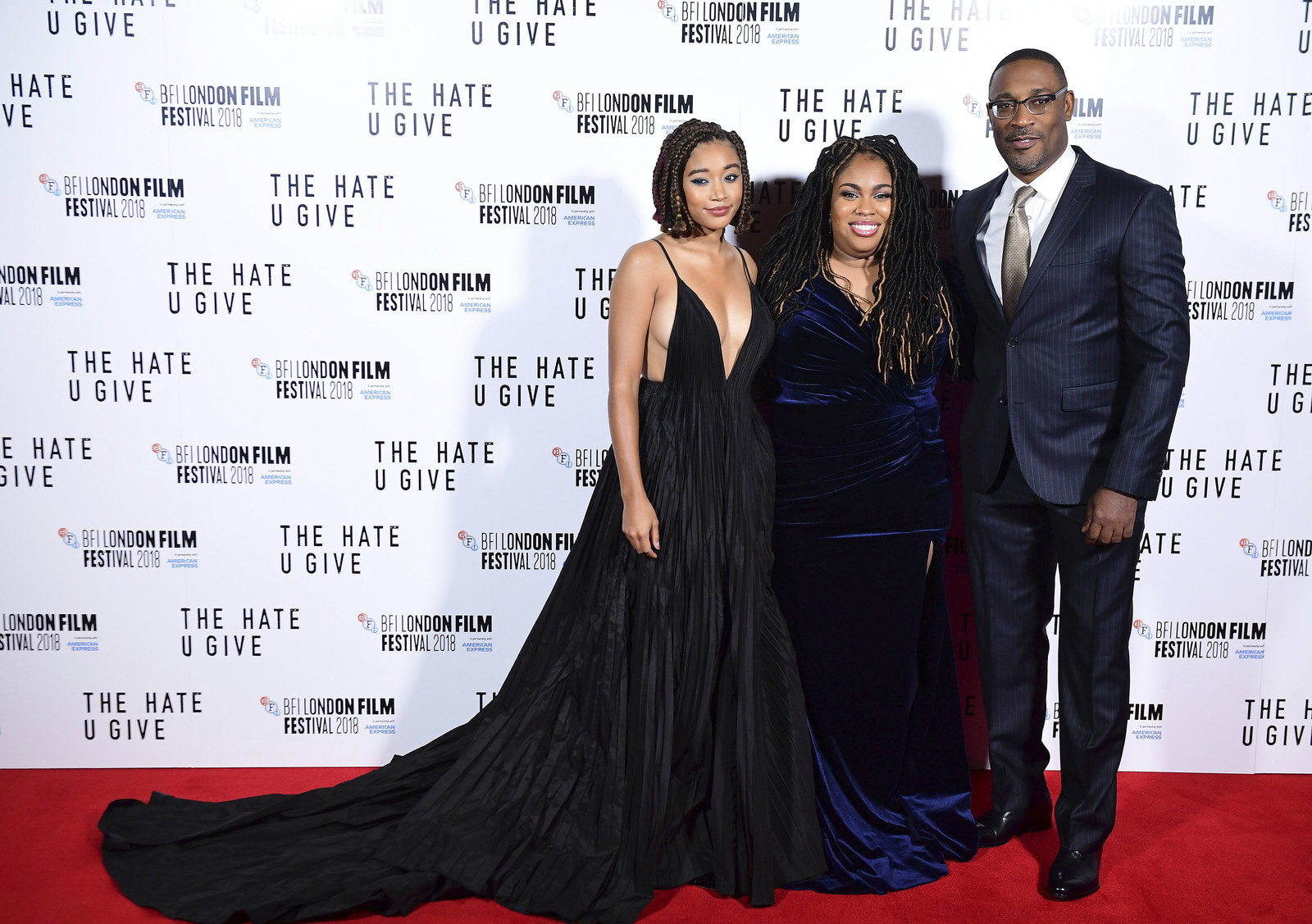 Thomas's second novel, On the Come Up, is set to be published in February. The story takes place in Garden Heights, the same fictional setting in The Hate U Give, although with different characters and plot points. Before Thomas had even finished writing the book, THUG producers joked that they wanted to adapt it, saying she has a long career ahead of her in Hollywood.
Thomas said her hope is that as moviegoers watch the adaptation of her novel and mourn the death of the character of Khalil, they may also consider the many real-life parallels to his story.
She knows that young people, like the two boys who watched the protest scene being filmed, will eventually grow into decision-making adults and have the possibility to be impacted by her work.
"I hope that when they do become that politician or they do become that leader, even if they become a cop, if they're ever in a situation, I want them to think about Khalil and how they felt about his death before they make a real-life decision," she said.
"I want them to think about Khalil and how they felt about his death before they make a real-life decision."

As she told the two boys on set that day in Atlanta about Khalil's death, they were sad and confused at first. The pair then hung around long enough to watch a few more takes on the monitors. Eventually, they made their way from the parking lot to the streets and joined the extras in a protest that eerily mirrored what could easily have been a real demonstration in honor of a real person.
Blending in with the other background actors, the boys walked up the street with their backpacks from school still on their backs.
They, too, raised their fists and chanted, "Justice for Khalil."