Gun violence is at the center of this week's episode of The Bold Type, Freeform's hit series about three friends who work for the fictional Scarlet magazine in New York City.
The second season of the show, starring Katie Stevens (Jane), Meghann Fahy (Sutton), and Aisha Dee (Kat), has dealt with culturally relevant topics like race and privilege, religion, and the #MeToo movement. And on Tuesday night's episode, the personal experiences and backstories of Jane and Sutton highlight a personal side to the gun debate.
"Any topic that we tackle, because it's all through the lens of their friendships, it allows us to go to places that are sometimes not so easy to go to," executive producer and showrunner Amanda Lasher told BuzzFeed News. "We really wanted to show both sides of this debate to give each character's point of view equal weight."
In the episode, Jane is shocked when she learns that her roommate and friend Sutton keeps a shotgun locked up and hidden in the closet of her bedroom. Sutton even has a name for her gun: Betsy, which is the same name as the episode's title.
Jane tells Sutton the gun makes her uncomfortable and upset, noting that she grew up near Columbine High School. Sutton initially refuses to get rid of her gun, saying she was in a shooting club at her small-town high school in Pennsylvania and uses it responsibly and securely.
"There are a lot of young women like Sutton who grew up with guns; it was part of their culture, and we wanted to represent that and also explore: Why does somebody need a gun? Why does somebody want a gun? What does it really mean for them?" Lasher said.
She added that there were a lot of conversations in the writers room when working on "Betsy" — written by Matt McGuinness and directed by Marta Cunningham — about the diversity of opinions people have about gun control and what the more personal side of that looks like.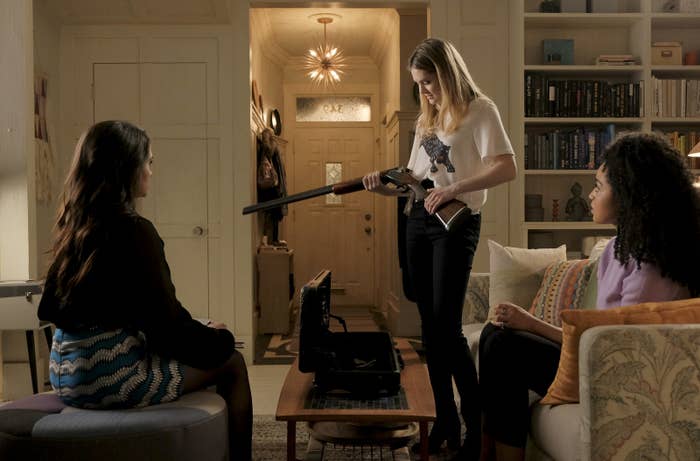 Despite the fact that Jane and Sutton are on opposite sides of this debate and neither seem willing to negotiate, their ability to have hard conversations with each other and learn about where the other person is coming from helps both characters evolve over the course of the episode. After Jane tries to write about her differences with Sutton for Scarlet ("I Love Everything About My Best Friend, Except Her Gun") and even attends a shooting range with her friend to try to see her side, Sutton ends up getting rid of her gun and repurposing it into a pair of earrings.
"I think that when digging into who Sutton is, it made sense that she was going to be able to walk away from the gun, because I don't think she needs it anymore," Lasher said. "I think it's one of those things — when you realize that's an outdated version of who you are and the things that you needed as a younger person you don't necessarily need anymore."
The episode filmed in late April after the Parkland shooting in Florida, and while Lasher said everyone involved in making the episode was paying attention to current events, they also wanted the episode to have a certain timelessness so that it could stand on its own. More than anything, Lasher said she wants the show to start a dialogue between people that can ultimately lead to a cultural shift.
"I'm a believer in sensible gun laws and I think the culture of this country needs to change, but I don't think that we can make any progress until people start having conversations with each other about it," Lasher said. "I think that the messy conversations get us to a better place. To ignore that there's a problem is not going to solve it, and then to ignore where people are coming from is not going to solve it, either."